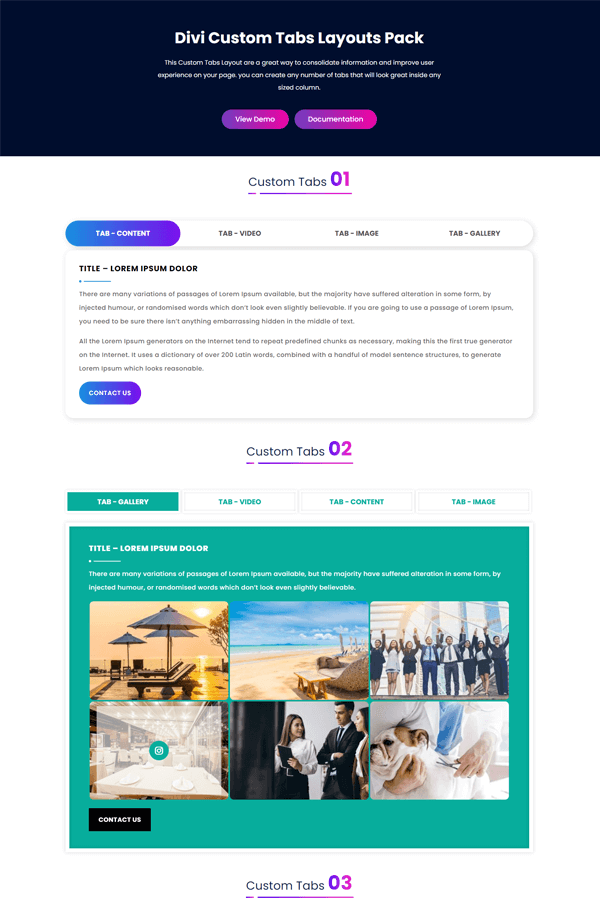 Here we are using the tabs as a kind of menu to switch between different content within each tab. You can add anything you like within the content area of each tab (Video Tab,Gallery Tab,Image Tab,Content tab,etc.).
Tabs are a great way to consolidate information and improve user experience on your page.
Get custom designed Divi tab modules that you can use right now. No coding needed. Simply save and start editing with the Divi tabs Module and layout library.
We have made custom Tabs It reveals the content and changes the image,video,gallery on click On each tab with smooth animation.
If you have any support related or other questions, please contact https://divicoded.com/ Or leave us an email at divicoded@gmail.com
Feature & Benefits :
– 10 Awesome tabs section
– No extra plug-ins required
– No Js required
– Easy configure and customize the Divi tabs module.
– Yes this works with the latest Divi
TAGS : divi tabs,divi layouts,divi custom tabs,divi tabs layout,divi tabs horizontal,divi tabs section,divi tabs module
How to Use/ Import Layout :https://layout.divicoded.com/documentation-divi-custom-tabs-layouts-pack/
Video Tutorials :
Using the divi tabs module to create a image gallery : https://www.youtube.com/watch?v=nU3hxcK3eV4
How to use the Tabs Module for Video Content Navigation : https://www.youtube.com/watch?v=PcvaLXKgZa0
How to use the Tabs Module for Image Content Navigation : https://www.youtube.com/watch?v=YTk-wQyMtvw
How to use the Tabs Module for anchor tag Navigation : https://www.youtube.com/watch?v=_nfJMY76qUk
---