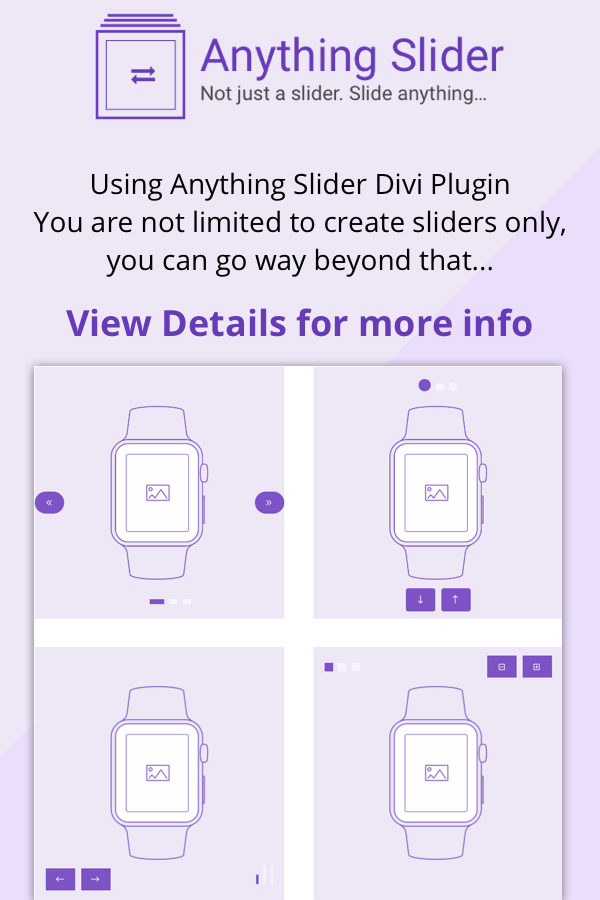 **********Now Compatible with Visual Builder**********
v1.6 – Visual Builder Compatible
Anything Slider plugin has been updated to work seamlessly with the Divi Visual Builder. It has been re-coded to make it more efficient & more powerful. This update includes important code updates to add more awesome features (soon).
Anything Slider Intro
v1.5 – Improved Animations
v1.4 – Dynamic CPT Sliders Made Easy
This update brings two brand new modules which will allow you to create almost any type of post type slider (including blog posts) easy.
v1.3 – Content Slide Type
This update added a new slide type "Content/Custom" which will allow you to create basic sliders easily and directly within slider module as opposed to creating & saving layouts first.
Using Anything Slider Divi Plugin you are not limited to create sliders only, you can go way beyond that…
Just a Few of the endless possibilities:
Create Awesome Sliders
Create Cool Carousels
Create Interactive Sections
Create Powerful Tabs
Create Pricing Toggles
Create Filterable Products
Create Filterable Galleries
Interactive CTAs
Even a full mini website
Build-in Nav Menu (v1.2)
Slide on Hover (v1.2)
Basic Sliders Easily (v1.3)
Dynamic Custom Post Type Slider (v1.3)
Dynamic Blog Posts Slider (v1.3)
Dynamic Products Slider (v1.3)
Dynamic Portfolio Slider (v1.3)
much more…
Those are just a few use cases, there is a lot more you can create using Anything Slider plugin.
Starter Kit Library – Free Layout Packs
Starter kit library is a growing library where you will find starter layout packs which you can download and import to your divi library right away to get started with your website creation even faster with anything slider plugin.
Visit Starter Kit Library Here
Documentation:
For documentation and use cases in the Divi Classic Builder please visit here
Important – Add your License Key
When you purchase this product a License key will be generated and shown in your EMP account, please copy that and once the plugin is installed and activated go to Plugins > Anything Slider page and insert your License key and save it. This is a really important step so you get future updates notification right in your WordPress dashboard and it can be updated directly from there.
You must log in and be a buyer of this download to submit a review.
---
Changelog:
*v1.6
Re-coded to make it compatible with latest divi API
Visual Builder Compatible
*v1.5
Improved: Divi Animations work on each slide now.
FIX: Minor Bug Fixes.
*v1.4
NEW: Two completely new modules added which will allow the user to create any CPT slider with the ability to puzzle slide layout in any way a user wants using the provided CPT Elements module. This update opens up a bunch of new possibilities you can use Anything Slider plugin.
FIX: Some bug fixes to AS module.
Improved: Some under the hood improvements to AS module.
* V1.3
NEW: Disable Next/Previous Labels Option.
NEW: Equal Height Option.
NEW: Minimum Height Option.
NEW: Slide Type option to choose between Layout or Custom/Content. Now making basic sliders, even complex are much easier than before.
NEW: Slide Image with the bunch of dependent options to style it.
NEW: Slide Content with the bunch of dependent options to style it.
NEW: Two Buttons can be added now bellow content for content slides.
FIX: Image Top alignment for builtin NavMenu control.
FIX: Other bugs fixes & code improvement.
* V1.2
NEW: Built-in Nav Menu Control which also syncs on auto.
NEW: Custom IDs/URL made possible.
NEW: Option to disable ID/URL.
NEW: Option to enable Slide on Mouse Hover for Nav Menu control and AS
Menu module.
NEW: Option to Center Slide in Carousel mode
NEW: Option to enable RTL Support, this will make the slider work in RTL websites.
NEW: Slideby Option added to specify how many slides to skip on each rotates in carousel mode.
Improved: Some controls type changed from text to range for better user experience.
Improved: Better organization of controls.
Improved: Next/Previous control disabled state.
Improved: Script loading
Fixed: AutoHeight Issue where images got cut off from the bottom.
Fixed: Few Bugs and code cleanup.
Fixed: Auto update functionality, now from the next time user will be able to update from WP dashboard directly.
* V1.1
Fixed: Divi Local Cache Storage issue
Fixed: Slider OFF animation, this will now make slider slide in left/right direction.
Fixed: Next/prev control hover issue when position was set to 'Both Sides'
Fixed: AS Menu image's max-width when put inside slider module
* v1.0
Checkout the documentation first and if you still need help open a support ticket.
View Docs
For support please open a ticket at CakeWP Support
You may install this product on the number of websites for which you have purchased the license, that you build for yourself or your clients. You will receive 1 year of support & updates – premium support charges may be incurred after this period.
Please be aware that you will need an amount of experience in  Divi Theme and WordPress to take advantage of our themes and plugins. Please make your decision to purchase based upon your skill level to see if our products fit your needs. Due to the nature of Digital Downloads. Refunds are completely at our discretion.
*Support is provided by vendors directly.
You have questions about your purchased plugin, theme or layout? Then use this form to get your answers as soon as possible. If you have a license key, please enter it here. You can find it in your account under "view details and downloads". Otherwise, please use the invoice id from your invoice.