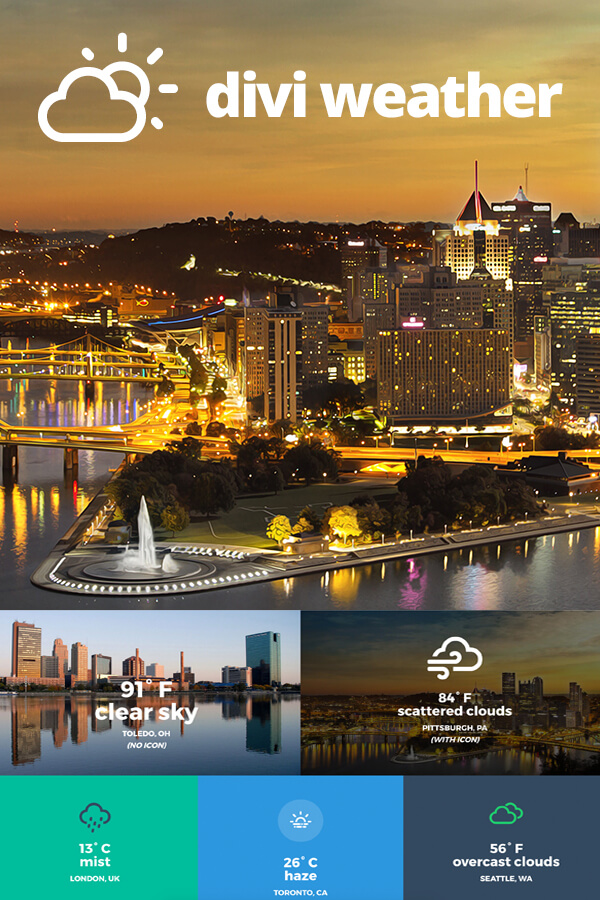 Changelog
* v1.0
– Initial Release
*v1.0.1
– debugged error handling in response from Open Weather Map API
*V1.0.2
– fixed bug where weather description didn't show up in module settings for some people.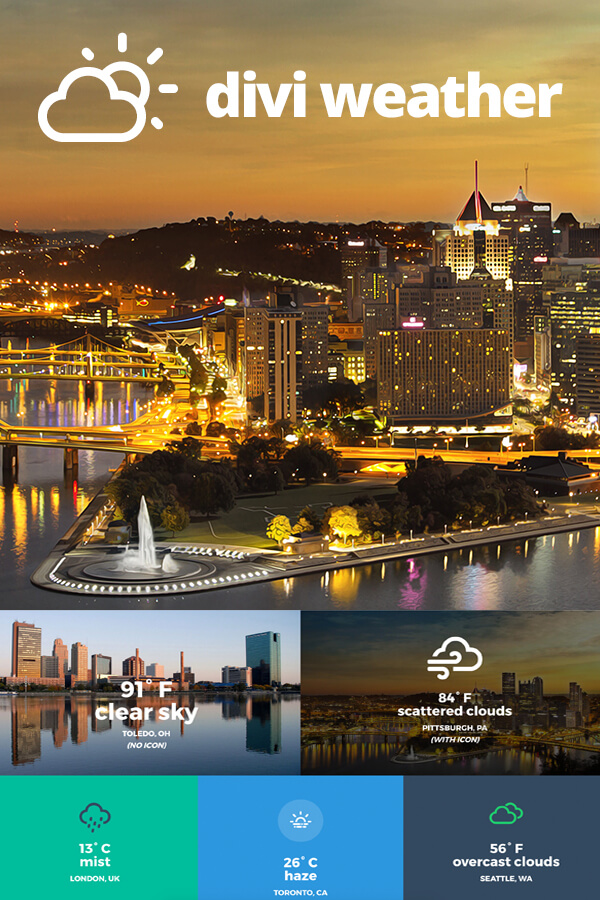 Licensing
You may install this product on any number of websites that you build for yourself or your clients or as the license so determines, i.e, if it is single use, then that applies. You may not install any of these products as part of a hosting offering. Any abuse of these license terms will result in the termination of your account and the licenses that are attached – no refund will be offered or awarded in such cases.  You will receive 6 months support – premium support charges may be incurred after this period. Updates are for the life of the product.
We understand that there can be issues whilst utilizing out of date browsers. Please ensure you use up to date browsers when using our vendors products. For DIVI Theme – Third Party Plugins may not perform as desired in the Divi Visual Builder. This is an issue that we cannot fix due to the restrictions put upon us by Elegant Themes lack of Divi Developer Documentation.
Please be aware that you will need an amount of experience in Divi Theme/  or ELEMENTOR/WordPress to take advantage of our themes and plugins.
Please make your decision to purchase based upon your skill level to see if our products fit your needs. Due to the nature of Digital Downloads, Refunds are not possible – please ensure that the product you are buying will do the job you want it too.
All support for products is handled by Vendors and contact details will be included in the download packages. If contact details are not found within the files, please do contact us and we will be happy to put you in touch with the vendor concerned. BEFORE YOU ASK US FOR DIRECT SUPPORT – READ THIS! 
The Divi Weather plugin adds a new module to the Divi Builder that allows you to access and display current weather data for any location on Earth including over 200,000 cities thanks to the powerful (and free) Open Weather Map API.
Customization
Divi Weather takes advantage of the built in power of Divi to give you complete control over how the weather is displayed, including:
Fahrenheit or Celsius
Show a matching weather icon or an image or nothing
Style the icon any way you want to match your site
Hide/show a weather description to go along with the temperature
Multilingual support
Translations for weather descriptions are provided by the Open Weather Map API and include 33 languages.
Optimized for Speed
To avoid hitting the API on every page load, the plugin has the ability to cache weather data on a location-by-location basis to keep your site loading quickly. The default cache life is 30 minutes but this can be changed in the plugin settings.
Product Support
This plugin is compatible with both the Divi and Extra themes.
This plugin is NOT compatible with the Visual Builder (Yet. ET we're all looking at you and awaiting the developer docs)
I want my products to be the best that they can be. Run into any trouble using my products or find a bug? Let me know about it on my support page!
Credits
This plugin uses the Open Weather Map API service to retrieve weather data. The weather icons are from an open-source icon font created by Erik Flowers, which can be found here: https://erikflowers.github.io/weather-icons/
General Note: You MAY need to purchase the Divi Theme or the Elementor page builder to use this product. Please see the product description notes above for more information.