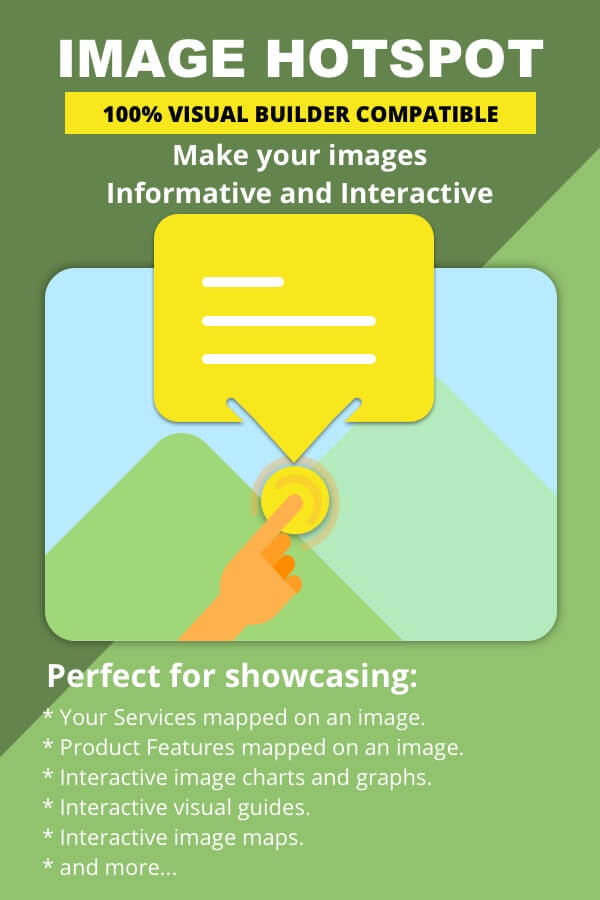 Update: v1.3 released!
This update brings two new hotspot pointer types. Now you can add your own images as a pointer element, or you can draw an invisible (or colored) area as a hotspot pointer. Watch the video below to know more about these two new features.
Update: v1.2 released!
This update brings more features and improvements as suggested by the users since the launch of the plugin. The features added are:
Now you can display content in Modal as well.
Tooltips can now be triggered via click & hover.
Tooltip can be static now, means it will be visible always.
Tooltip Position can now be altered for tablet & mobile so you can adjust the tooltip position differently for each screen size.
See in action
Create custom hotspots to make your images more informative and interactive using the Divi visual builder. Use Divi Image hotspot module to display products features, visual guides, image maps, interactive image charts and graphs in an easy and interactive way.
This plugin is 100% Visual Builder Compatible.
This plugin is 100% compatible with the Divi Visual builder, and thus creating your image hotspots is fun and easy. Simply add a new spot on the image using the repeater field and add your tooltip content and style everything right there visually, thanks to the divi visual builder.
Divi Image Hotspot Module is perfect for showcasing:
Your Services mapped on an image.
Product Features mapped on an image.
Interactive image charts and graphs.
Interactive visual guides.
Interactive image maps.
and more…
Module's Main Features:
Super easy to use.
Fast and furious. 🙂
100% Visual Builder Compatible.
Add as many pointers/hotspots on an image as you like.
Position the pointer anywhere on the image visually.
Display content in Tooltip or Modal.
Each pointer and tooltip content can be customized separately.
Set tooltip display position to top, bottom, left or right. ( Can be adjusted for tablet & mobile )
Highly Customizable overall.
Fully Responsive: You can adjust different controls for mobile, tablet & desktop to improve the responsive experience.
more features to come…
Usage Instructions:
Simply upload and install the plugin and then you should see a new module named "Image Hotspot". Add it via the visual builder or back-end builder and the options there are simple and self-explanatory.
If you like this, have a look at my other available freebies and products.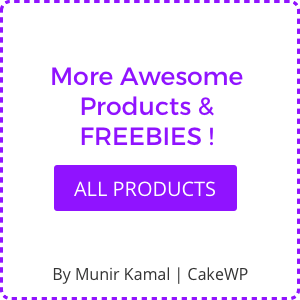 Reviews
You must log in and be a buyer of this download to submit a review.
You may also like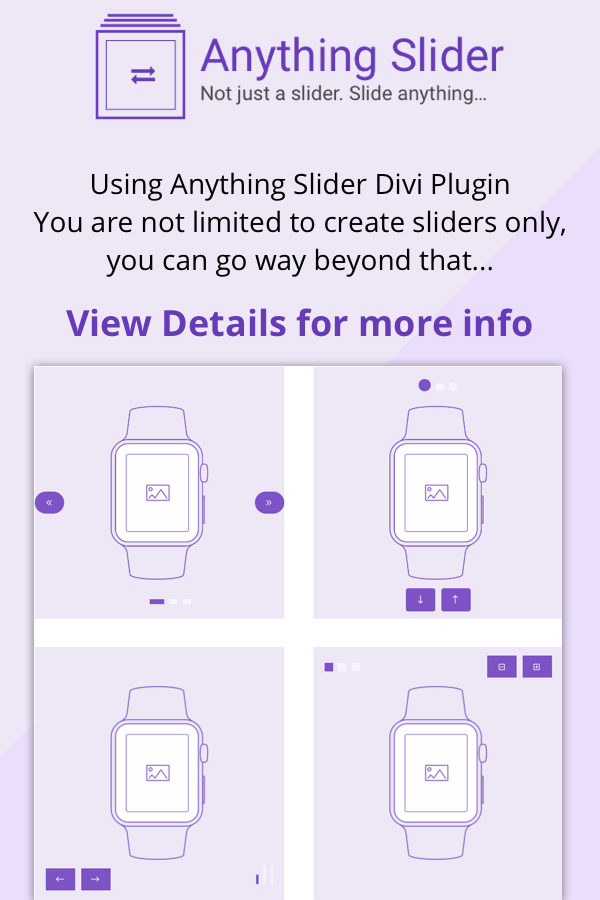 $30.00 - $267.00
**********Compatible with Divi Visual Builder********** v1.8 - Sliding Nav Menu Added This version brings an amazing new feature to the built-in nav menu functionality. Now you can enable a sliding…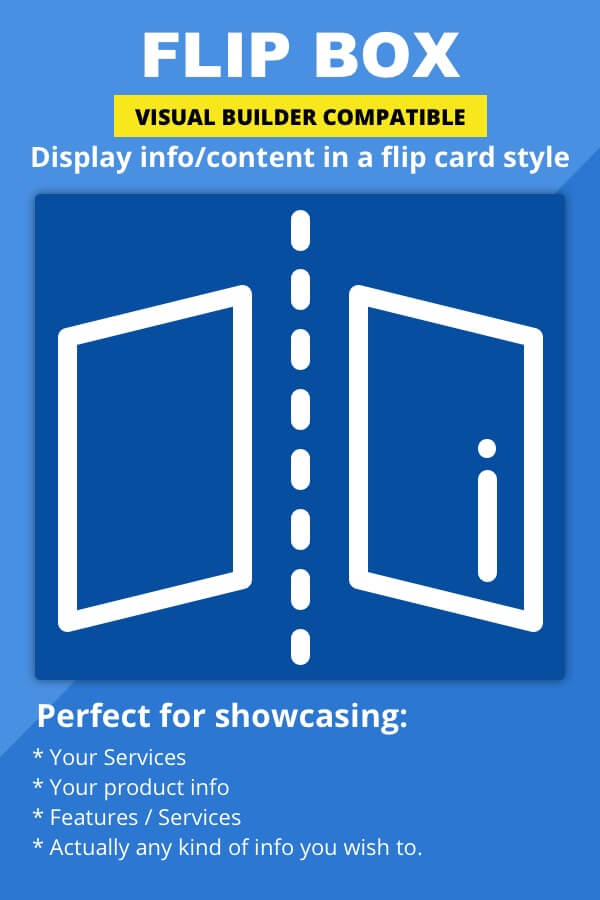 $12.00
UPDATE: v1.2.0 Released Added: Support for Back Image Added: Support for Rich Text Field (TinyMCE) for Content Added: ContentPaddingOptions Added: Custom CSS options See in action https://www.youtube.com/watch?v=NvuSPp5mgLs Divi Flipbox Module is…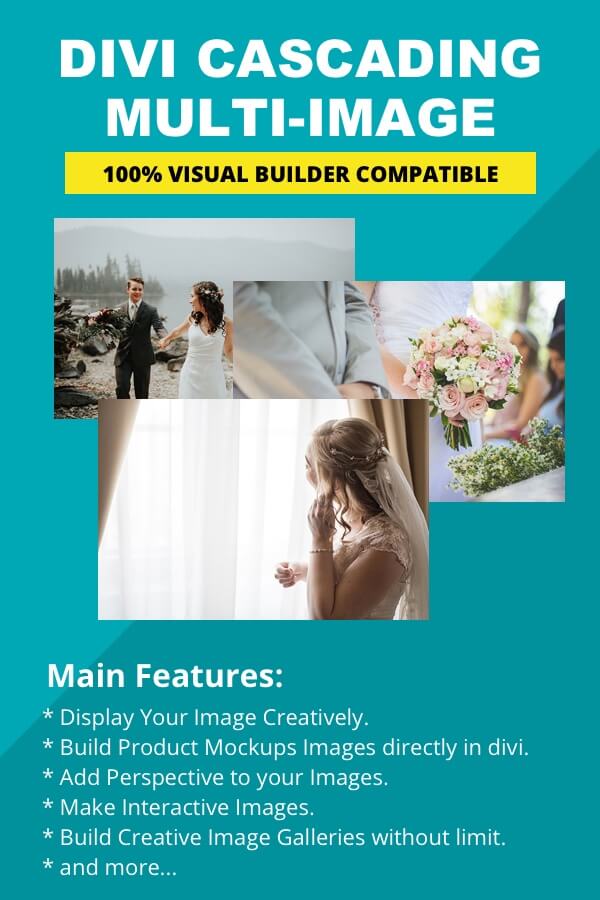 $28.00
UPDATE: With v1.1.0, now you can also add content as an item along with or without image/icon. See it in action This is a creative module for divi which you…
---
Changelog:
* v1.3.0
Now you can add images as hotspot pointer.
Now you can also draw invisible (or colored) area overlay as hotspot pointer.
Small Bugs fixes and improvements to the code.
* v1.2.0
Now you can display content in Modal as well.
Tooltips can now be triggered via click & hover.
Tooltip can be static now, means it will be visible always.
Tooltip Position can now be altered for tablet & mobile so you can adjust the tooltip position differently for each screen size.
IMPORTANT: This update (v1.2) might override your tooltip backgrounds if you are upgrading it from a previous version. The reason for that is we have re-done some of the code to make a place for Modals to be used in place of tooltip if you wish to. You might need to re-adjust your tooltip background color after this update. * v1.0.0 - Initial Release
This theme, layout or plugin is comprised of two parts.
1. The PHP code and integrated HTML are licensed under the General Public
License (GPL). You will find a copy of the GPL in the same directory as this
license file.
2. All other parts, including but not limited to the CSS code, images and design are
copyrighted by the vendor concerned and are NOT licensed under GPL.
This license allows the item to be used in projects for either personal or commercial use by you or on behalf of a client. The item cannot be offered for resale either on its own, in part, or as part of a larger project including that being part of a hosting offer. Distribution of source files is not permitted.
We understand that there can be issues whilst utilizing out of date browsers. Please ensure you use up to date browsers when using our vendor's products. For DIVI Theme – Third Party Plugins may not perform as desired in the Divi Visual Builder if this is the case, please use the classic builder. We are working with our vendors to rectify this situation as quickly as possible. With the release of Divi 4.0 developer documentation and SOME support of third-party modules and plugins are now accessible through the visual builder. 
Please be aware that you will need an amount of experience in the master theme that you are using in order to take advantage of our themes and plugins.
Please make your decision to purchase based upon your skill level to see if our products fit your needs. Due to the nature of Digital Downloads, Refunds are not possible unless the plugin or theme is unusable in your set up – we will require proof of this – please ensure that the product you are buying will do the job you want it too. In the case of Divi and Visual Builder compatibility – some plugins do not yet have 100% VB compatibility. Please check descriptions thoroughly to ascertain VB compatibility. Whilst every effort is made by our vendors to ensure compatibility with other themes, plugins and or web servers. This can never be guaranteed due to the many thousands of iterations in the wild. Please do not be afraid to ask the vendor for support by visiting the product page and clicking the relevant link. Warranty for fitness of products used on your installation is neither given nor implied. 
*Support is provided by vendors directly.
Please login to access the support form. you can do so here