Creating a food blog is a great way to share your knowledge and build a community around something you love. You can even make a name for yourself and build a business. If you already have the food skills the hardest part might be starting the website. Fortunately you can get started quickly by using Divi as a food blog.
With a food blog you can discuss lots of topics and provide content such as recipes, nutrition information, dieting advice, articles and how-to's such as entertaining guests, product reviews, cooking ideas, or even blog about your own journey into cooking. You can also provide services and products such as personal coaching or selling your own cookbooks or create your own video show. Divi makes this much easier.
Why Use Divi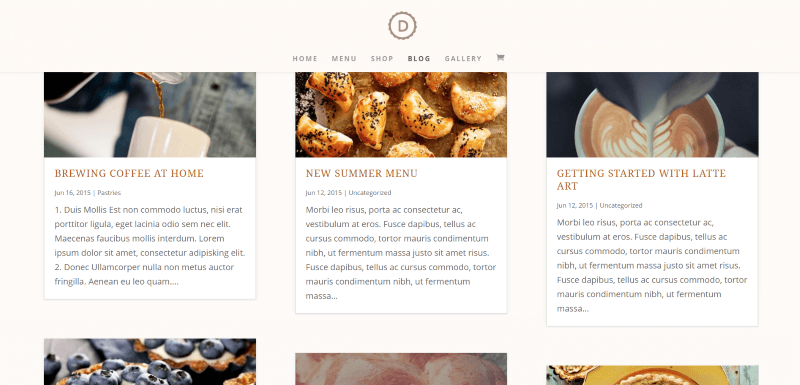 Today's typical blog includes a homepage with blog section to highlight the latest or popular posts. A blog page is usually styled to create a unique reading experience for your visitors. Each of the blog pages can also be styled with layouts that tell about the recipes, show lots of pictures, provide tips, and more.
Divi from Elegant Themes isn't a food blog theme, but it does have an intuitive builder that makes it easy to create practically any type of website you can imagine. With Divi you can design and style your blog to make it unique.
Divi can integrate with plugins to provide recipe cards, video to show a demonstration, galleries to show off the dishes you've created, sell physical and digital products, and lots more. Divi makes it easy to build your food blog and share with a global audience
Fortunately you don't have to design the website yourself. You can use a pre-made design just for food blogging.
Using a Child Theme
By far the easiest way to get started with Divi is by using a child theme. They are built with Divi and include predesigned layouts, categories, and other features you'll need to create your food blog.
Child themes require Divi as a separate purchase and are installed as their own themes. Child themes can be modified, so you still have full control over fonts, colors, layouts, etc.
There are lots of child themes available for Divi to help you get your food blog started. In this article we'll take a look at two child themes that were designed by Divi professionals to create food blogs: Delicious and Boulanger. For my examples I'm using free images from Unsplash.
First, here's a quick look at what's involved with getting started.
Installing a Setting Up Your Child Theme
To install, unzip the child theme's download file. The child theme file itself is within the download file. Upload and activate the child theme, install the plugins, and import the demo content according to the instructions within the download file.
Replace the demo content with your own (including posts, pages, categories, and recipes) and you're blog is ready to publish.
Replace the Content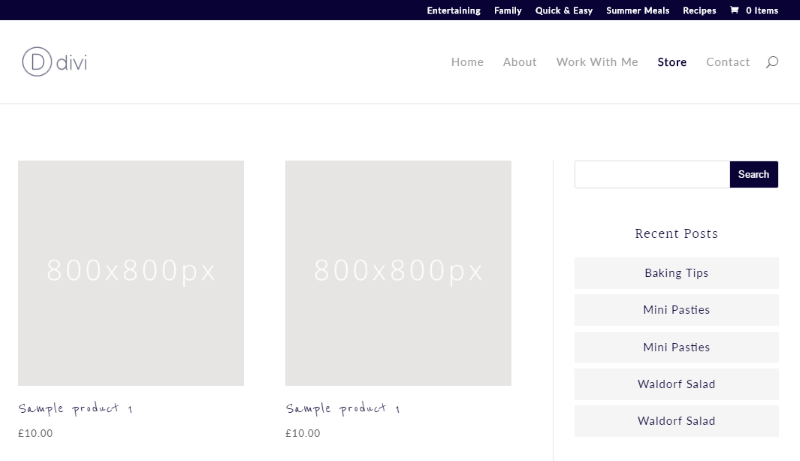 When you install the child themes you'll see demo content that includes placeholder images and text. In order to get started with any child theme you'll need to replace the content with your own. Some content can be edited while others can be deleted. Here's a list of what to keep and what to delete:
Keep and edit – pages, widgets, menus, social media links, signup forms
Delete or edit – posts, recipes, products, categories
Pages – do not delete the pages. You'll need the pages for your menu structure, WooCommerce pages, and home page. Using WooCommerce is optional, so if you don't plan to sell products then un-publish the store-related pages. Edit them with your own content.
Posts – delete or un-publish the posts. You could edit them if you want but there's no reason to keep them.
Categories – edit the categories. Be sure to go into any modules and widgets that are using those categories and make sure they're selected.
Menus – if you edit the page names they will automatically change in the navigation structure to match. If you change a page title you may also want to edit the permalink URL. If you want to add or remove a page from the navigation structure you'll need to edit the menu. Another option rather than editing a current menu is to create a new one so you have the original.
Products – delete or un-publish the WooCommerce products.
Social links – these are either in the menu or in widgets. Add your own links and remove those you don't need.
Signup forms – replace the newsletter provider with your own.
Recipes – edit the recipes and categories. Delete those you don't want. I recommend keeping one as an example of how to use the plugin.
The detailed information about making these edits for both child themes is included in the download files.
Delicious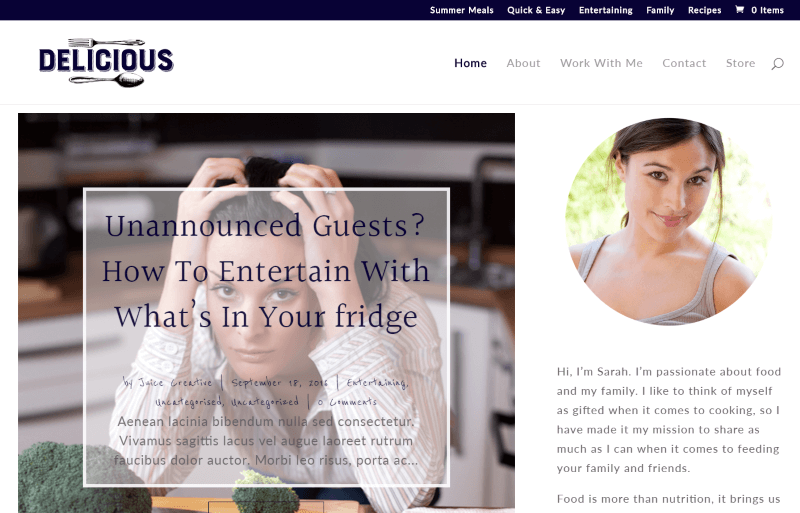 Delicious is a food blog child theme from Juice Creative Web Design with a focus on monetization with WooCommerce and consulting. It includes:
Five pages
Five color palettes,
A customized blog layout to display articles and recipes using the free version of the WP Ultimate Recipe plugin
Custom styling for Bloom and Monarch.
It's a great choice if you want to provide recipes, cooking and nutrition tips, coaching, and sell your own products.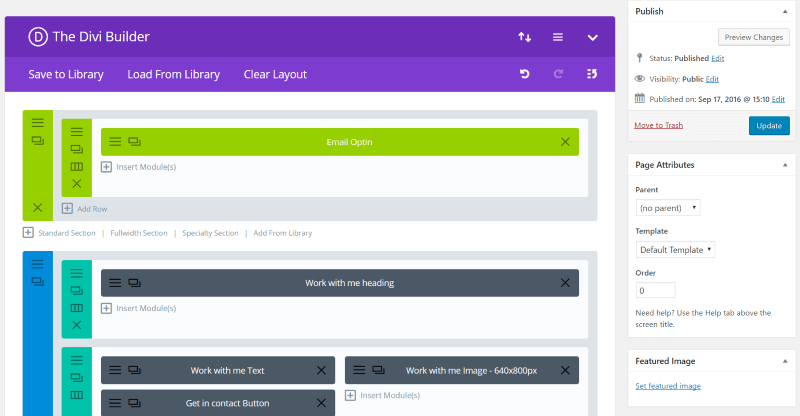 The pages are modified using the Divi Builder. The modules themselves are labeled to explain their content. For example, the image module shows the size of image to use. In this case it's 640×800. Modify the content as you wish. If you prefer a different layout I recommend saving the rows or sections to the library before making changes so you'll always have the original.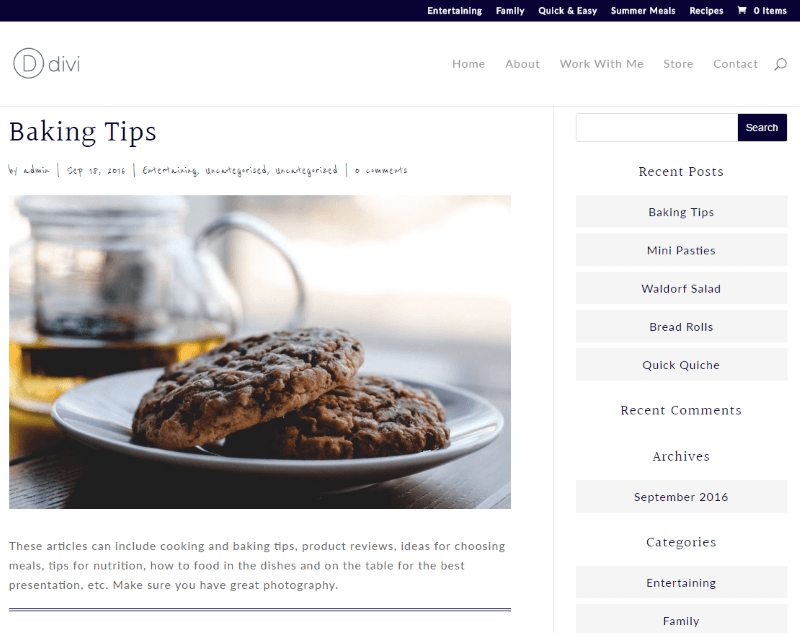 Here's an example of a new post. I kept the menus and widgets in place.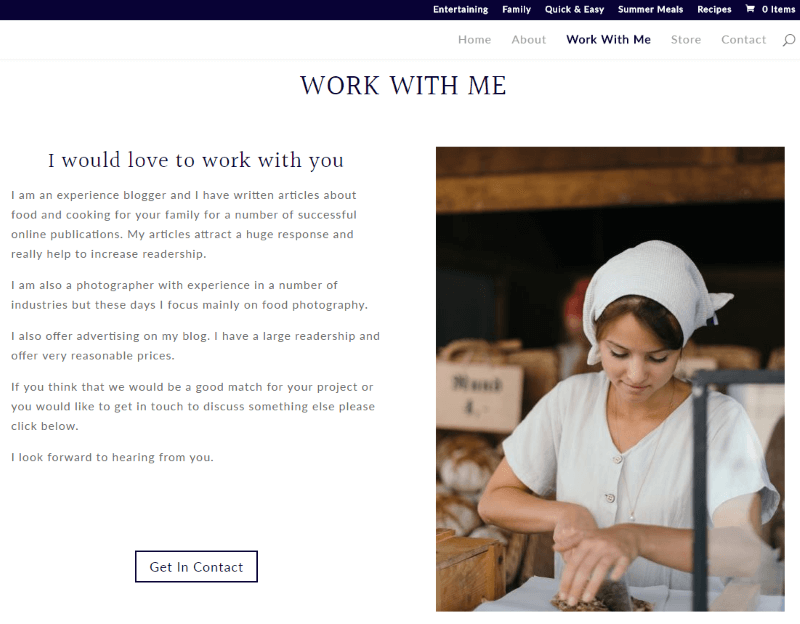 Here's a look at the Work With Me page. I replaced the place-holder image.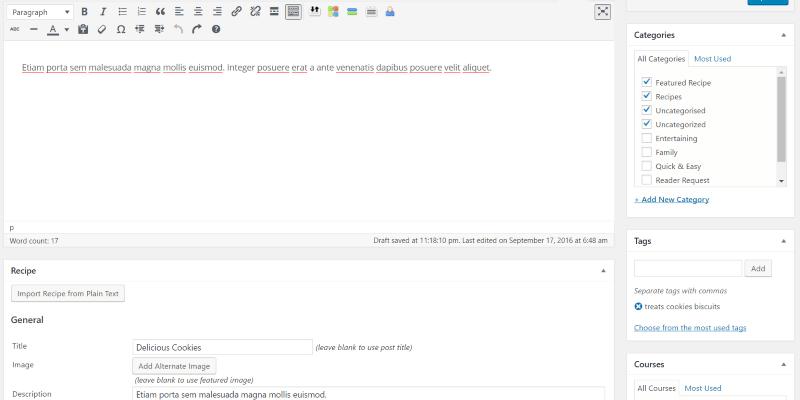 Add your recipes by adding new or editing a current recipe.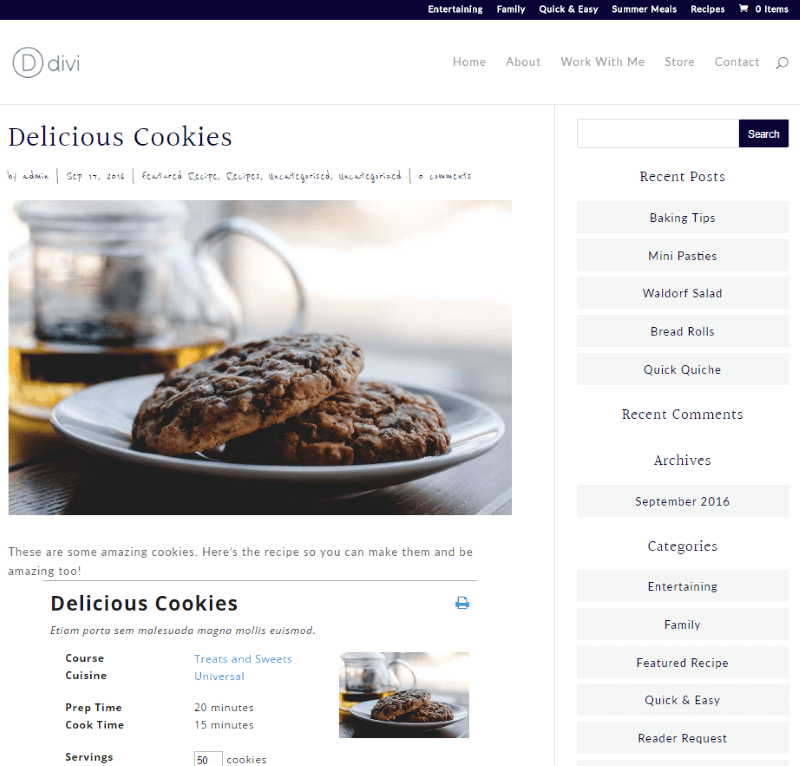 Here's an edited recipe.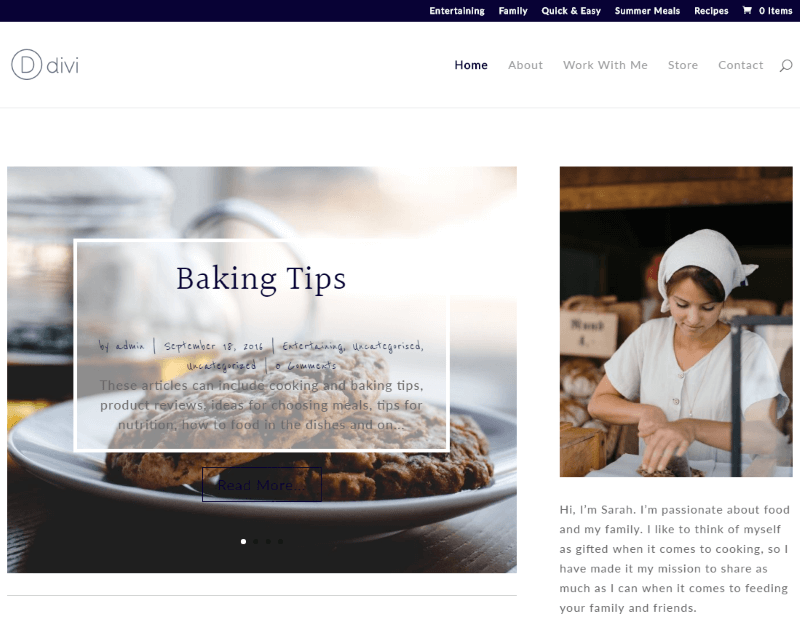 This is a look at the updated home page. You'll need to add your own logo in Divi Theme Options. When you're done replacing the dummy content with your own you'll have your very own food blog that's ready to share with the world and start selling your own products if you wish.
Delicious is an excellent choice for anyone wanting to develop a food blog and sell products and services.
Boulanger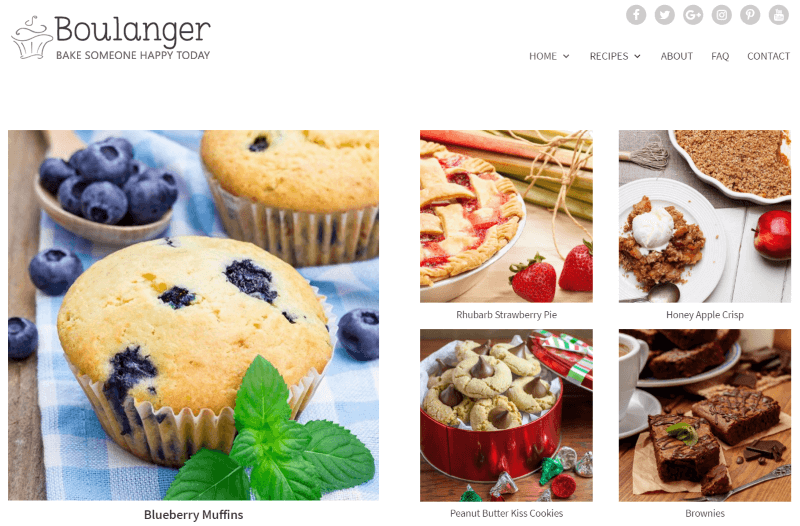 Boulanger is a child theme for food bloggers from Divi Diva with a focus on recipes using the free version of the WP Ultimate Recipe plugin. It features:
A custom blog
Two homepage layouts, two recipe index page layouts
Integrated social sharing in the menu using Font Awesome icons
Custom sidebar and footer photo grids
Several custom widgets including Divi Widget Builder from SJ James that allows Divi modules to work in sidebar widget areas
It's a great choice if you want to create a recipe blog or magazine.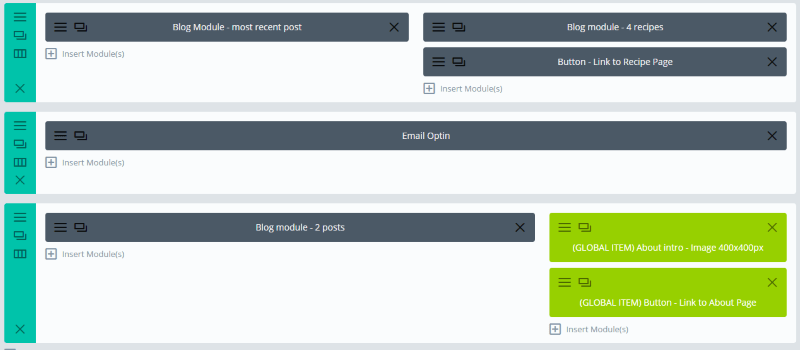 Once you create your posts go into each of the modules and choose the categories.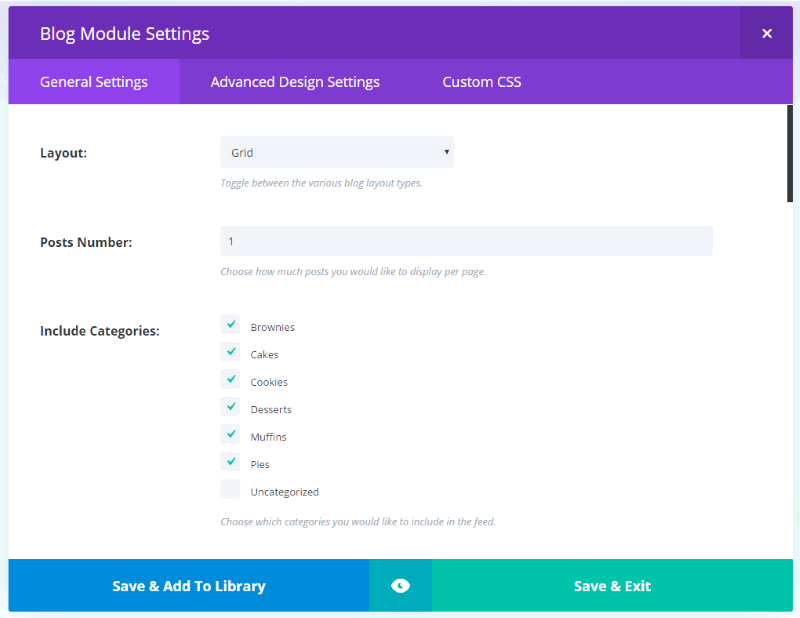 This is the primary post on the homepage. I've selected all of the categories.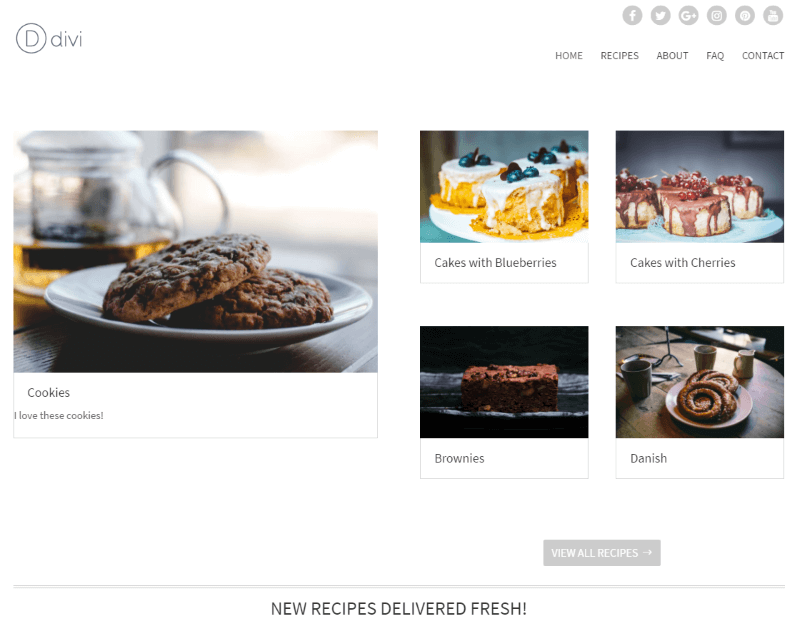 Here's a look at the homepage after publishing a few posts and setting up the categories.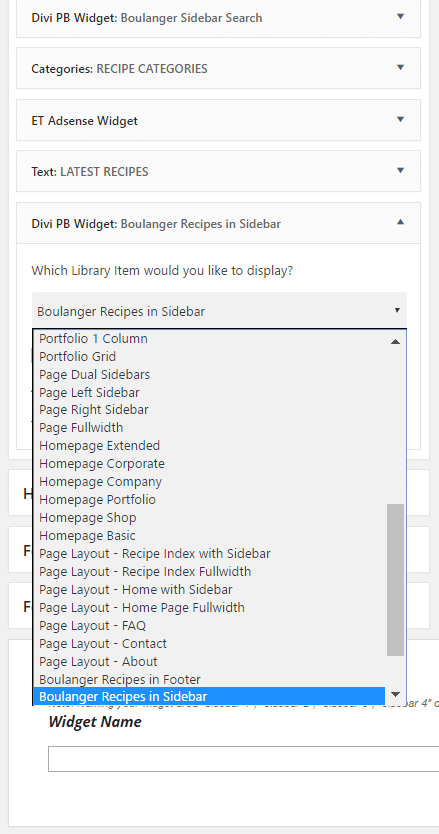 You can also add layouts to your sidebars. Choose your layouts to use within the customized Divi PB Widget.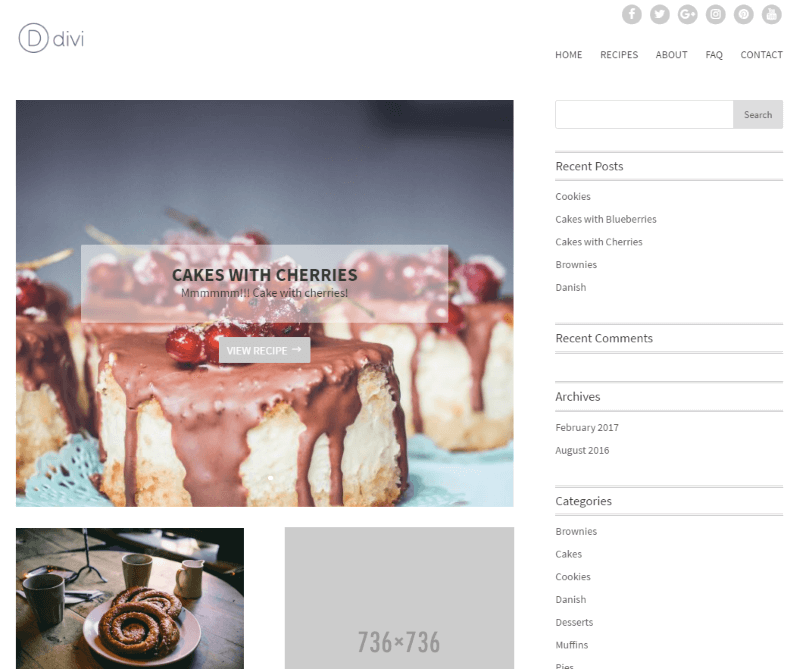 Boulanger comes with multiple layout options. For example, you can have a homepage with or without the sidebar. The new page will need to be edited the same as the original. This page includes a pre-styled sidebar. Drag and drop any widgets you want in the sidebar such as social feeds, signup forms, calls to action, the Divi PB Widget, etc.
Delicious is an excellent choice for anyone wanting to develop a food blog with a focus on recipes with optional ad spaces.
WP Ultimate Recipe

Both child themes use the free version of WP Ultimate Recipe. It allows you to create a list of recipes with categories that you can then place within your content using shortcodes. The recipes include images, ingredients, instructions, and notes. Your readers can print them if they want.
Create and manage recipes, ingredients, courses, and cuisines. Place the recipes within posts with images and descriptions.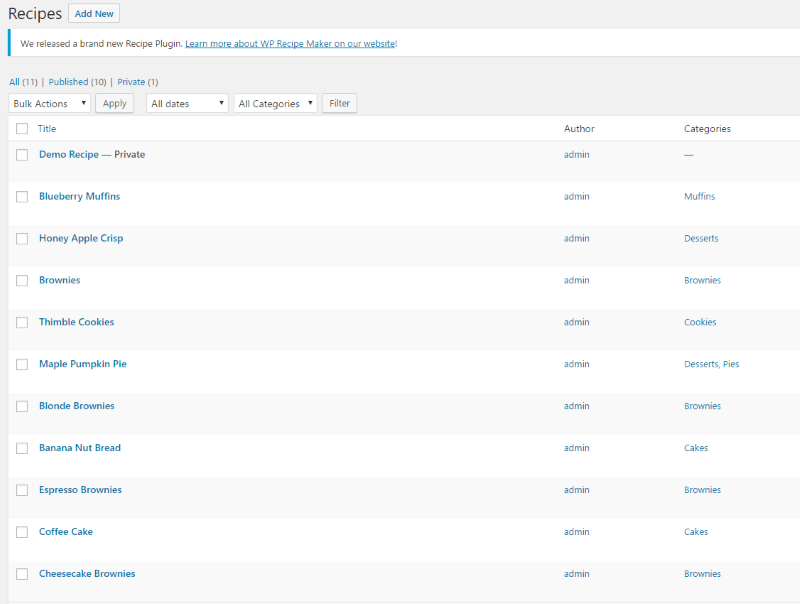 This is an example list from Boulanger.

Here's a look at a recipe made with WP Ultimate Recipe. This is from Boulanger.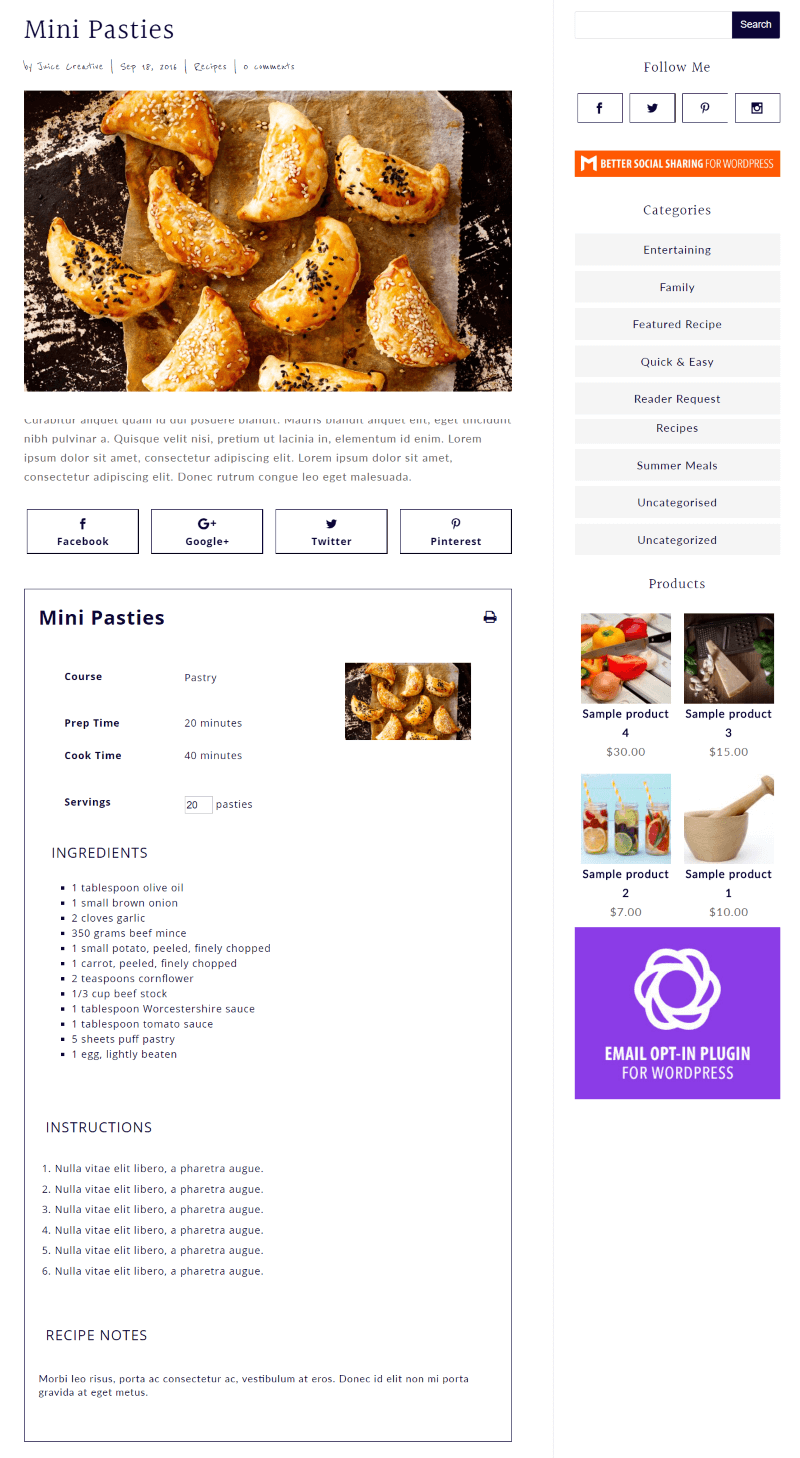 Here's a look from Delicious that shows how the recipes integrate within the posts.
Tips for Food Blogging
Use great photography – use your own photos and use lots of them. If you do use someone else's photos make sure you give them photo credit.
Write clear and complete instructions
Create great quality content
Test every recipe
Focus on the type of food you enjoy the most
Network with other food bloggers
Build a social following by creating pages for Pinterest, Facebook, Twitter, Instagram, etc.
Make it easy to share your content – Monarch is a great choice
Only post high quality recipes
Use clear categories
Make sure your recipe index is easy to understand
Create a newsletter – Bloom is an excellent choice
Create new content often
Create your own products
Cite your sources – give credit where credit is due
Submit your recipes to recipe websites like FoodGawker, TasteSpotting, and others
Don't give up
Enjoy it
Contest and Discount
Let's see those food blogs that you've made with either Delicious or Boulanger. Our favorite blog will receive a $150 Amazon gift card that's good toward any purchase on Amazon.
For this contest each of the developers have provided us with a 25% discount code. Simply use this code at checkout: imafoodie.
To enter simply place a link to your website in the comments by Saturday March 25 at 11pm EST. The winner will be chosen Monday March 27th. Feel free to add your own customizations- but the blogs must be made with either Delicious or Boulanger. Only one entry per person.
For more information about the context, please click here for the detailed rules: Food Blogger EMP Contest Rules. By entering you are agreeing to these contest rules.
Final Thoughts
Food blogs are a great way to build a business and community around what you love. Divi is the perfect choice for building a food blog and it couldn't be easier to have your very own professionally designed website than by using child themes like Delicious and Boulanger. Both child themes include WP Ultimate Recipe integration to beautifully add recipes to your content. If you're interested in creating a food blog, Divi with either Delicious or Boulanger is a great way to get started.
Have you built a food blog with Delicious or Boulanger? Let us know what you think about them in the comments below. Also, don't forget to submit your websites for the contest.