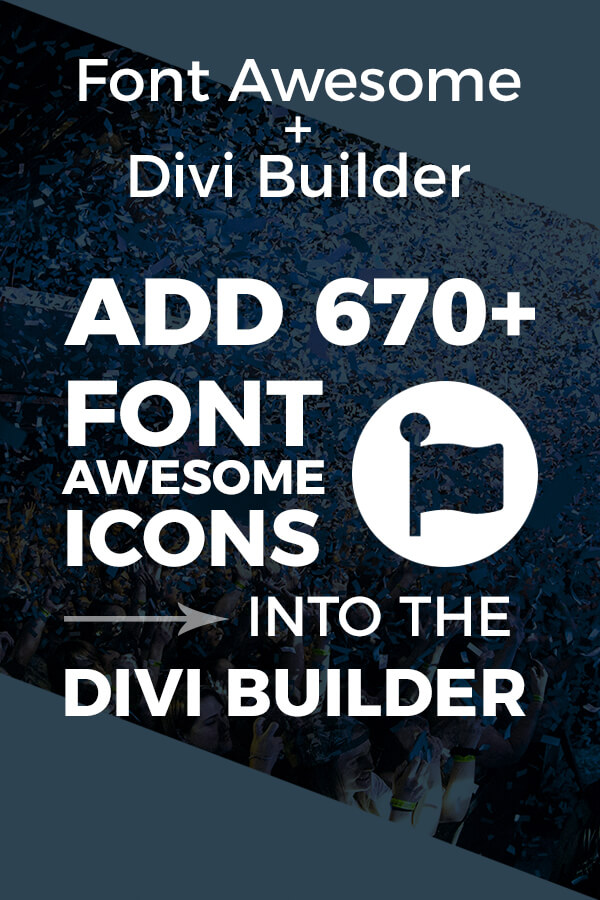 ** This plugin has been depreciated with the update of Divi 4.13 which introduced Font Awesome icons into the Divi core. Thanks to everyone who supported the plugin over the years and the mission to continue to make Divi the best it can be. **
New GDPR feature: option to load Font Awesome locally from your server instead of making a remote to call to the Font Awesome CDN.
—
Divi Font Awesome pulls the power of the iconic Font Awesome library directly into the Divi Builder where you can work with the icons natively, just like the icons that come shipped with Divi.
Most other plugins are great about helping you to load Font Awesome on your website, but actually using the icons involved writing custom CSS for each icon you wanted to use. And if a client wanted to change an icon? That was a whole ordeal.
Divi Font Awesome introduces a simple, 2 option settings page – just enter your FREE Font Awesome CDN embed code and tell the plugin whether you prefer to load Font Awesome via JavaScript or CSS. The End.
Compatibility
This plugin IS compatible with both the Divi and Extra themes.
This plugin uses Font Awesome 4.7. It does not support Font Awesome 5.
Forward Thinking
This plugin was built without creating any custom modules that would need to be maintained, meaning it's compatible with all of the core Divi modules that let you choose an icon for something. It also means there is less potential for conflict and hell, I wouldn't be surprised if it even worked with 3rd party plugins, providing they follow Divi's coding practices.
Product Support
I want my products to be the best that they can be. Run into any trouble using my products or find a bug? Let me know about it on my support page!
Tips/Tricks
How to add icons to elements outside of the Divi Builder, such as the nav menu using Divi Font Awesome:
---
Changelog:
As of Divi 4.13 this plugin as been depreciated as Divi now has these Font Awesome icons available as part of the Divi core. Thanks to everyone who supported the plugin over the years and be sure to check out my other plugins. 1.4.7 Fixed bug with Popups for Divi compatibility. 1.4.6 Updated compatibility with the Popups for Divi plugin. 1.4.5 Improved compatibility for the Divi Supreme Lite plugin. 1.4.4 Integrated support for the Popups for Divi plugin. 1.4.3 Optimized asset loading order. 1.4.2 Improved compatibility with the standalone Divi Builder Plugin. 1.4.1 Fixed a bug where some ET icons were not displaying properly in version 1.4.0 of the plugin. 1.4.0 Improved compatibility for sites running Divi  +3.18 1.3.8 Improved compatibility with Divi Booster. 1.3.7 Fixed bug in newer versions of Divi where shop module icon wasn't displaying correctly sometimes. 1.3.6 Fixed overlay icon error that sometimes appears on the Divi Shop module. 1.3.5 Improved compatibility for overlay plugins so icons display properly in overlays and popups. 1.3.4 Fixed bug where icons didn't display correctly in IE 11. 1.3.3 Added additional backward compatibility for the Visual Builder for sites running earlier versions of Divi. 1.3.2 Improved compatibility for class changes to the Visual Builder introduced in Divi 3.10.1. 1.3.1 Fixed a bug in the auto-update that didn't let some licenses activate. 1.3.0 Rewrote most of the plugin to optimize it. Integrated Elegant Marketplace's Auto Update feature so you can now update the plugin right from your Wordpress dashboard. 1.2.2 Added ability to load Font Awesome locally from server instead of making remote call to the Font Awesome CDN. Improved compatibility with the Visual Builder. 1.2.1 Increased compatibility with other themes that are using the Divi Builder plugin instead of the Divi theme. 1.2.0 Cleaned up code. Getting closer to Visual Builder compatibility! 1.1.0 Refactored code to clean it up 1.0.5 Fixed compatibility with Divi Layout Injector 1.0.4 Updated CSS for Font Awesome buttons 1.0.3 Changed Font Awesome JS option to load in head 1.0.2 Updated error checking in javascript 1.0.1 Fixed error with constants 1.0.0 Initial Release
Please scroll down for the support form
This theme, layout or plugin is comprised of two parts.
1. The PHP code and integrated HTML are licensed under the General Public
License (GPL). You will find a copy of the GPL in the same directory as this
license file.
2. All other parts, including but not limited to the CSS code, images and design are
copyrighted by the vendor concerned and are NOT licensed under GPL.
This license allows the item to be used in projects for either personal or commercial use by you or on behalf of a client. The item cannot be offered for resale either on its own, in part, or as part of a larger project including that being part of a hosting offer. Distribution of source files is not permitted.
*Support is provided by vendors directly.
Please login to access the support form. you can do so here