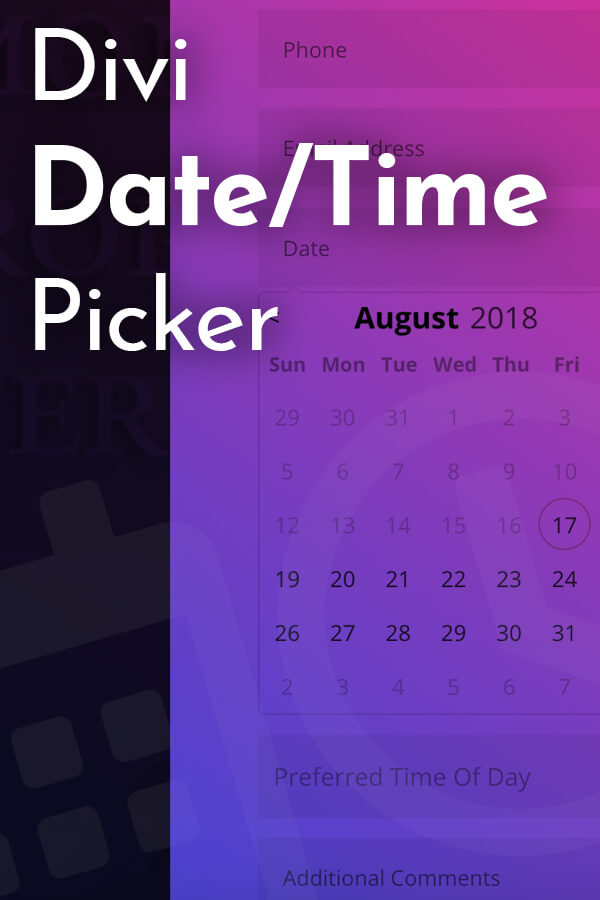 Easily add mobile-friendly, lightweight date and time pickers
This plugin is 100% compatible with Divi's Visual Builder as well as the standard backend builder.
This plugin allows you to easily add date and time pickers to your website using Divi's native Contact Form module.
Instead of adding another custom module to Divi, this plugin loads in a small, lightweight javascript that allows you to turn normal text fields into beautiful date or time picker fields.
This license is for unlimited sites, lifetime updates.

How it works
install and activate the plugin
add a normal text input field to a Divi contact form
enable the Date/Time Picker
Additional Features
The plugin has a ton of other great features you can take advantage of as well, including:
Set Hard minimum and maximum dates/times (specific dates) or Rolling dates that change automatically based around the current date.
Only allow users to choose dates in the future (past dates are disabled).
Disable specific days of the week
Disable specific dates
Enable date range (consecutive) selection.
Enable Multiple date (non-consecutive) selection
Custom date formatting to make the dates look nice.
12 or 24 hour time settings.
customize the hour or minute increment to suit your own time block needs.
Completely customize the date/time picker appearance to match your site's theme or design.
Set language per date/picker for multilingual sites.
Multilingual Support
This plugin has around 50 language options included which you can set for each date/time picker you create. Perfect for multilingual sites.
Compatibility
This plugin is 100% compatible with Divi's Visual Builder as well as the standard backend builder.
Customer Support
I want my products to be the best that they can be. Run into any trouble using my products or find a bug? Let me know about it on my support page!
You must log in and be a buyer of this download to submit a review.
---
Changelog:
2.4.3
Adjusted: Updated documentation link to include link to new doc site.
2.4.2
Fixed: Fixed bug where max_selected_dates error was triggered.
2.4.1
Fixed: Fixed bug where disabled dates weren't honored when using 'multiple dates' if user de-selected a date.
2.4.0
New: Added multiple date selection feature to allow users the ability to multiple non-consecutive dates.
New: Added option to set the number of dates the user is allowed to select.
2.3.5
Fixed: Fixed bug where sometimes showing all days of the week sometimes produced a warning.
2.3.4
Fixed: Fixed bug where CloudFlare's RocketScript sometimes interfered with the translation file.
2.3.3
New: Updated the support link. I'm here if you need me!
2.3.2
Fixed: Fixed bug where CloudFlare's RocketScript sometimes interfered with the loading of the plugin assets.
2.3.1
Adjusted CSS to improve the way the month is displayed.
2.3.0
Adjusted: Refactored and streamlined code. Improved the way translations are loaded. Extracted the plugin update function to the new WP Creator's Club Authenticator plugin to handle all product updates.
2.2.0
New: Integrated the plugin to the WP Creator's Club and removed the plugin settings page as it's no longer required since all customizations happen in the contact form module now.
2.1.1
Fixed: Fixed issue with certain special characters not displaying properly.
2.1.0
Adjusted: Updated plugin updating script.
2.0.0
New: Rebuilt the plugin almost completely from the ground up and included new features, such as:
- No more using strings for the field_id, add pickers directly in the Divi Builder (compatible with Visual Builder, Classic Divi Builder and New Divi Builder)
- Disable specific calendar dates
- Disable specific days of the week
- Added Hard and Rolling minimum/maximum dates for total flexibility
- Ability to set language per date/time picker
- Ability to customize the look of the date/time pickers to match your theme
1.1.1
Adjusted: Improved backwards compatibility for PHP 5.5
1.1.0
New: Added _disableweekends option to (wait for it...) disable weekends in the calendar. The starting day of the week in the calendar is now based off the "start of the week" settings in the Wordpress settings.
1.0.4
Adjusted: Improved compatibility for mobile devices.
1.0.3
New: Added compatibility if you want to use the picker in a form that is inside a modal or overlay.
1.0.2
New: Integrated EMP's auto-update feature for purchases from the Elegant Marketplace.
1.0.1
Adjusted: Updated some of the translation files.
1.0.0
Initial Release
Checkout the documentation first and if you still need help open a support ticket.
View Docs
This theme, layout or plugin is comprised of two parts.
1. The PHP code and integrated HTML are licensed under the General Public
License (GPL). You will find a copy of the GPL in the same directory as this
license file.
2. All other parts, including but not limited to the CSS code, images and design are
copyrighted by the vendor concerned and are NOT licensed under GPL.
This license allows the item to be used in projects for either personal or commercial use by you or on behalf of a client. The item cannot be offered for resale either on its own, in part, or as part of a larger project including that being part of a hosting offer. Distribution of source files is not permitted.
We understand that there can be issues whilst utilizing out of date browsers. Please ensure you use up to date browsers when using our vendor's products. For DIVI Theme – Third Party Plugins may not perform as desired in the Divi Visual Builder if this is the case, please use the classic builder. We are working with our vendors to rectify this situation as quickly as possible. With the release of Divi 4.0 developer documentation and SOME support of third-party modules and plugins are now accessible through the visual builder. 
Please be aware that you will need an amount of experience in the master theme that you are using in order to take advantage of our themes and plugins.
Please make your decision to purchase based upon your skill level to see if our products fit your needs. Due to the nature of Digital Downloads, Refunds are not possible unless the plugin or theme is unusable in your set up – we will require proof of this – please ensure that the product you are buying will do the job you want it too. In the case of Divi and Visual Builder compatibility – some plugins do not yet have 100% VB compatibility. Please check descriptions thoroughly to ascertain VB compatibility. Whilst every effort is made by our vendors to ensure compatibility with other themes, plugins and or web servers. This can never be guaranteed due to the many thousands of iterations in the wild. Please do not be afraid to ask the vendor for support by visiting the product page and clicking the relevant link. Warranty for fitness of products used on your installation is neither given nor implied. 
*Support is provided by vendors directly.
Please login to access the support form. you can do so here