We are at the 20th week of Resources Friday, the regular event on Friday, where you can discover new tools and resources that help you improve and speed up your work. Today you advance at once that I have added to this list a "TOP TOOL!", I'm talking about Beacon, a Web App (available the plugin for WordPress) that allows you to create a great ebook by using your best blog post.
Editors note: As a special treat, we have turned the last 20 Resources Friday post into an ebook using Beacon – we think you will agree that Fabio has worked extremely hard on this series and its reflected in the size of the ebook it being 147 pages. Download it here
But this is just an appetizer of what you will find in this list …
Enjoy the reading!
Index:
1) Plugin WordPress
2) Tool Web Design
3) Tool Web Marketing
4) Miscellaneous
With this plugin you can easily integrate one of the new features of Facebook, the Save button. This button allows users to save items or services to a private list on Facebook. You can save an article, a piece of clothing, a special offer, and any other links that you want to save for future use. And 'possible to integrate the button also using the Facebook SDK, but you'll need a minimum of code knowledge.

If you are a WordPress developer then this plugin can really worthwhile. Query Monitor is a debugging plugin with some advanced features not found in other debugging plug-ins, including automatic debug AJAX, REST API debugging, and the ability to narrow down things by plugin or theme.
A plugin to 5 stars with an active community that constantly updates this great plugin.

Beacon is a free web app which allows you to import, format and customize your best blog articles into a professional-looking PDF ebook. It is also possible to select among different formatting styles, fonts, color schemes and to add new text, pages and images.
The final PDF can be saved and downloaded and you will also have mobile-version friendly web version (which can be hosted on your own domain) of it also available for distribution. Great, easy-to-use platform to easily create ebooks without hiring a graphic designer.
Analytics offer the ability to see who read or downloaded your ebook.
Direct integration with WordPress (plugin) and Hubspot.
Free version available (includes a Beacon logo in your publications). Paid version from $9/mo (1 unbranded ebook/mo).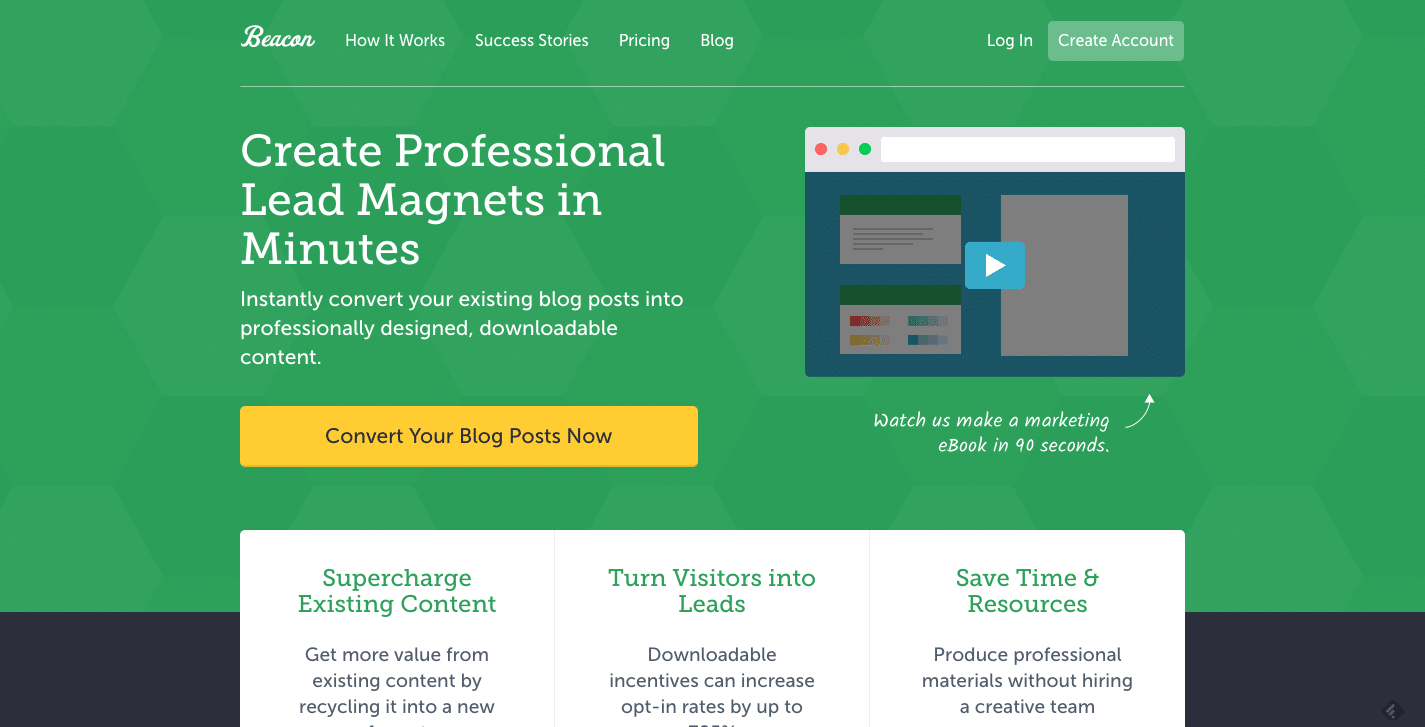 Stencil is a web app  which makes it as easy as possible the creation of visual posts, picture quotes, visual promos and-and ads for your website or your social media.
The tool allows you to tap into over 600,000 images and 200,000 clip art icons, plus it provides over 40 ready-made design templates  that you can fully edit and personalize. Each and every layout can be easily exported to one of 34 pre-set social media layouts perfectly respecting ideal image and sizes for different platforms. Easy, immediate, simple and truly cost-effective.
A dedicated Chrome browser extension allows you to easily select any text on a page and to instantly transform it into a visual post to publish.
Free version available (max 10 images per month). Paid version: $9/month. Unlimited images.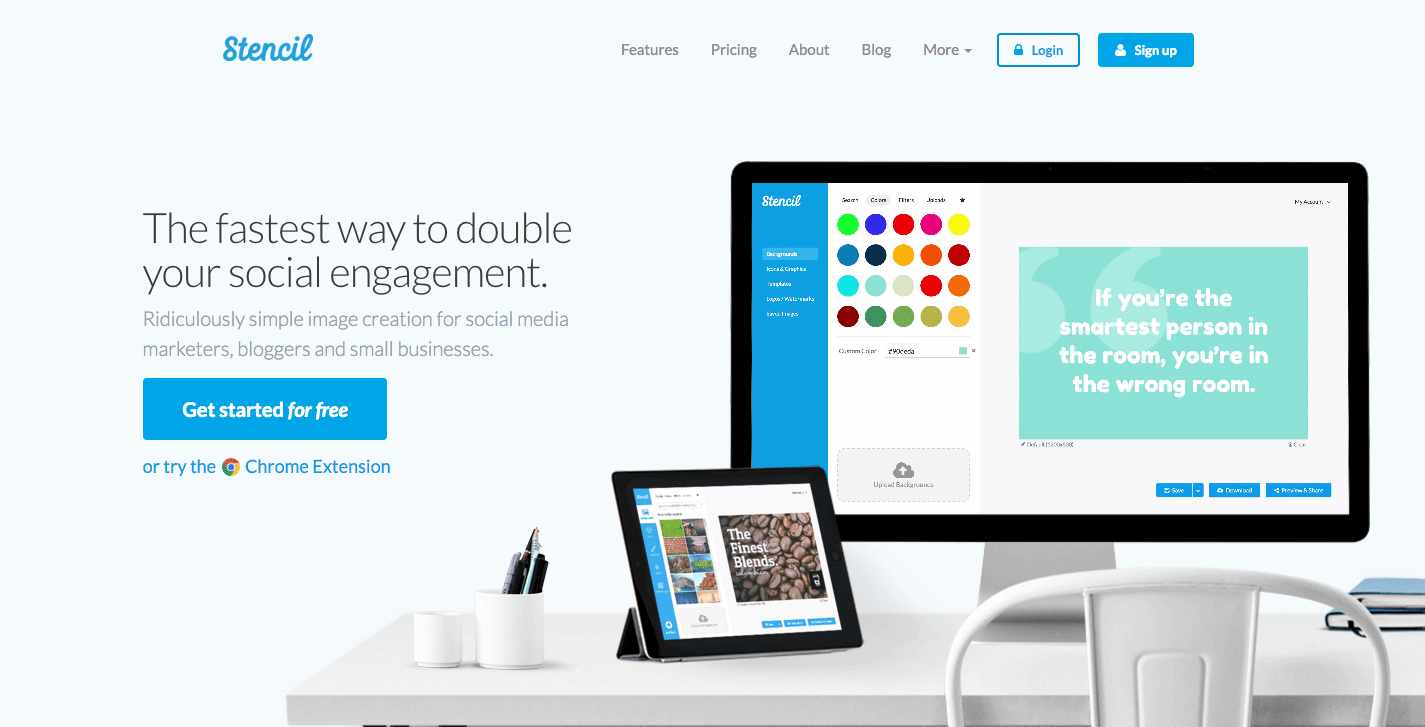 WebinarJam is a very powerful webinar and webcasting platform, capable of integrating:
lead generation
landing page creation
full live webinar features including video and screen-sharing
full audio and video recording
full automated webinar playback
live offers during events
and a lot more.
Excellent solution for anyone wanting to utilize webinars as a key marketing and sales channel.
WorkBot is a new and excellent solution to manage and automate your app via Slack. Like IFTTT and Zapier, but integrated into the Slack chat. WorkBot is the bot of Workato suite that keeps your apps synchronized and automates manual tasks. Just open a chat with WorkBot to create, update or display your apps. Without use of code
Some features:
Access your app directly from Slack
WorkBot the syncs in the background
Create your own commands
WorkBot connects to more than 100 apps in Slack and includes support for:
GitHub
Salesforce
Intercom
Mailchimp
Expensify
Eventbrite
Zendesk
Stripe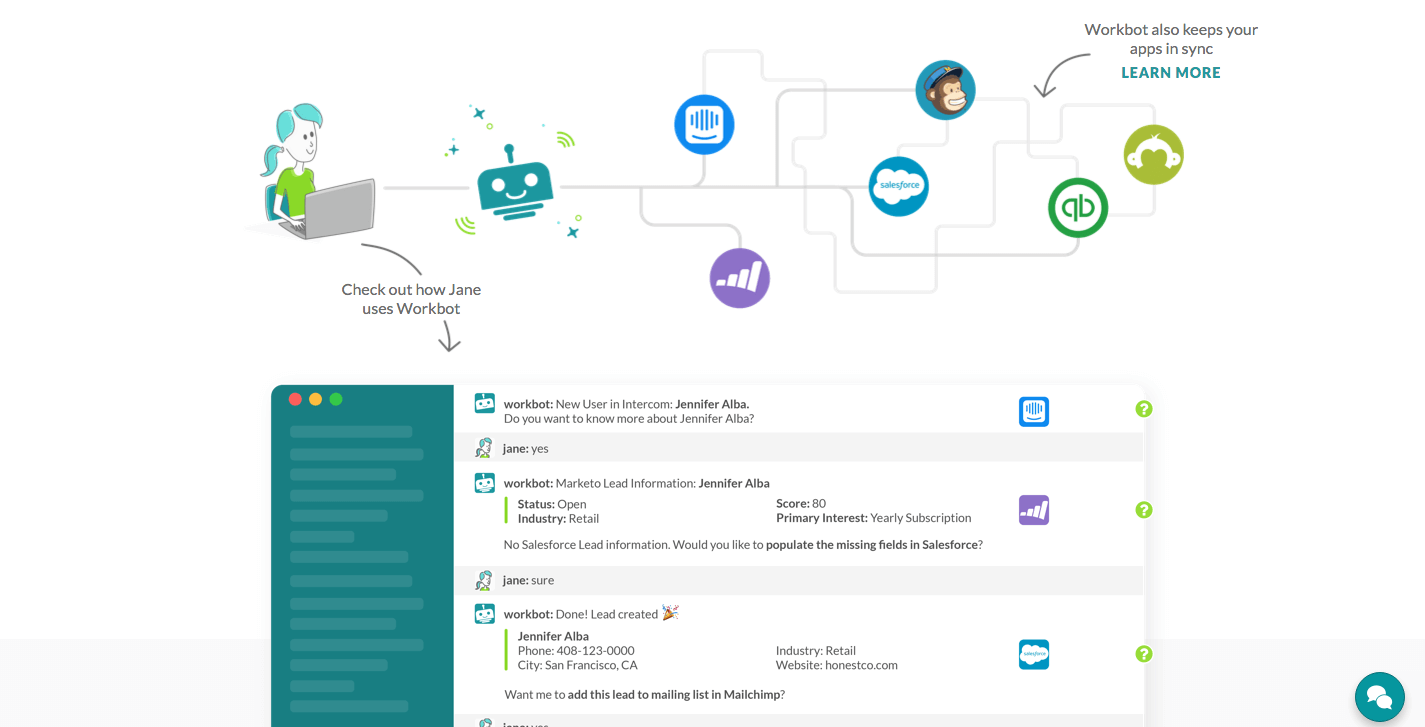 Alternative.to is a free crowdsourced directory of apps designed to facilitate the task of finding alternatives to a specific app. The directory is organized into categories reflecting the different platforms (iPhone, Mac, PC, Linux, etc.) and it is possible to filter the results according to one's own preferences.
For each app, there is also a dedicated page that provides a basic description, user comments and reviews.
Excellent resource to find apps you don't know yet. The contribution of user rating, comments and reviews make this directory invaluable.
100% free!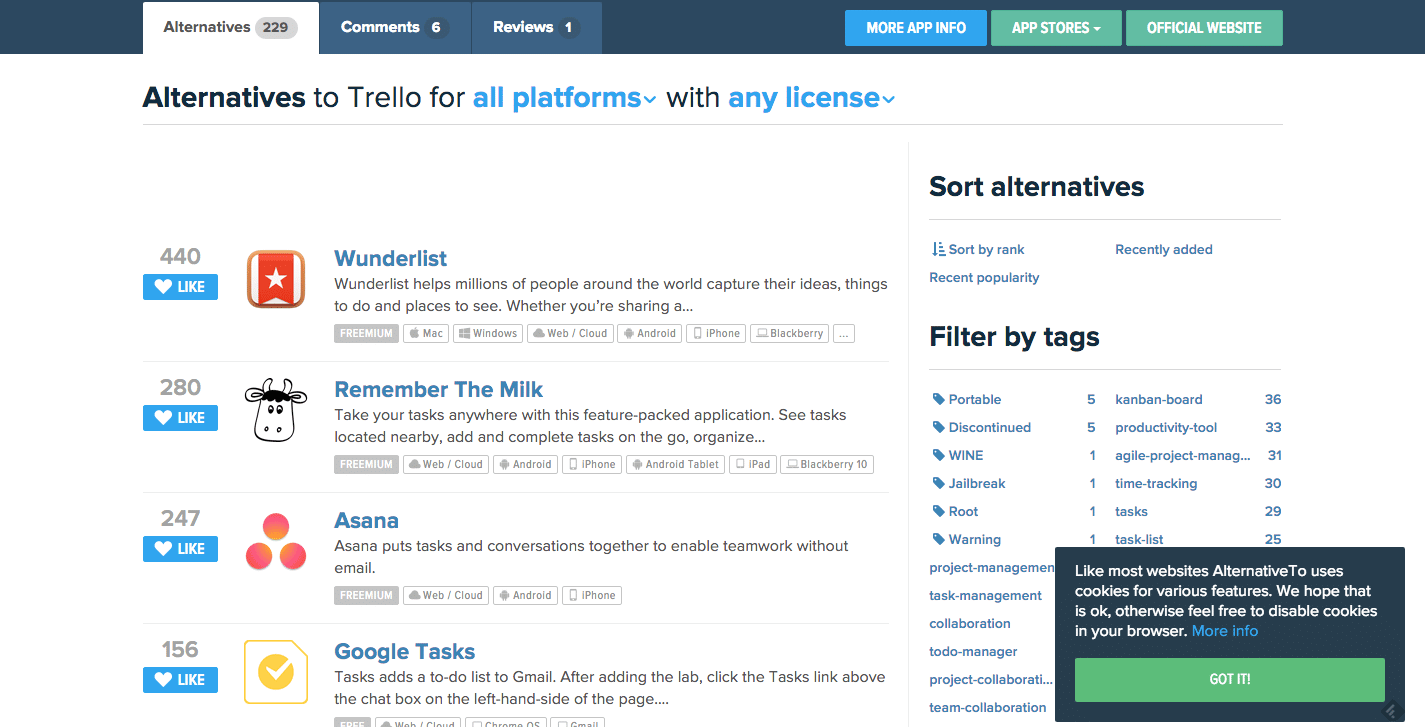 Filmora is a cross-platform downloadable video editor for Mac and PC which focuses on ease of use and simplicity. This is a fully redesigned version of Wondershare Mac Video Editor with a completely overhauled interface. All basic video editing features are included. There are many titling templates, graphic animations and visual elements that can be easily overlayed on video.
Free version (it has all features enabled but includes a small Filmora logo on all clips).
$49-lifetime license
Easy-to-use video editor alternative to more expensive and difficult tools. Does all the basics without requiring you to be an engineer.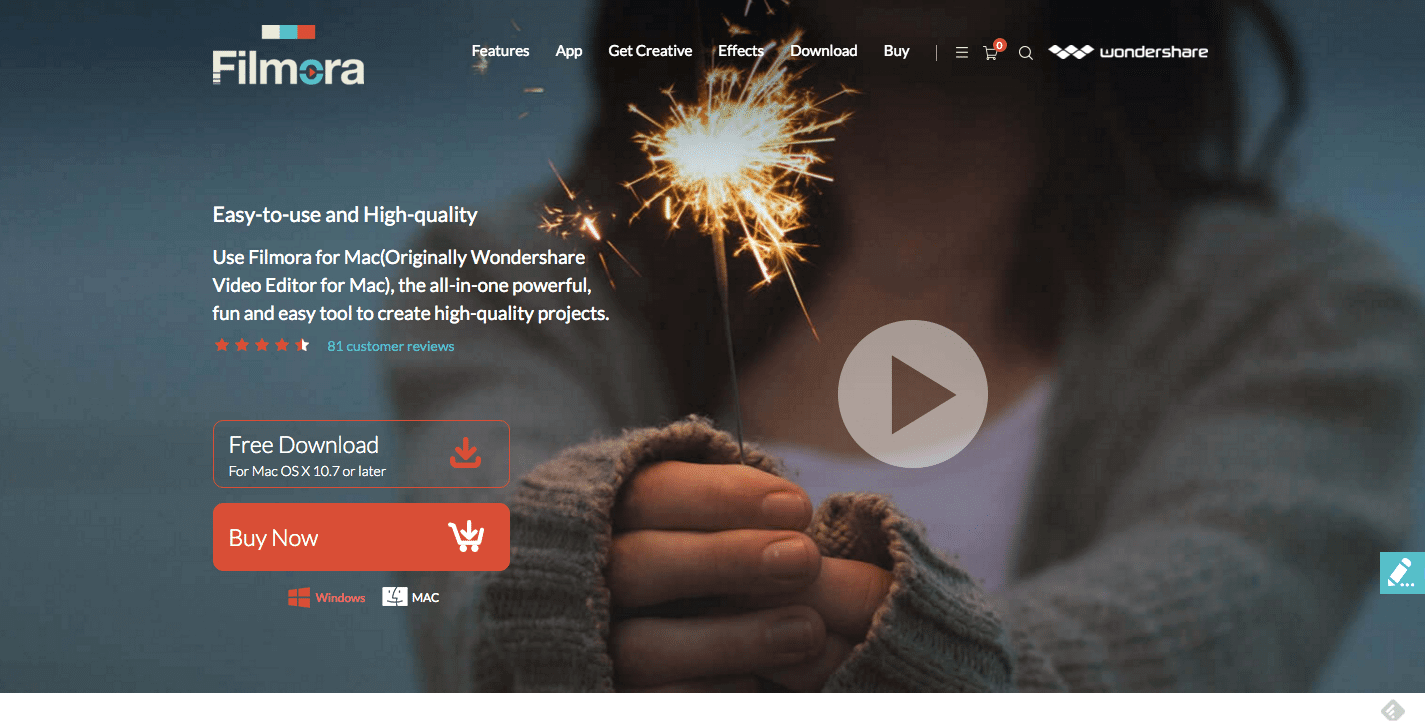 This was the last tool for this list, but Resources Friday does not stop, come back next week with a new collection of resources and tools.
But now it's your turn.
Did you already know some of these tools? You have a resource or tool that you want to recommend?
Write it in the comments.
Have a nice weekend! 🙂
[et_pb_shop admin_label="Shop" type="recent" posts_number="8″ columns_number="0″ orderby="date"] [/et_pb_shop]