Marketing software has really taken off in the recent years. More and more marketers and businesses are tapping into the power of sophisticated tools, freeing themselves from mundane, repeated processes and tasks so they can focus on the creative part.
In other words, it provides automation of processes and tasks. This quickly became a buzzword in the marketing industry because every marketer strives to automate tasks and increase the effectiveness and efficiency of their effort.
The effectiveness of marketing automation software is best demonstrated by the growth of the market that reached $3.3 billion in 2017 and has been growing steadily since 2009, according to Email Monday's overview.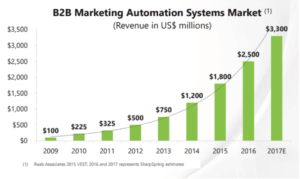 Are you considering using marketing automation and looking to get more information on how it can boost your marketing strategy?
It's certainly an understandable decision because it's important to get a good understanding of what you should expect from using the automation software, and what key benefits it has before you begin selecting.
Let's walk through the five company-wide benefits of adopting the right marketing software solution.
1. Reduces Repetitive Tasks
Let's start with the most obvious benefit. The main purpose of any software is to eliminate repetitive tasks that take up a lot of time, and marketing software is no exception. When you replace manual repetitive tasks with automated campaigns, you'll free up your workforce's time to concentrate on projects that require creativity and critical thinking.
The examples of tasks that could be delegated to marketing tools include email campaigns, compiling customers' information, scheduling posting of content on social media, and many others.
"Ultimately, the application of marketing software will make a positive impact on the performance and effectiveness of your employees," confirms Don Gibson, a digital marketer at Proessaywriting. "Besides, they'll be much happier doing creative rather than mundane, routine tasks."
2. Reduce Staffing Costs
Using effective marketing software tailored to the needs of your business, several persons can easily compete with ten marketing and sales teams in terms of effectiveness. This amazing ability is the result of the right decisions informed by the data and information provided by marketing tools.
For example, setting up lead nurturing and marketing campaign tracking for a couple of months can give you the data you need to identify the techniques and methods that performed the best. As the result, it would be possible to develop personalized offers and make them at the right time.
As the result, you won't need a lot of people to nurture leads effectively, which could translate into huge savings.
3. Personalizing Customer Journey
If you have any experience with marketing, you know that personalization is key to increasing sales. In fact, almost 79 percent of consumers say that they will only engage with a business if it makes them a personalized offer that reflects previous interactions they had with it.
Marketing software supplies marketers with the data and information they need to personalize marketing and get the right content at the right time. Moreover, it captures insights into how customers use that content and what drives their engagement.
Marketing tools have been supplying companies with useful information for a long time. In fact, a great example of the effectiveness of personalization occurred in 2010 when Dell used special software to conduct behavior analysis. By creating promotional material based on the behavior of the visitors of the company's website, they achieved a 70 percent increase in click-through rates and a 300 percent increase in conversion rates.
4. Improve Collaboration between Marketing and Sales
Marketing software is important because it identifies the bottlenecks in your marketing strategy and provides a clear analysis of all processes. Given that in many companies integration between marketing and sales teams can get a little bit complicated because of the different data they have, chances are a similar situation exists in your company as well.
Using marketing software increases the efficiency of the collaboration by eliminating outdated structures and processes and supplying reliable information related to marketing strategy's performance.
5. Getting to know your Customers Better
There's a special kind of marketing tools called customer relationship management (CRM) systems that are designed specifically to improve the relationships with customers by supplying businesses with information about them.
This information is then used to design customer experiences and offers that are relevant and personalized. Ultimately, they contribute to a better overall customer experience, which is something that all businesses strive to achieve.
The Bottom Line
The marketing software can boost your strategy in many ways as well as impact the performance of your business. The data don't lie: automation works. Of course, it can cause quite a few problems in researching the right tools, but ultimately, you'll be glad that you made this choice.