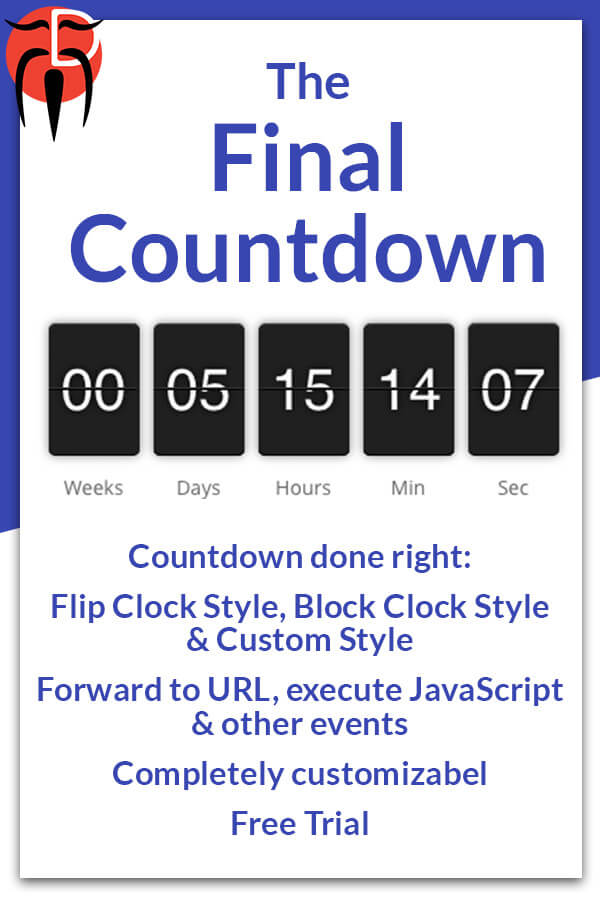 Divis Countdown Module is very limited – not only in the possibilities to style the module but especially when it comes to advanced functionality. Thats why we took our turn to come up with something you surely will fall in love with. Forget about the Divi Countdown, here comes the Battle Suit for Divi – Countdown Add-On.
So what does make our module better than Divis Countdown module? Phew, where do we start there? Maybe the completely customisable style of the counter? You can choose to use one of our build in styles like the Flip Clock or the Block Clock or create your very own style using a very simple, yet super effective template style together with custom HTML. You could even create a countdown inlined in some text if you want to. Check out the demo page to get an idea.
But our clock styles are not even the best part of the plugin. We so often have heard the question if you "can do something when the countdown finishes, like forwarding to another URL", that we had to implement this as well – and we didn't stop there. You can forward to a URL, execute your own JavaScript, replace the counter with custom HTML or simply stop at 0 or continue counting. It's completely up to your needs.
Here is a probably not complete list of all the features you get in the module and we are eager to add more features if you need them:
 Clock Styles

Flip Clock
Block Clock
Custom HTML

Events (when reaching 0)

Continue counting
Stop the clock
Forward to URL
Execute custom JavaScript
Replace with custom HTML

Show labels above or below
Custom labels
Show or hide weeks, days and seconds. When hiding weeks or days, the time is automatically added to the next unit
Completely customizable font settings
Customize the clock faces
Create your own clock faces using HTML and the well documented syntax for the numbers and labels
Custom CSS fields
All settings you would expect from a Divi module
Besides that, the plugin is translation ready so you can use your favourite translation plugin to translate each and any text, from the settings names to the default labels. Ideal if you are an agency with customers all around the globe.
Oh and of course it's 100% compatible with the Visual Builder.
The Battle Suit for Divi – Countdown Add-On is most likely the best Countdown plugin for Divi on the market. If you use time bound promotions, it's a must have and for the low price it's a no brainer, especially for agencies and freelancers who regularly work with Divi.
---
Checkout the documentation first and if you still need help open a support ticket.
View Docs
Please scroll down for the support form
This theme, layout or plugin is comprised of two parts.
1. The PHP code and integrated HTML are licensed under the General Public
License (GPL). You will find a copy of the GPL in the same directory as this
license file.
2. All other parts, including but not limited to the CSS code, images and design are
copyrighted by the vendor concerned and are NOT licensed under GPL.
This license allows the item to be used in projects for either personal or commercial use by you or on behalf of a client. The item cannot be offered for resale either on its own, in part, or as part of a larger project including that being part of a hosting offer. Distribution of source files is not permitted.
*Support is provided by vendors directly.
Please login to access the support form. you can do so here