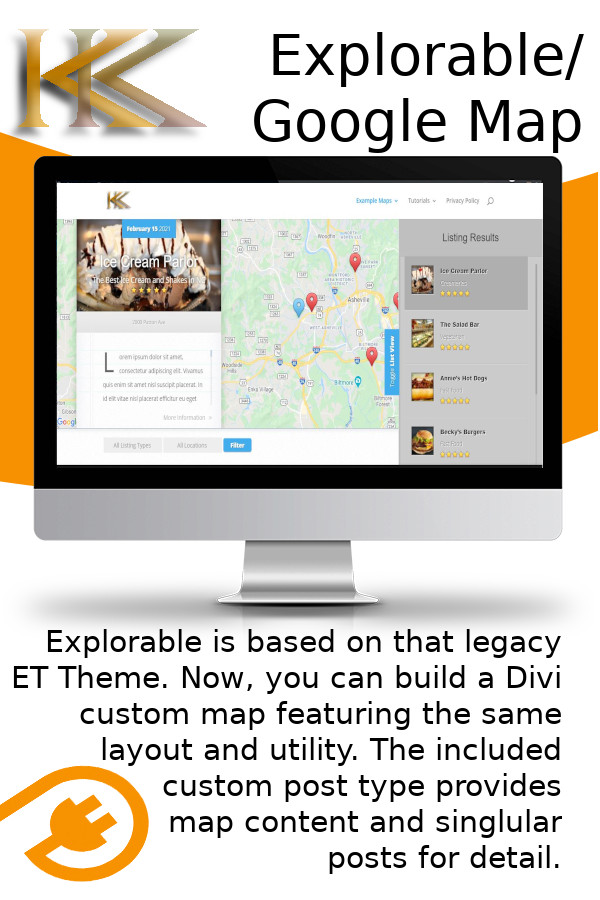 CURRENT RELEASE: 0.1.0
To utilize this plugin you will need a copy of Divi by Elegant Themes
COMPATIBLE WITH DIVI thru v.4.9.+ – NOTE: by Elegant Themes' standards, the module in this plugin is denoted as being "partially" compatible with the Visual Builder.  This primarily is attributed to module settings updates being delayed until successive ajax page refreshes while in the VB.  The module is fully compatible within the New Divi Experience in the back-office OR Wire Frame mode.
It's not too early for nostalgia!  Announcing "Explorable" for Divi. In remembrance of Elegant Themes' Explorable Theme, now you can build a Google Map with the same features.

The KK Explorable Map provides a fullwidth module designed to provide a similar map found in the original theme, but with multiple settings allowing many variations so no two maps have to be alike. In addition to recreating the desktop layout, special attention has been given to mobile versions, as well.
As does the Explorable Theme, KK Explorable employs a custom post type (Listings) that allows not only defining the location of markers, but provides for full Listings that can be presented singularly. Explorable for Divi provides a singular template for displaying Listings OR the Divi Theme Builder can be used to fashion and style the post type.
As enhancement to the filtering ability of the original design, KK Explorable uses jQuery to perform filtering and, thus, does not invoke a redraw of the map which helps limit drain on the Google quota.
If you aren't familiar with the original theme, the best way to become so is visit the demo site.
ADDITIONAL NOTE: this product utilizes the Google Maps Platform and will require a subscription to the Google Cloud Platform.  If you have used or are using the Divi Map modules, then it is more than likely that you have the API Key necessary.  The Google Map APIs required are listed in this plugin's Demo/Tutorial site.
---
Changelog:
version 0.1.0
-initial release
Checkout the documentation first and if you still need help open a support ticket.
View Docs
You may use on all sites (personal and commercial) that you build as often as you like. You may not transfer ownership or provide to others.  Support will require valid purchase ID.  Purchase price provides six months of support and lifetime updates.  Support can be extended beyond six months by renewing at 50% of the purchase price.
NOTE:  a license key will need to be entered into the plugin settings panel after installing.  This can be found under the WP Admin -> Divi menu selection.
*Support is provided by vendors directly.
Please login to access the support form. you can do so here