Elementor Layout – Candidates – Political Elementor Landing Page
$35.00 - $75.00
Live Preview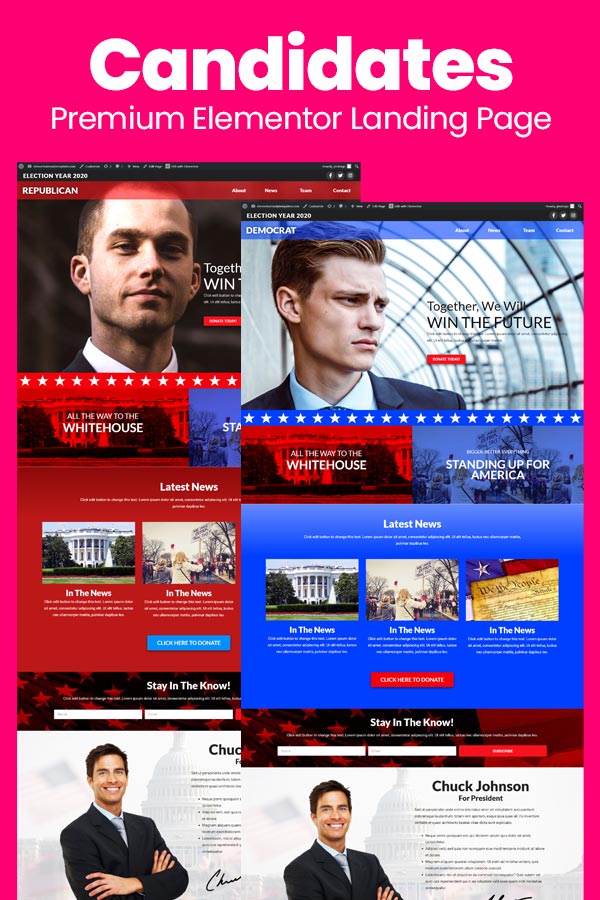 Tired of the same old designs? Need to rally the crowd around a particular congressman? Judge? City Official? The next President of the United States? You get everything you need to spread the word about your campaign with our brand new Elementor template landing page Candidates!
2 Landing pages included: Republican Red and Democratic Blue
Easy to install JSON files
Slick political design
We here at Elementor Ready, we are as bypartisan as it gets. That's why we gave you 2 landing pages for the price of one – Democrat and Republican. 2 color styles to represent your party correctly: Republican Red and Democratic Blue.
The Elementor Political Template is exactly what you need for the upcoming 2020 Elections. Loaded with premium features and a slick political look, Elementor Candidates is both affordable and will give you a great headstart on your next political themed website.
Elementor Candidates is easy to install. Just import your JSON files and your site will look exactly like the demo in no time. You will have a fully responsive website for your favorite candidate.
We have given you everything you need to get the word out about your Candidate.
Clean, pixel perfect design
2 Color Themes
Beautiful Hero Image
News Section
Where to Vote Button
Team Volunteers
Candidate Bio Section
Contact Forms
You will save both time and money with Elementor Candidates. Packed with royalty-free images – Candidates will give you that head start your looking for with your next political website. 
---
Checkout the documentation first and if you still need help open a support ticket.
View Docs
All images, videos, artwork are royalty-free and included with the Elementor Theme (saving you even more time!).
HOBBYIST LICENSE allows you to use the template for both commercial and personal use on one Live Site and one Development Site.
HARDCORE LICENSE allows you to use the template for both commercial and personal use on Unlimited Live Sites and Unlimited Development Sites.
*Support is provided by vendors directly.
Please login to access the support form. you can do so here