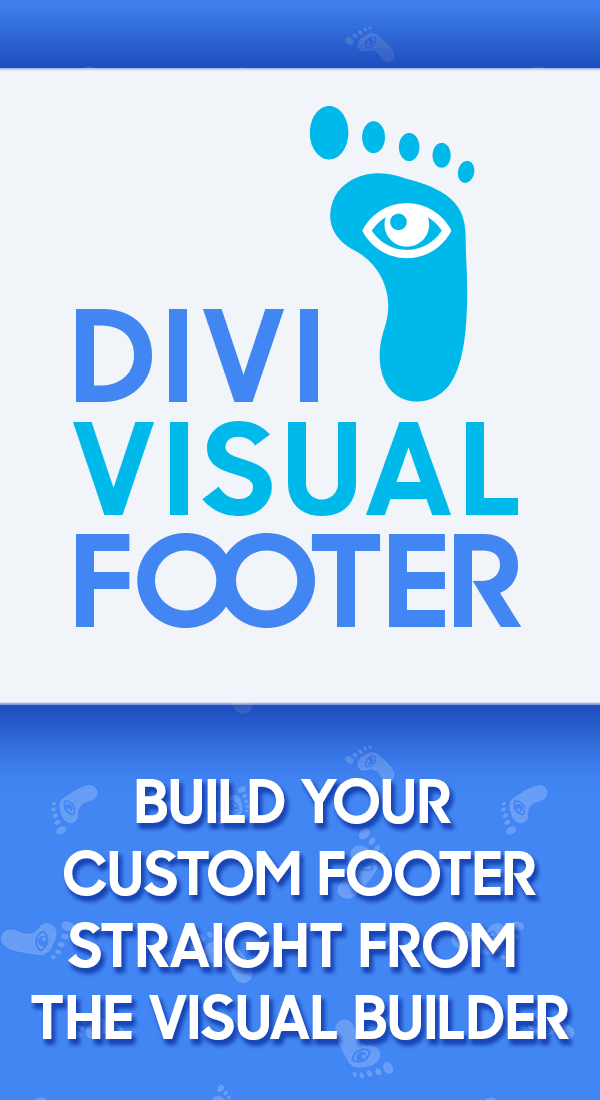 ℹ️ FULLY COMPATIBLE WITH DIVI 4!
Build your own custom footer in front-end, straight from the visual builder!
One of the best features of the Divi Theme is its front-end page builder, but it doesn't allow us to customize the footer…
Some solutions exist in using third-party plugins, but only in the back-end…
Divi Visual Footer allows you to build a fully custom footer, as easily as if you were creating a section, with all the available features (shadows, animations, dividers…), and straight form the front-end.
You can even apply additional effects to your footer (see the examples in the video).
Unlimited License and unlimited installs, this product has updates for life
How it works?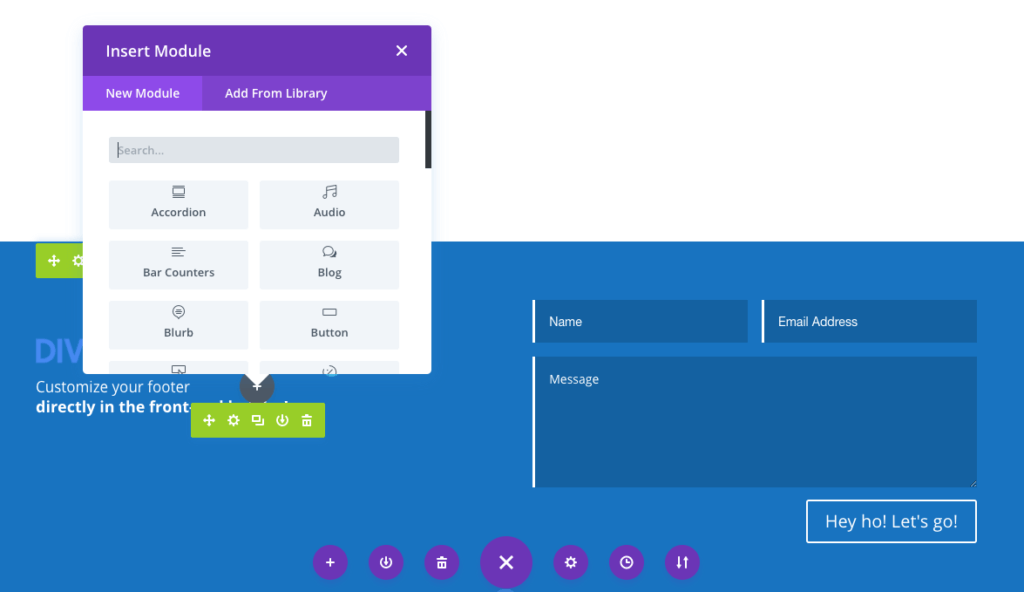 Insert a section on the page you want and add all the modules you wish, then save it in the Divi layout library.
– –

In the plugin admin page, select your saved layout and the page where you added it.
– –

Choose if you prefer to show or hide the Divi default footer (in addition to your custom footer).
– –

Add great effects to your custom footer!
What's new in Divi Visual Footer 1.1
This version has been widely rewritten and has a new framework to improve the stability and compatibility of the plugin.
The options page has also been completely revised with, among other things, the addition of select lists with autocompletion or the ability of resetting its settings.
Finally, to configure your Visual Footer, you now have the choice between going through the WordPress administration options page or the WordPress theme customizer, so as to fully design your footer without ever leaving the front-end!
NEW EFFECT: The Wall!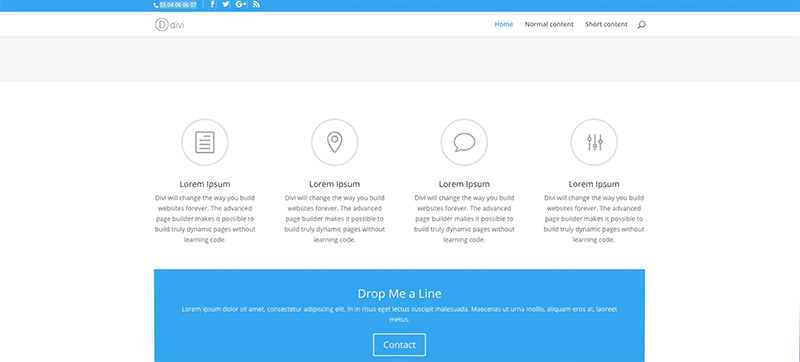 ---
Changelog:
Version 1.2.1
 Improve compatibility with the All-in-One Event Calendar plugin (the footer was displayed twice)
Code optimization: JS and CSS files are now minified
Remove unused CSS
Added a button in the WP adminbar for quick access to the plugin options page
Moved the "Divi Visual Footer" menu in the "Divi" menu (Do not look for it in the "Appearance" menu anymore!)
Version 1.2.0
Auto-updates!
Improved: no more display issues when using the Visual Builder while a DVF effect is enable
Fixed: the footer was not properly injected on all pages in some configurations…
Fix style incompatibilities with Popups for Divi plugin
Version 1.1.2
Improve compatibility with the Bloom plugin (when the "Below Content" option was selected, the opt-in form appeared in the footer)
When the Visual Builder is on, the injected footer no longer appears on pages other than the source page to avoid display bugs
Version 1.1.1
Fix incompatibilities with Divi Theme 3.10 that was causing issues on some effects as "Reveal on scroll", "The Wall"…
Version 1.1
New framework to improve stability and compatibility
New options page
Set your presets in the options page or in the WordPress theme customizer
Version 1.0.1
New effect added: The Wall!
Version 1.0.0
You may install this product on any number of websites that you build for yourself or your clients or as the license so determines, i.e, if it is single use, then that applies. You may not install any of these products as part of a hosting offering. Any abuse of these license terms will result in the termination of your account and the licenses that are attached – no refund will be offered or awarded in such cases.  You will receive 6 months support – premium support charges may be incurred after this period. Updates are for the life of the product.
We understand that there can be issues whilst utilizing out of date browsers. Please ensure you use up to date browsers when using our vendors products. For DIVI Theme – Third Party Plugins may not perform as desired in the Divi Visual Builder. This is an issue that we cannot fix due to the restrictions put upon us by Elegant Themes lack of Divi Developer Documentation.
Please be aware that you will need an amount of experience in Divi Theme/  or ELEMENTOR/WordPress to take advantage of our themes and plugins.
Please make your decision to purchase based upon your skill level to see if our products fit your needs. Due to the nature of Digital Downloads, Refunds are not possible – please ensure that the product you are buying will do the job you want it too.
All support for products is handled by Vendors and contact details will be included in the download packages. If contact details are not found within the files, please do contact us and we will be happy to put you in touch with the vendor concerned. BEFORE YOU ASK US FOR DIRECT SUPPORT – READ THIS! 
*Support is provided by vendors directly.
Please login to access the support form. you can do so here