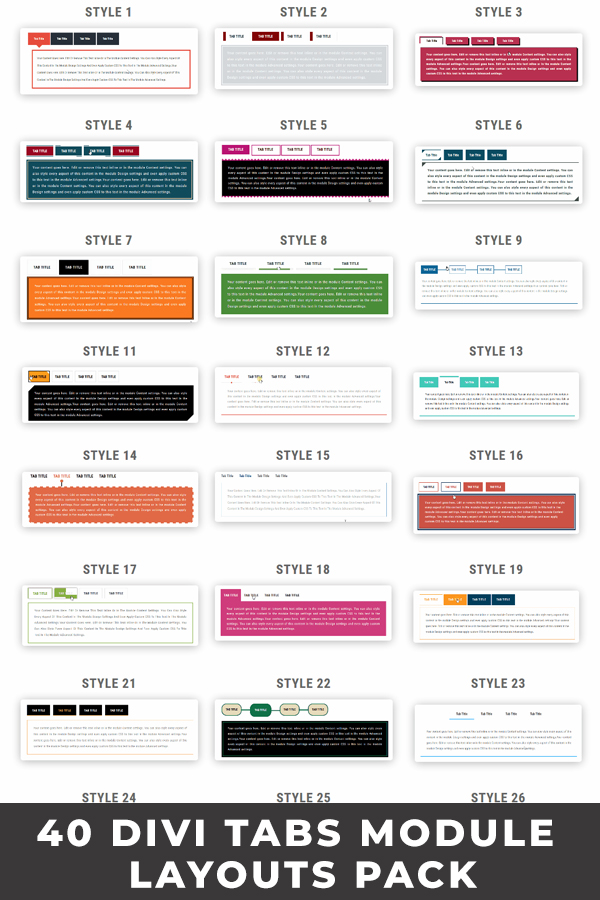 40 Divi Tabs Module Layouts
If you'd like to create an attractive Tabs on your DIVI Website in a short space of time, browse through our collection of exquisitely designed Tabs module List Layout Designs for Divi Website. Our Tabs Module Design for you to display Tabs faster and simpler and beautifully with minimal setting and sort code possible in different template styles .Get 40 Divi Tabs Module Layouts Today !
Following Feature of Divi Tabs Module Layouts Pack
Easy To Imports Using Divi Library Settings
Specially Design For Divi 4+ Version
There is no required for external Js need
Each Tabs Layout Have Unique Hover Effects
Fully Responsive And Mobile Optimized
Compatibility In Latest DIVI

Note

This layout requires Divi parent theme and Divi theme not included in this package
A good amount of knowledge in Divi Builder and WordPress is recommended to use this child theme.
Divi Tabs Module Layouts 1 – 10
Divi Tabs Module Layouts 11 – 20
Divi Tabs Module Layouts 21 – 30
Divi Tabs Module Layouts 31 – 40

Enhance your Divi Website by One Of Our Divi Tabs Module Template ! Get It Today !
---
Checkout the documentation first and if you still need help open a support ticket.
View Docs
Please scroll down for the support form
This theme, layout or plugin is comprised of two parts.
1. The PHP code and integrated HTML are licensed under the General Public
License (GPL). You will find a copy of the GPL in the same directory as this
license file.
2. All other parts, including but not limited to the CSS code, images and design are
copyrighted by the vendor concerned and are NOT licensed under GPL.
This license allows the item to be used in projects for either personal or commercial use by you or on behalf of a client. The item cannot be offered for resale either on its own, in part, or as part of a larger project including that being part of a hosting offer. Distribution of source files is not permitted.
*Support is provided by vendors directly.
Please login to access the support form. you can do so here