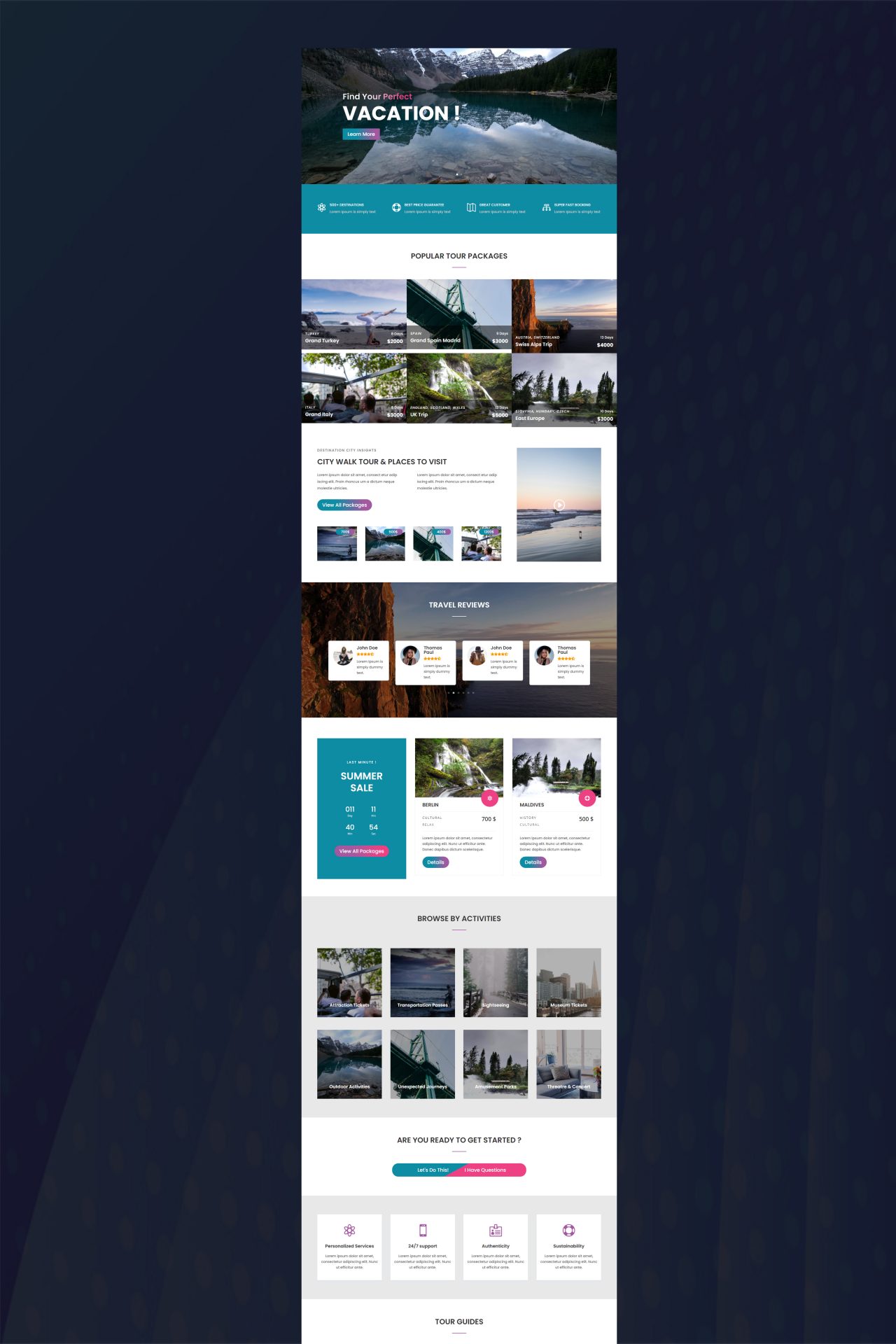 ' Divi Traveller ' is single page layout for all ' Travel ' related niche that includes all professional related Travel industry, but is a universal fully responsive Divi layout to be used with any purpose.
Apart from travel industry you can modify ' Content / Images ' for your personal portfolio, photography studio, small business, agency or a simple barber website too.
For all Travel ' niche ' it can be used by Travel Bloggers, Holiday Maker's, Travel Business, Travel Corporates, Travel Portfolio Website , Property Rental Websites, Travel Guides, and Travel You-Tuber's .
This is perfect for any individual / company who want to create effective landing page for their "  Travel Business / Property Rent Out / Local Tour Packages / ETC " 
This single page layout have all the sections needed for any ' Travel / Tour ' Industry 
Pros Of Layout & Features : 
– You can easily import the layout using the Divi portability feature, you can check out our documentation in case you face any trouble while uploading the layout. 
-The layout is responsive in all devices you can use it on mobile or desktop or tablet, it will be razor sharp and optimized for all devices
-It's fast and speed optimized to make sure you won't lose any lead or sale.
– You can change the images and content very easily, as Divi is drag and drop so it will be very easy for you to change the content.
– The layout is created with minimalism and simplicity in mind
– Easily import the page using JSON just in one click via ' Divi Library Import '
Demo :
https://divilayouts.divithemecenter.com/traveller-layout/
What Will You Get ?
 1.Product Zip :
– Library JSON file that will be imported under " Divi Library "
2.Supplementary Zip :
– Installation Guide & Instruction
Demo :
https://divilayouts.divithemecenter.com/traveller-layout/
Installation Guide:
https://divilayouts.divithemecenter.com/
---
Checkout the documentation first and if you still need help open a support ticket.
View Docs
Please scroll down for the support form
This theme, layout or plugin is comprised of two parts.
1. The PHP code and integrated HTML are licensed under the General Public
License (GPL). You will find a copy of the GPL in the same directory as this
license file.
2. All other parts, including but not limited to the CSS code, images and design are
copyrighted by the vendor concerned and are NOT licensed under GPL.
This license allows the item to be used in projects for either personal or commercial use by you or on behalf of a client. The item cannot be offered for resale either on its own, in part, or as part of a larger project including that being part of a hosting offer. Distribution of source files is not permitted.
*Support is provided by vendors directly.
Please login to access the support form. you can do so here