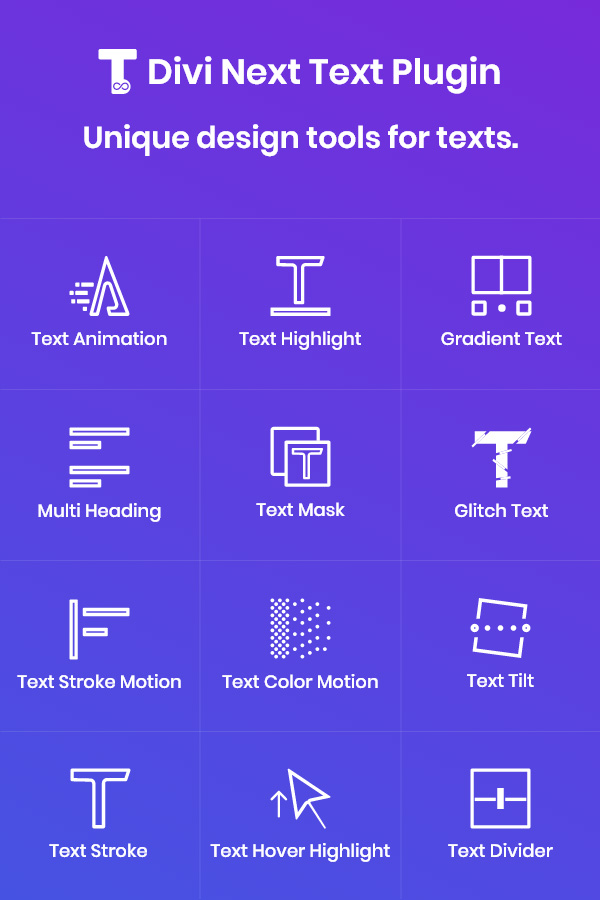 Our years of experience in design and development helps to bring you well-crafted sets of modules. We assure you an elegant look and feel to your websites; this comes without spending too much time.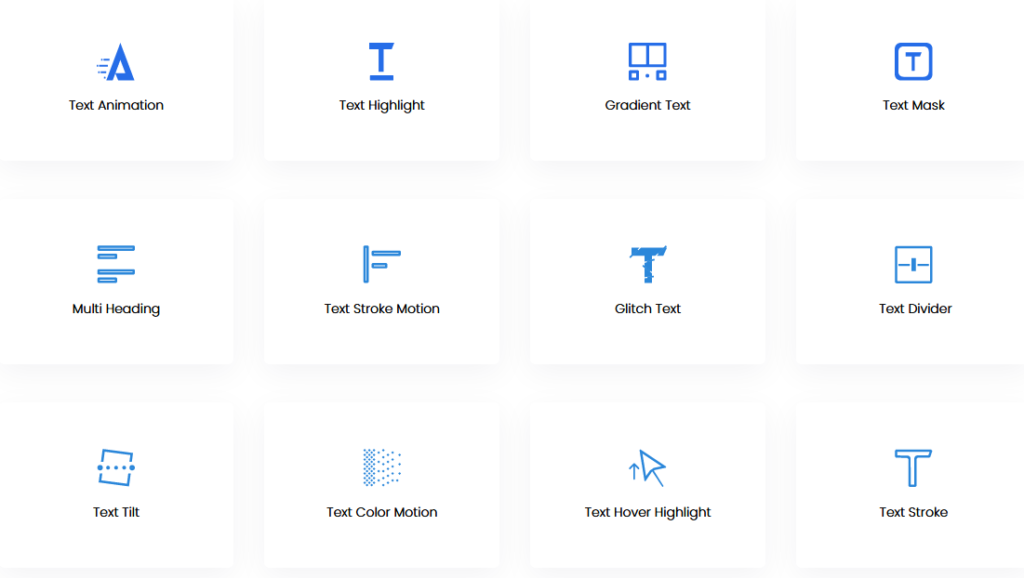 Animate your website's texts to reflect messages effectively. Cover texts with attractive animation to engage your visitors with interest. Enjoy the freedom to convey messages through different animation styles.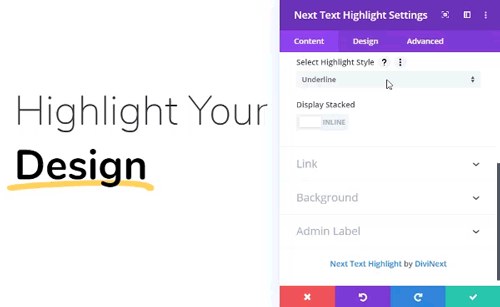 Do you recall the moments when we used to highlight important information in our textbooks to help us remember that information during our exams?
Just like that, you can help your clients/ users by highlighting important information you want them to remember using our "Text-Highlight Module".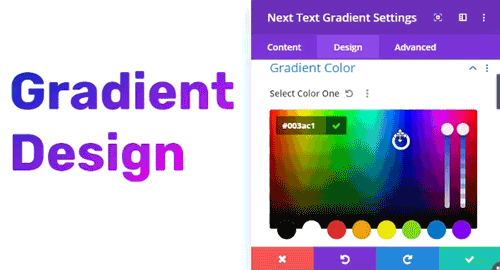 Want to have an attractive blend of colors on your texts? 
Our 'Gradient Text Module', offers you the fast and easy way to mix colors of your liking to your texts.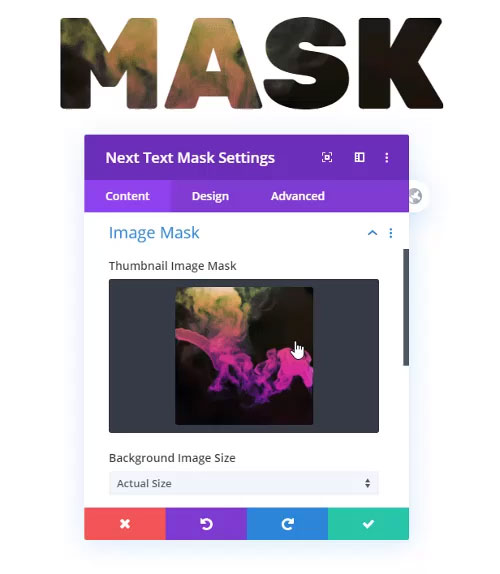 Mask texts with relevant images to appeal to the clients and users of your website. We assure you it looks way more attractive than it sounds. Feel free to have a look at some of the examples we presented here for you.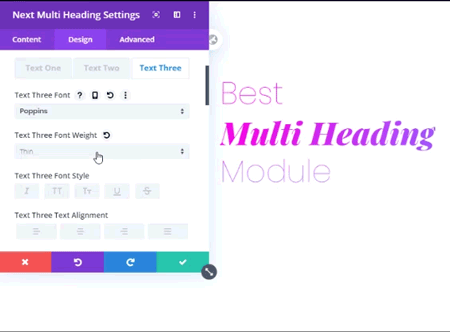 Now you can enjoy the freedom to use different styles and hover effects on each word of a whole heading by using our very own, DiveNext's 'Multi-Heading Module'.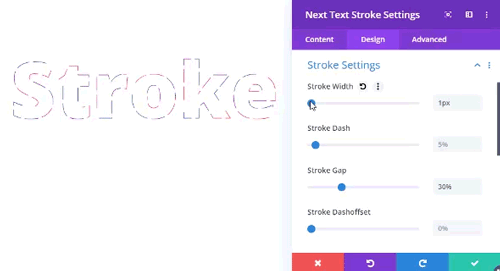 Divi Next is providing various ways for you to make your website look just the way you like it. 
With Next's Stroke Motion, you can add animated patterns that accentuate your texts.

Next Text Glitch Module
Want to put an interesting and unique glitch effect on your texts and add links that lead to the desired page.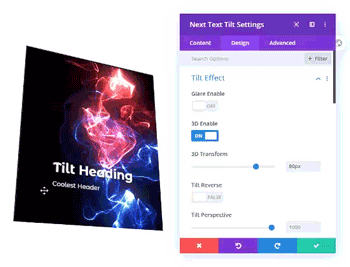 Do you want to give a 3D-like effect on your texts? Yes, you can do that with the module.
A unique module that allows the user to animate the color selected for the texts.
Highlight the texts in a more interesting manner using 'Divi Next Text Hover Highlight'
The 'Next Text Stroke', allows the designer to add a fill color that will appear with a hover effect of the user's choice.
Make use of Divi Next Text Divider to accentuate your text for your pages. 
Get more control over the design of your website text.
With 5 different divi module"Divi Next Texts"
You can expand the functionality of your Divi website by using a plugin. To get more text design option "Divi Next Texts" plugin gives 5 different text modules with unlimited design possibility.
With this plugin, you will be able to design so many professional text style for website easily. Divi Next Texts will give you strong control to design any text with the following five modules and 100+ features.
Modules included:
Divi Gradient Text
Divi Next Multi Heading
Divi Next Animation Module
Divi Next Text Highlight
Divi Next Text Mask
and more text modules are on the pipeline.
Convert your visitors
You could increase the conversion rate with proper text animation. Divi Next Text animation module would give you the opportunity to use styles interactively. Interactivity is closely related to conversion rate.
Increase attention on texts
The text would be the area of attention of visitors if it is properly animated. Just think your texts are waving in front of the eyes of visitors. You would imagine the next step "visitors are reading those texts with deep interest"
Easily convey message
Easily condense messages through proper text animation. Visitors will get the message if they are interested in the text. You can easily put a message with a simple spiral, loading bar or typing animation. This kind of simplicity would convey the message successfully.
100% Customization Control
You will get control to customize the animation of text with 10 different styles. This animation would differentiate the text from other plain text. Strong control over the text font, border, transform is also available.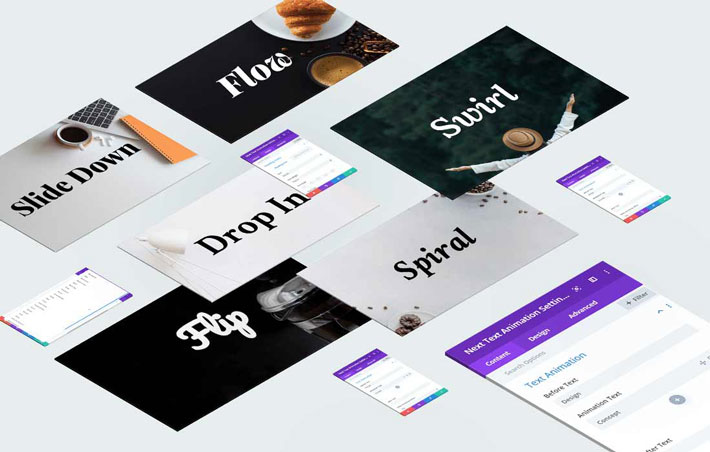 Text Animation Module
Animate your website texts to reflect messages effectively. Cover texts with attractive animation to engage your visitors with interest. Enjoy the freedom to convey message through different animation styles.
Grab User Attention With 9 Text Animation Effect Including.
Flip
Spiral
Drop in
Flow
Loading Bar
Clip
Flip
Push and 
Swirl
Text Highlight Modules
Communicate important text with different stylized highlight marks easily. You would be able to convey the message successfully with properly highlighted texts. A Curly line or underline text would increase appeal than a plain text.
Text Highlight Module Feature
14+ Highlight Style
Highlight Style Color
Display Stacked
Hover Effects

Gradient Texts Module
Gradient texts would pass your message even faster than plain texts. Quality engagement of visitors would be usual in fact with proper gradient combination. To decrease the bounce rate of your website page, animated gradient texts would have an important role.
Text Gradient Module Feature
Gradient Color
Reveal Effect
Hover Effect
A lot more features are available on the "Gradient Texts Module"!
Text Mask Module
Mask texts with your favourite picture to add extra value and grab the attention of visitors. Increase the value of a plain text with just masking with a relevant picture. Proper masking would convey the message more successfully than plain texts.

Text Mask Module Feature
Image Mask
Rotate Text Vertically
Hover Effect
A lot more features are available on "Text Mask Module"!

Multi Heading Module
Enjoy the freedom of different styles and animation with Divi Next Texts multi heading module. You would be able to design three different texts with different font, styles, hover effects in a single heading.
Multi Text Module Feature
Use Different Fonts
Gradient Text Color
Different Thickness
Stylize Border Contro
A lot more features are available on "Multi Heading Module"!
# Demo
https://plugins.divinext.com/divi-next-texts/
# Installing the plugin is similar to this video
https://www.youtube.com/watch?v=UCLjTVsVb2A&t=4s
# Request an APIKEY
https://www.divinext.com/purchased-from-divicake-com-get-the-license-key-now/
# Have Questions
https://divinext.freshdesk.com/
Or leave us an email at support@divinext.com
---
Changelog:
Version 2.1 ( March 25, 2020 )
===
Fix – Stroke motion header already sent issue.
Version 2.0 ( 22nd March 2020 )
===
Added – 7 more module
Added – Text Tilt module
Added – Text Hover Highlight Module
Added – Text Glitch module
Added – Text Stroke module
Added – Text Stroke Motion module
Added – Text Color Motion module
Added – Text Divider module
Added – Reveal effect to the multi heading module
Fix - Multi Heading Module Alignment
Version 1.1 ( 8th Dec 2019 )
===
Added – Dynamic content support.
Please scroll down for the support form
This theme, layout or plugin is comprised of two parts.
1. The PHP code and integrated HTML are licensed under the General Public
License (GPL). You will find a copy of the GPL in the same directory as this
license file.
2. All other parts, including but not limited to the CSS code, images and design are
copyrighted by the vendor concerned and are NOT licensed under GPL.
This license allows the item to be used in projects for either personal or commercial use by you or on behalf of a client. The item cannot be offered for resale either on its own, in part, or as part of a larger project including that being part of a hosting offer. Distribution of source files is not permitted.
*Support is provided by vendors directly.
Please login to access the support form. you can do so here