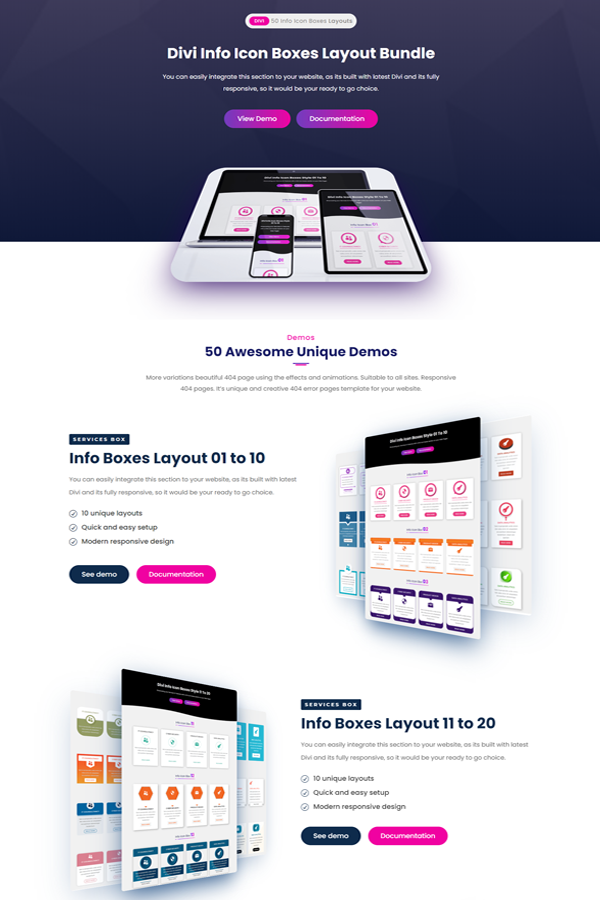 Showcasing your Services Or Features with a info icon boxes section on your Web Pages
Add a 'Services Or Features' section to your site to let your visitors know what services you have to offer.
You can list Services Or Features on your Page to let visitors know what your business offers.
Quality theme allows you to display your Services Or Features both on the Homepage and on the Services page.
You can easily configure them with the Divi blurb module,Text module,Button Module, and also add as many services or features as you want.
your services Or features section needs to showcase the quality, value, and benefits your business offers.
Installation and usage : https://servicebox.divicoded.com/help-document-for-divi-sections/
Main Features & Benefits :-
– 50 Unique Info Icon Boxes Section
– Responsive To All Screen Resolution (Mobiles, Tablets & PCs)
– Flexible to Customize
– Minimalistic Design
– Great For Every Purpose
– Easy To Use And Apply
– Unique & Creative Design
Tags : divi,info boxes,service box,divi layouts,divi sections,divi templates,divi info boxes
---