Divi Lead Pages Bundle
$12.00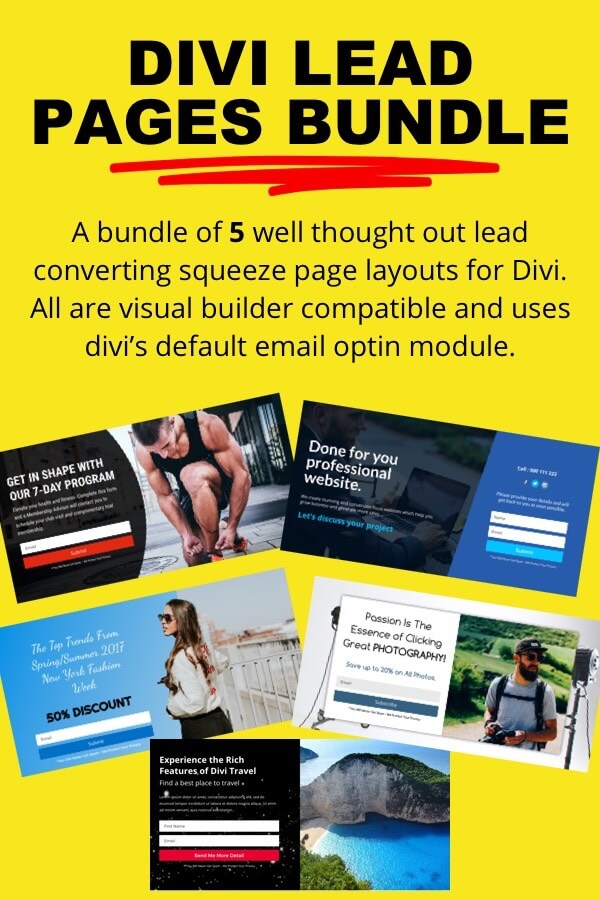 A bundle of 5 well thought out lead converting squeeze page layouts for Divi. All five layouts are visual builder compatible and use Divi's default email optin module for the lead capture form.
These layouts can be used with Divi theme, Divi builder plugin or Extra theme.  Everything is done using the Divi builder and very little custom CSS code is used ( which you can find within code module in each layout at the end ).
Install Instructions
Please make sure you have installed and activated Divi Theme, Extra Theme or Divi page builder plugin.
Upon purchasing this bundle, you will receive a zip file containing five .json files, you need to first extract the zip and then you can upload your desired layout (or all) to your Divi Library to import it into your divi library and then simply create a new page and load the template.
 
Credits:
Images: All the images used are for demo purpose please change with your images. However, they are licensed under CCO
---
Please scroll down for the support form
This theme, layout or plugin is comprised of two parts.
1. The PHP code and integrated HTML are licensed under the General Public
License (GPL). You will find a copy of the GPL in the same directory as this
license file.
2. All other parts, including but not limited to the CSS code, images and design are
copyrighted by the vendor concerned and are NOT licensed under GPL.
This license allows the item to be used in projects for either personal or commercial use by you or on behalf of a client. The item cannot be offered for resale either on its own, in part, or as part of a larger project including that being part of a hosting offer. Distribution of source files is not permitted.
*Support is provided by vendors directly.
Please login to access the support form. you can do so here