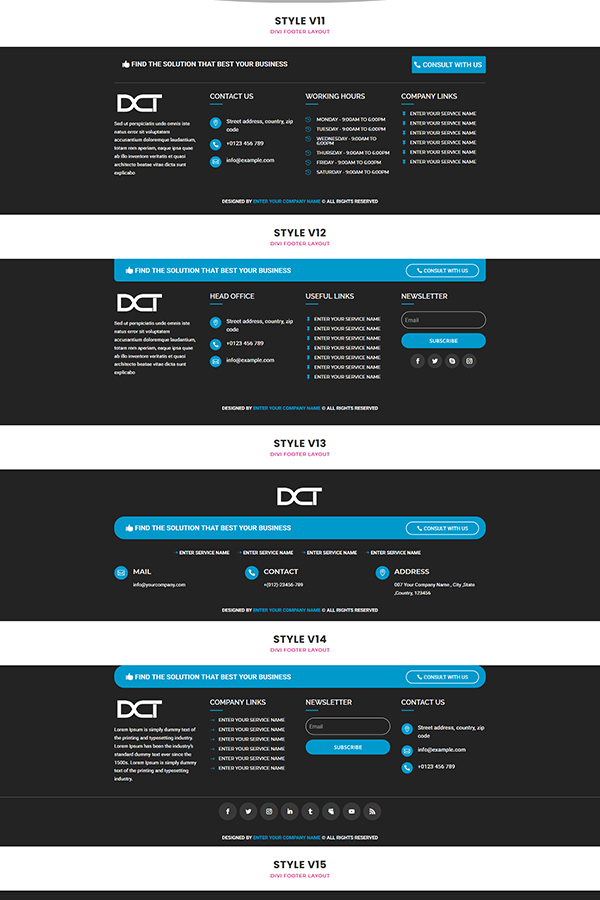 There are 10 Divi Footer Layouts Design Included in this Layout Bundle. Not only does the footer give a website a finished feel, but it can also be filled with important elements – such as company information, navigation elements, links to popular content, social media account icons – that can seriously improve the user experience of your site and allow your visitors to flow much easier into other areas of your site.
Following Feature of Divi Footer Layouts Bundle 2
Easy To Imports Using Divi Library Settings
Specially Design For Divi Latest Version
There is no required for external css Or Js need
Each Footer Layout Have Unique Design
Fully Responsive And Mobile Optimized
Divi Footer Layout Style 11
Divi Footer Layout Style 12
Divi Footer Layout style 13
Divi Footer Layout style 14
Divi Footer Layout style 15
Divi Footer Layout style 16
Divi Footer Layout style 17
Divi Footer Layout Style 18
Divi Footer Layout Style 19
Divi Footer Layout Style 20
---

Checkout the documentation first and if you still need help open a support ticket.
View Docs
Please scroll down for the support form
This theme, layout or plugin is comprised of two parts.
1. The PHP code and integrated HTML are licensed under the General Public
License (GPL). You will find a copy of the GPL in the same directory as this
license file.
2. All other parts, including but not limited to the CSS code, images and design are
copyrighted by the vendor concerned and are NOT licensed under GPL.
This license allows the item to be used in projects for either personal or commercial use by you or on behalf of a client. The item cannot be offered for resale either on its own, in part, or as part of a larger project including that being part of a hosting offer. Distribution of source files is not permitted.
*Support is provided by vendors directly.
Please login to access the support form. you can do so here