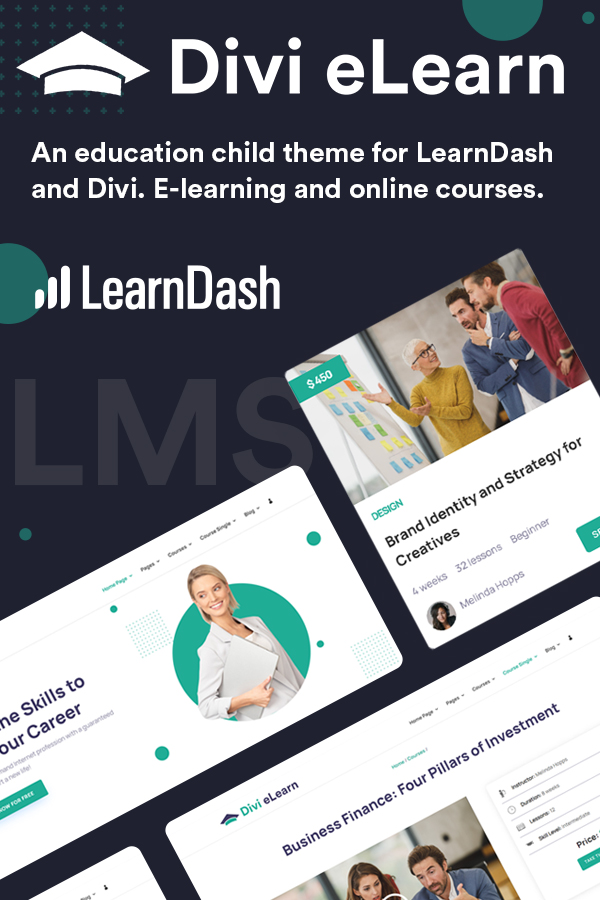 Divi eLearn is a child Theme for LearnDash and Divi. This is an LMS theme that is perfect for e-Learning, Online Courses, Schools, Training Centers, Other Educational Institutions and just anybody who wants to sell online courses. It comes with custom styled course grid, course pages and layouts created specifically for people who want to be able to easily sell courses online. This child theme has everything you need to build an amazing e-learning site with LearnDash and Divi.
ELearn Child Theme for Learndash and Divi comes with over 20 professionally designed pages and course elements.
Some of the things you get with the theme:
Custom designed grid for courses that you can customize through Theme Customizer
Ability to add your own Course Meta to the Grid
4 course page layouts
An option to remove the default "before" and "after" LearnDash course page elements, so that you have a fully blank course page to create your own unique course page designs
Add your LearnDash content anywhere you want on the course page
Lessons / Topics / Quizes layout
Courses Archive Page
Courses Category Page
3 Home Page designs
Inner pages: About us, Contact, Instructors
Blog Grid layout
2 Blog Post layouts
My profile page and profile icon in the menu
Beautiful Mobile View / Responsive Design
Animations and micro interactions
One click demo import
Dedicated Support
Custom Course Grid 
A modern customized course grid design.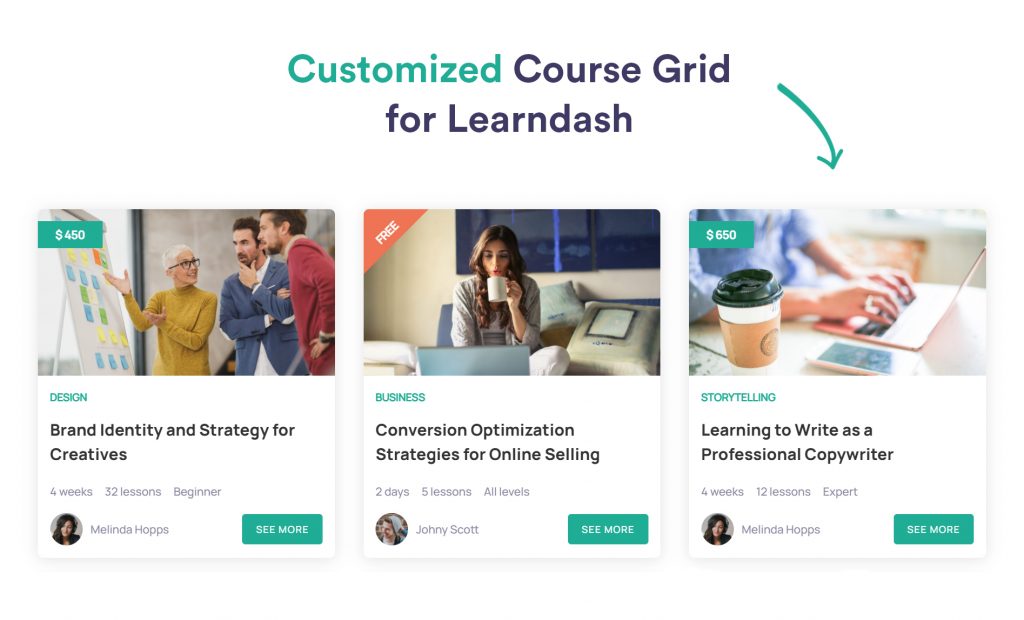 Choose Your Grid Elements 
You can choose what elements to have on the grid.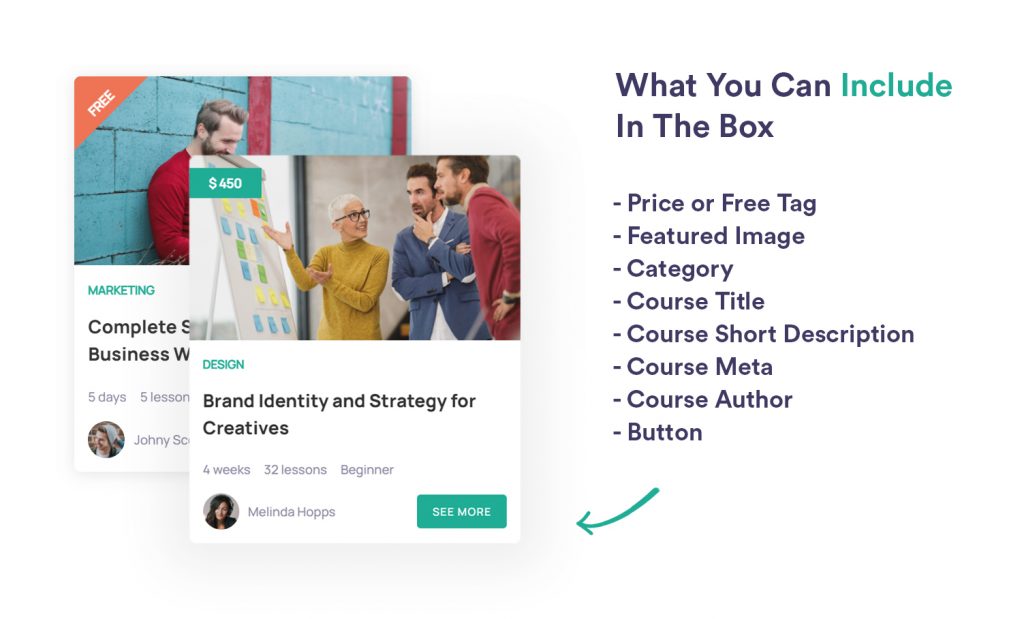 Customize The Colors and Fonts 
You can customize the grid colors and fonts easily from the Theme Customizer.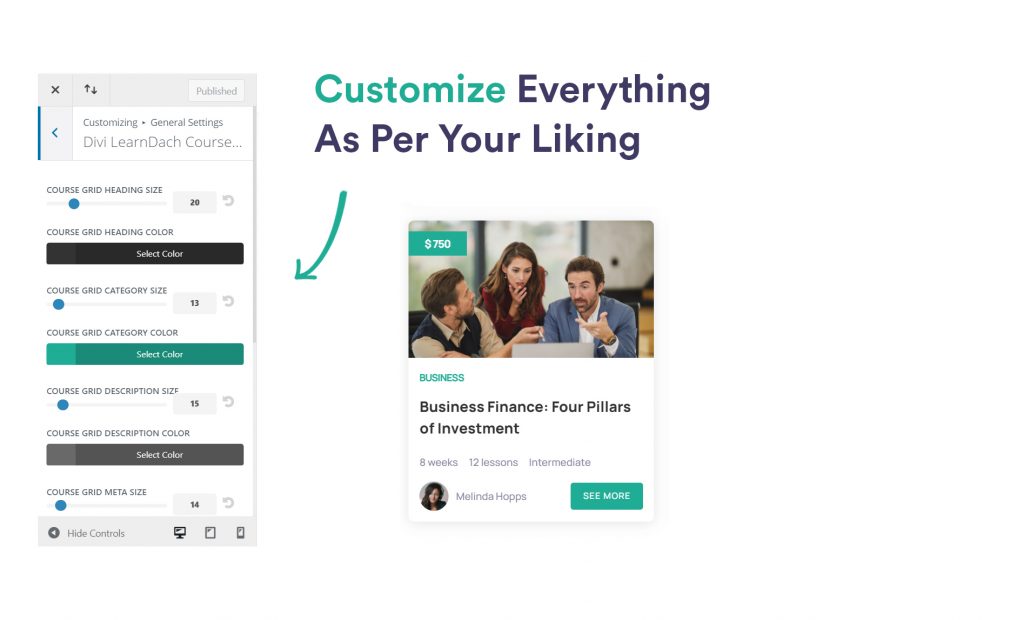 Course Pages Fully Build with the Divi Visual Builder
The theme comes with an option to switch on and off the course page elements that come with LearnDash by default. The theme also disables the default LearnDash course page styles, so that you can create your own custom styles entirely with the Divi Builder.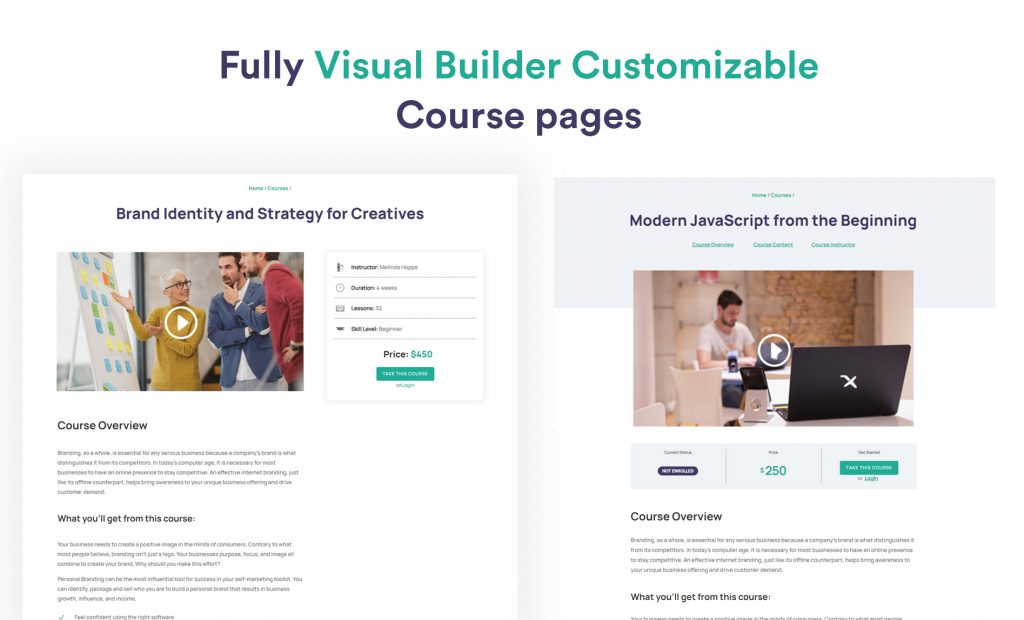 Place LearnDash elements Anywhere you want
You can place the LearnDash elements such as Course Content, Course Wrapper, Buy Now Button etc. anywhere you want on the course page (or other pages)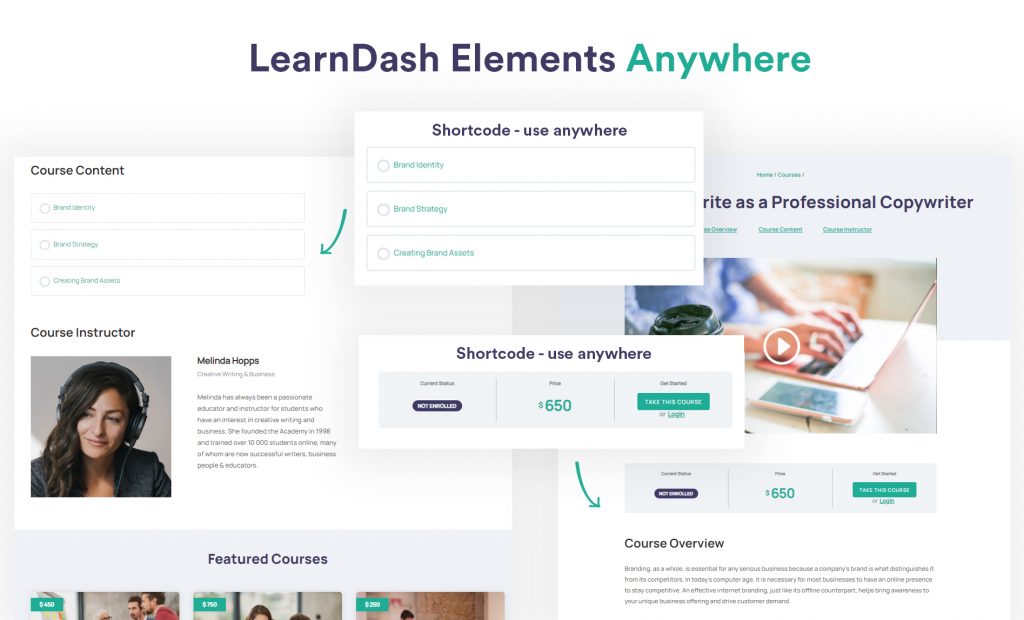 Beautifully Animated CTA
Encourage Opt-ins and FREE Courses with the special animated CTA section.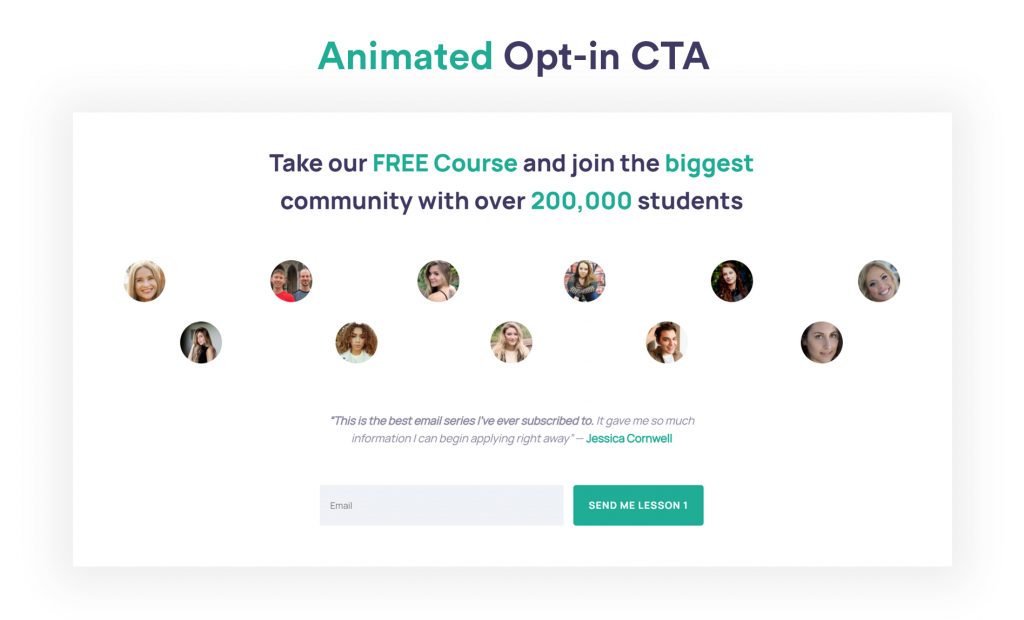 Custom Icons
All the icons used on the theme are custom designed, and you can freely use them on your site.
Sell online courses easily with Learndash and Divi.
ELearn is the ultimate child theme for LearnDash and Divi. Buy it today and don't worry about having to customize LearnDash course pages and elements ever again.
If you have any questions or requests for future theme upgrades, please don't hesitate to reach out to us at info@powdistudio.com
---