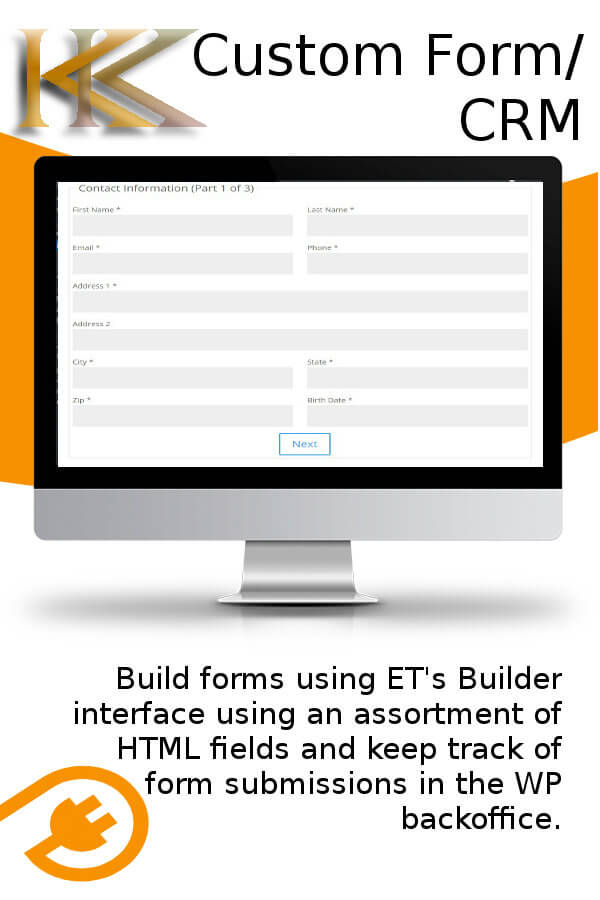 CURRENT RELEASE: 0.7.1
To utilize this plugin you will need a copy of Divi by Elegant Themes
COMPATIBLE WITH DIVI thru v.4.15+ – NOTE: by Elegant Themes' standards, the module in this plugin is denoted as being "partially" compatible with the Visual Builder.  This primarily is attributed to module settings updates being delayed until successive ajax page refreshes while in the VB.  The module is fully compatible within the New Divi Experience in the back-office plus wire-frame mode in VB and SHOULD NOT be used in the Classic Divi Builder NOR with any forms built with previous versions of this plugin.
NOTES FOR 7.0!  This release should be considered a FEATURE release and, as such, should not be used with forms built with v.0.6.0 or earlier without testing in a development environment first.  Many changes have been made for styling enhancement along with added attributes for certain fields. Visit the Documentation URL for further insight.
NEW IN 5.0!
improved compatibility in VB
new styling for Radio and Checkbox fields
additional styling settings for fields per recent Divi updates
NEW IN 4.0!
ADDED ACCEPTANCE CHECKBOX FIELD WITH LINK IN LABEL
ADDED VARIABLE WIDTH CONTROL FOR FIELDS
ADDED LAYOUT SELECTION FOR FIELDS USING COMPANION PLUGIN (KK CUSTOM FORM/CRM LAYOUTS)
NEW IN 3.2!
ADDED CUSTOM SELECT DROP-DOWN FIELD ( UPLOAD OPTION LIST )
ADDED TOGGLE FOR SENDING NOTIFICATIONS ( RELY ON CRM – NO EMAIL REQD )
ADDED STYLING TOGGLE FOR LEFT PLACEMENT OF LABELS
ADDED SMTP SUPPORT – NO EXTRA PLUGIN REQUIRED ( MAKE SMTP SETTINGS INSIDE MODULE )
NEW IN 3.0!
ADDED NEW MODULE WITH ENHANCEMENTS

NOW CHOOSE reCaptcha or Quiz WHEN OPTING FOR CAPTCHA
ADDED DATE FIELD FORMAT OPTIONS
ADDED MULTI-PART FORM CAPABILITY
ADDED CONDITIONAL FIELDS CAPABILITY
NEW IN 2.1!
ADDED TEXT FIELD MASKING FOR DESIGNING EXACT INPUT
NEW IN 2.0!
MULTI-FILE UPLOAD
MULTIPLE FORMS IN ONE PAGE
CONFIRMATION EMAIL TO FORM USER
The Custom Form/CRM plugin provides one Page Builder module for use in the Divi theme  that allows drag & drop construction of forms. This module is found in the Insert Module list and is named KK Custom Form2/CRM.
There are many viable form builders that are compatible with WP themes including Divi, but if you like to manage all content with the ET Builder, KK Custom Form/CRM could be the complete answer.
If you are familiar with the ET Divi Contact Form, then you are already familiar with Custom Form/CRM . This module incorporates a CRM portion that helps manage the forms submitted but also collects form user details for later use in Customer/Client Retention Management.
The CRM is via the use of Flamingo (the add on to Custom Form 7). Why Flamingo? Because there is not a pro version or other addons for a fee. It is sleek and to the point. Flamingo is embedded within this plugin and is not needed separately. Peruse the gallery for some examples of what to expect.
Form Fields:
Text
Textarea
Email Address
Checkbox
Checkbox groups
Acceptance Checkbox
Radio groups
Select
Custom Select (via importing option list)
Select Recipient (a select field for form notification destination)
File Upload
Date
URL
Number
Hidden
ET Quiz
reCaptcha 2 (Custom Form2 only)
HTML Entries:
Notes
Fieldsets
Field Help
Pages
Particular to File Upload: the module controls offer the ability to include/exclude fields in the notification email sent to the recipient. In the case of files, the email has a link to the captured file as opposed to attaching the file. This keeps the file from entering the email client. The file can also be accessed via the CRM.
Pages:  using Pages allows creating multi-part or multi-page forms.  The pages appear after the preceding page is filled in and validated.  Long forms can then be constrained into smaller screen spaces, but also fields can be grouped into particular subject matter.
---
Changelog:
version 0.7.1
-fixed fatal error when using confirmation message option
-added styling for error border of select fields
-added additional options for styling confirmation message using pages
version 0.7.0
-added setting field for modeling notification message
-added wp filter to customize upload file mime types
version 0.6.0
-modified code to further enhance styling options
-updated method for date field calendar
version 0.5.0
-improved compatibility in VB
-new styling for Radio and Checkbox fields
-additional styling settings for fields per recent Divi updates
version 0.4.0
-added Acceptance checkbox field to aid with GDPR
-added variable width settings for individual fields
-added styling controls to fields
-added Layouts selection capability through companion plugin
version 0.3.3
-added css entries to style.css for checkboxes and radios that counter recent Divi updates
version 0.3.2
-added custom select drop-down field to complex form
-added toggle for send notifications to complex form
-added left labels toggle to complex form
-added smtp phpmailer module settings to complex form
version 0.3.1
-corrected display issues due to recent Divi update
-added localization for datepicker date fields
version 0.3.0
-added new complex form module
-in complex form, added reCaptcha option to captcha choice
-in complex form, added date format and date range options for date field type
-in complex form, added multi-part(multi-page) form capability
-in complex form, added conditional field option
version 0.2.3
-modified stylesheet and code to correct Divi 3.0.51 stylesheet problems with KK Custom Contact Form group fields
version 0.2.2
- implemented localization for error message display
- uploads folder now default or form id
- hidden fields removed from confirmation email
version 0.2.1
- improved validation error display for checkbox and radio groups
- added capability to mask text fields to stipulate/validate input i.e. phone, zip codes, etc.
version 0.2.0
- enabled multi-file upload
- improved file type select field display
- enabled multiple forms on single page (option to set form ID)
- included action hook for flamingo args/fields
- added option for confirmation email to form user
- added confirmation message textarea or page content fields
- added option to set email subject and sender headers
- removed requirement to have Email Address field in form
- added ability to have First Name and Last Name fields captured
- added tiny mce to HTML Note field
version 0.1.1
- corrected disabled form in initial release
version 0.1.0
- initial release
Checkout the documentation first and if you still need help open a support ticket.
View Docs
You may use on all sites (personal and commercial) that you build as often as you like. You may not transfer ownership or provide to others.  Support will require valid purchase ID.  Purchase price provides six months of support and lifetime updates.
*Support is provided by vendors directly.
Please login to access the support form. you can do so here