Divi Catalogue Lists Module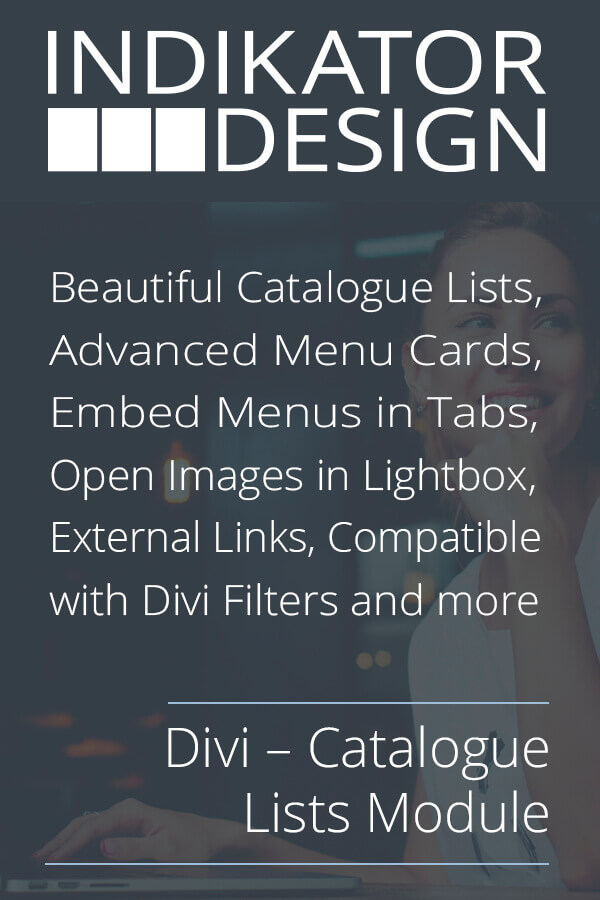 Licensing
License Info: You can install this product on unlimited websites that you build for yourself or your clients. You will receive 6 months support – premium support charges may be incurred after this period. The Support does not include customisation. For support, you need a valid purchase ID.
We understand that there can be issues whilst utilizing out of date browsers. Please ensure you use up to date browsers when using our vendor's products. Third Party Plugins may not perform as desired in the Divi Visual Builder. This is an issue that we cannot fix due to the restrictions put upon us by Elegant Themes lack Divi Developer Documentation.
Please be aware that you will need an amount of experience in Divi Theme and WordPress to take advantage of our themes and plugins.
Please make your decision to purchase based on your skill level to see if our products fit your needs. Due to the nature of Digital Downloads, Refunds are not possible – please ensure that the product you are buying will do the job you want it too.
All support for products is handled by Vendors and contact details will be included in the download packages. If contact details are not found in the files, please do contact us and we will be happy to put you in touch with the vendor concerned. BEFORE YOU ASK US FOR DIRECT SUPPORT – READ THIS!
Use it on an unlimited number of sites. Check the license information below.
"Divi – Catalogue Lists Module" is the ideal way to create beautiful catalog lists and sensational menu cards. Directly as an extended Divi module it is compatible with all new filters, animations, box shadows, borders, rounded corners etc.
Optionally you can insert thumbnails (angular/circular), which can be opened as full size images in a lightbox. Each field can also be used as a link to a page. Decide in the settings whether the currency symbol is displayed before or after the price. Change fonts, backgrounds, hover effects directly in the settings.
So that you can easily insert your lists and menus into tabs / accordions / toggles or text fields, the plugin offers you a shortcode with which you can insert your content where you want it. For this you have a Catalogue Lists button at each text field. If you click on it, a drop-down menu opens from which you can select any layout from the Divi layout section that you have marked with the category "CatalogueList". This category is created automatically when you install the plugin.
Furthermore, the plugin is multisite compatible and works with automatic updates.
Please note that at least PHP 5.6+ ( better is PHP 7.0+ ) must be installed on your server. You also need the Divi Theme with a minimum version of 3.0.91. Photo Credits

Author: Bruno Bouyajdad » Indikator Design
You don't know exactly how to start or you run into issues? At the top of the page is a link to the documentation. Doesn't help? Then just contact me via the Support Form, or just ask me on Facebook.
Changelog
— 1.0.0 —
Initial Release
General Note: You MAY need to purchase the Divi Theme or the Elementor page builder to use this product. Please see the product description notes above for more information.