Before asking for support on this or any other item, please read this
Note: Third Party Modules and plugins

may

not work in the Visual Builder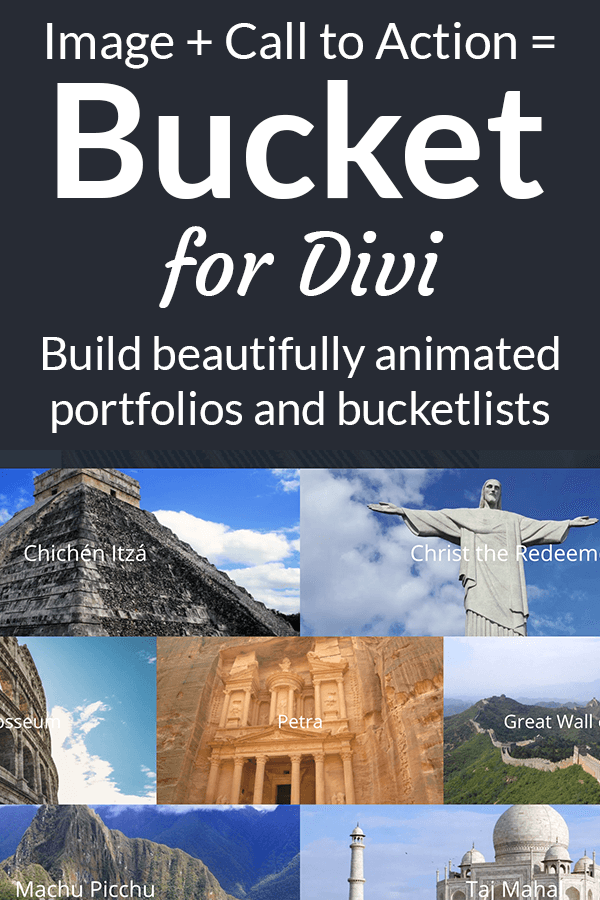 Changelog
Version 1.5
Fixed compatibility for Divi 3.0.53 / Divi Builder 2.0.15
Version 1.4
Fixed a problem with the updater. Updating now works as intended via the WordPress Plugin Page
Fixed a problem where images in some cases didn't fill the whole Bucket
Version 1.3
Version 1.2
Fixed issue where sometimes the content was initially not hidden and not animating correctly
Version 1.1
Fixed wrong field descriptions
Version 1.0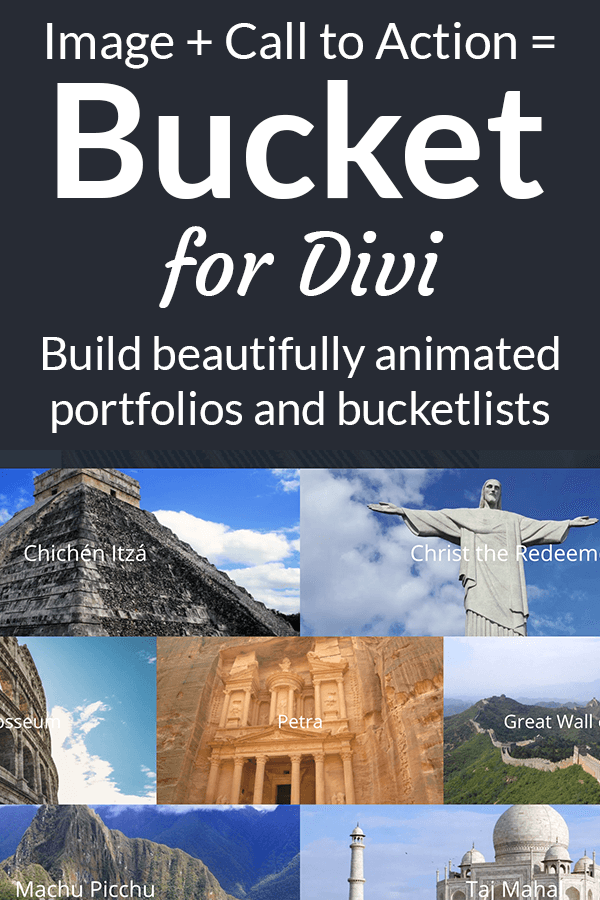 Licensing
You may install this product on any number of websites that you build for yourself or your clients or as the license so determines, i.e, if it is single use, then that applies. You may not install any of these products as part of a hosting offering. Any abuse of these license terms will result in the termination of your account and the licenses that are attached – no refund will be offered or awarded in such cases.  You will receive 6 months support – premium support charges may be incurred after this period. Updates are for the life of the product.
We understand that there can be issues whilst utilizing out of date browsers. Please ensure you use up to date browsers when using our vendors products. For DIVI Theme – Third Party Plugins may not perform as desired in the Divi Visual Builder. This is an issue that we cannot fix due to the restrictions put upon us by Elegant Themes lack of Divi Developer Documentation.
Please be aware that you will need an amount of experience in the master theme that you are using in order to take advantage of our themes and plugins.
Please make your decision to purchase based upon your skill level to see if our products fit your needs. Due to the nature of Digital Downloads, Refunds are not possible – please ensure that the product you are buying will do the job you want it too.
All support for products is handled by Vendors and contact details will be included in the download packages. If contact details are not found within the files, please do contact us and we will be happy to put you in touch with the vendor concerned. BEFORE YOU ASK US FOR DIRECT SUPPORT – READ THIS! 
Think of it as a beautiful combination of the Image Module and the Call to Action Module.
You define a optional Title, Content and either a Background Image or Background Color. You also can add a URL.
If using an image, the height will be automatically calculated to fit the image inside the module. However, if you use a background color only or if you want to chose the height of the image yourself, you can enter a fixed height. You also have options to modify the appearance of the title and content.
Images will still fill the whole module when using fixed heights and the height can be chosen differently for phones, tablets and computers. Of course you also have the option to add custom CSS to ANY part of the module. It's very customizable.
Tipps & Tricks
If you want no animation of the image, you can set a fixed height and instead of using the image field, you can use the background field to select an image
About the Licensing Options
Purchasing the module here gives you a lifetime valid license which will allow you to get free updates forever. The single site license is valid for one site at a time. That means that if you at some point decide to use the module on another site, you just have to deactivate the license and remove the module. You then are allowed to use the existing license on another site.
The unlimited license is perfect if you are an agent or if you own multiple sites. You can use the module on as many sites as you want, even on sites for your clients.
How about Updates?
To get free updates, you have to activate your license. If an update is ready for you to download, you can easily update the plugin via your WordPress update site. No need to remove the previous plugin. Use WordPress native update mechanisms to get the latest versions.
What's next?
We have great plans for the future. Of course your feature wishes are very welcome. Here is what we would love to implement within the next updates:
Different image animations (e. g. zoom out)
Different text animations (e. g. move down, zoom in/out)
Missing something? Use the contact form on our demo site to get in contact with us at any time. Your satisfaction is our goal. Our passion is to help you build great sites!
General Note: You MAY need to purchase the Divi Theme or the Elementor page builder to use this product. Please see the product description notes above for more information.