Bloom – GDPR Overlay Plugin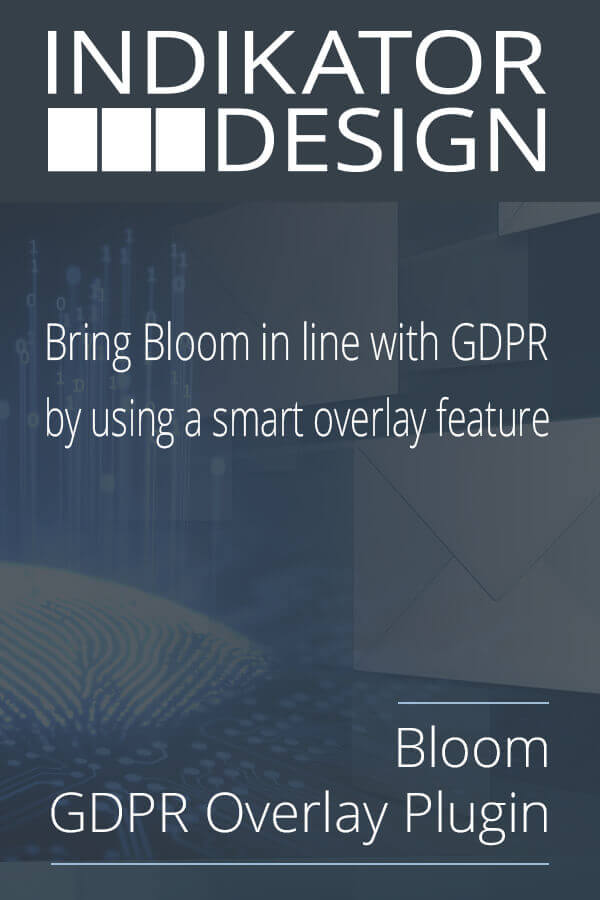 Licensing
License Info: You can install this product on unlimited websites that you build for yourself or your clients. You will receive 6 months support – premium support charges may be incurred after this period. The Support does not include customization. For support, you need a valid purchase ID.
We understand that there can be issues whilst utilizing out of date browsers. Please ensure you use up to date browsers when using our vendor's products. Third Party Plugins may not perform as desired in the Divi Visual Builder. This is an issue that we cannot fix due to the restrictions put upon us by Elegant Themes lack Divi Developer Documentation.
Please be aware that you will need an amount of experience in Divi Theme and WordPress to take advantage of our themes and plugins.
Please make your decision to purchase based on your skill level to see if our products fit your needs. Due to the nature of Digital Downloads, Refunds are not possible – please ensure that the product you are buying will do the job you want it too.
All support for products is handled by Vendors and contact details will be included in the download packages. If contact details are not found in the files, please do contact us and we will be happy to put you in touch with the vendor concerned. BEFORE YOU ASK US FOR DIRECT SUPPORT – READ THIS!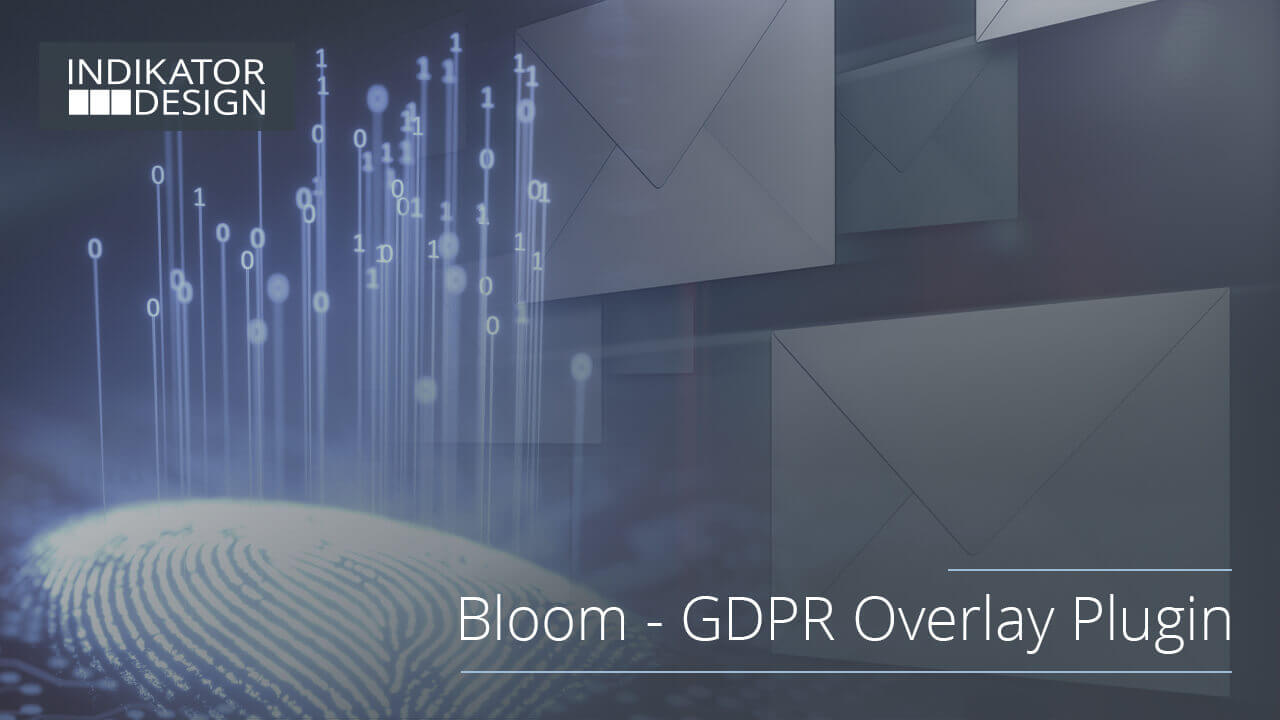 Use it on an unlimited number of sites. Check the license information below.
* Works with Bloom and the Divi native Optin-Forms
In May, the new regulation on data protection GDPR comes into force. From then on, it is obligatory for site operators to receive an explicit confirmation from users of the storage of their data. It must also be noted which data is collected and how it is administered and stored. For this purpose, it is advisable (and has become established as a best practice) to insert a link to the Privacy Policy and a checkbox for the declaration of consent to store the data in all forms. This procedure is recommended for all website operators who want to reach users in Europe (who doesn't). This checkbox shouldn't be checked by default. It is highly recommended that the user ticks the checkbox so that you can be safely within the regulations.
Privacy is probably important to most of us, but have you ever thought about how you would like to change your forms from design to implementation of the new requirements?
Bloom GDPR Overlay Plugin offers you a very simple solution. When you install it, only one setting is really important: "the link to your privacy policy." The rest is completely optional.
If a user tries to fill out the form and clicks in any field, an overlay opens with the link to your privacy policy and a checkbox. The user cannot enter data or send a form as long as the checkbox has not been clicked. If the checkbox is clicked, an entry is written to the sessionStorage. This is only retained until the user closes his browser window.
This means that the appearance of your forms does not change!
By default, the plugin looks for the colors for the overlay and fonts from the form itself, but of course, you can customize them as you like.
For custom settings, there is a new page directly in the "Divi Theme Options". Here you can change the colors, but also the text.
Moreover, the plugin is translation-ready, Multisite compatible, has automatic updates and the styles and scripts are only loaded on the pages where a Bloom form is integrated.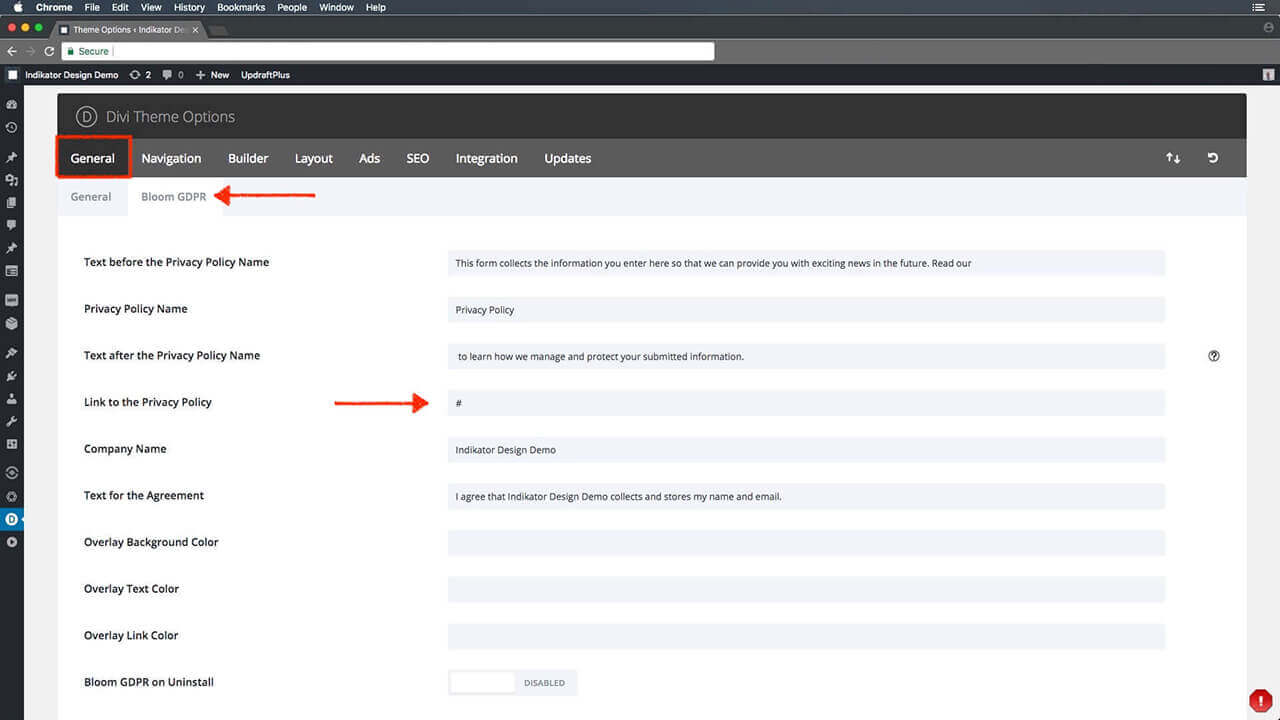 Please note that at least PHP 5.6+ ( better is PHP 7.0+ ) must be installed on your server. You also need the Divi Theme or Extra Theme and optional the Bloom Plugin. Photo Credits

Author: Bruno Bouyajdad » Indikator Design
You don't know exactly how to start or you run into issues? At the top of the page is a link to the documentation. Doesn't help? Then just contact me via the Support Form, or just ask me on Facebook.
Changelog
— 1.0.2 —
Adds support for Divi's native Optin-Forms
— 1.0.1 —
Adds support for multiple forms on a single page
Fixes a color issue for the close icon
— 1.0.0 —
Initial Release
General Note: You MAY need to purchase the Divi Theme or the Elementor page builder to use this product. Please see the product description notes above for more information.
You may also like these items