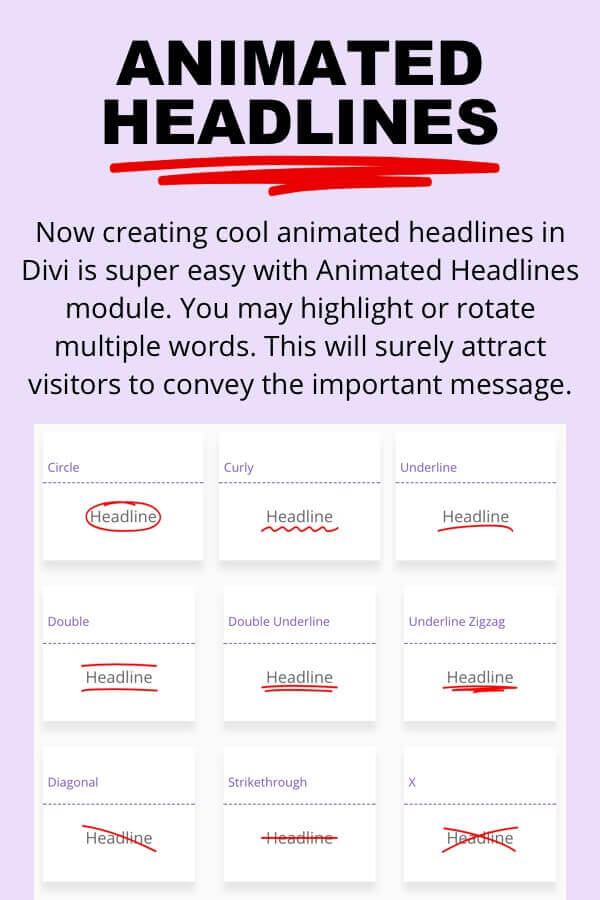 100% Divi Visual Builder Compatible
Now creating cool animated headlines in Divi is super easy with Animated Headlines module. You may highlight or rotate multiple words. This will surely attract visitors to convey an important message.
Most marketers draw visitor's attention through animated or highlighted headlines. Now using the "Animated Headlines" module in Divi you can also create both types of animated headlines, which further got a bunch of options & styles.
Highlighted Headline Styles
Circle
Curly
Underline
Double
Double Underline
Underline Zigzag
Diagonal
Strikethrough
x
❓ For Rotating, type simply put your words in the "Animated Text" field
 separated by a pipe ( | ) like this:
Word1|Word2|Word3|etc
Rotating Headline Styles
Rotate 1
Loading Bar
Slide
Clip
Zoom
Push
Type
Rotate 2
Rotate 3
Scale
Full Customization Controls
Besides all the controls you get with Divi's default Text module, you also get controls to customize the animated text separately, you can set different typography and color for just the animated text to differentiate it with the rest of the headline text.
You also get controls to customize the color and width of the shape if you select the highlighted style.
Install Instructions:
Download and extract the main zip file and upload it to plugins same as you install any plugin. Using the plugin is as easy as using any Divi module.
If you like this, have a look at my other available freebies and products.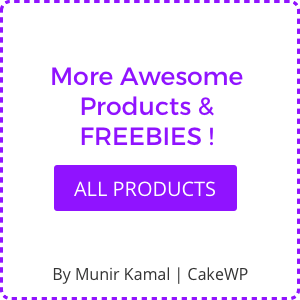 * Works with Divi Theme, Divi Plugin, Extra Theme.
** Like any other third party divi module, this will also won't work in visual view.
---
Changelog:
* v1.2 - Recoded to make Divi Visual Builder Compatible * v1.1 - Bug Fixes * v1.0 - Initial Release
You may install this product on any number of websites that you build for yourself or your clients. You will receive 6 months support – premium support charges may be incurred after this period. Updates are for the life of the product.
Please be aware that you will need an amount of experience in  Divi Theme and WordPress to take advantage of our themes and plugins. Please make your decision to purchase based upon your skill level to see if our products fit your needs. Due to the nature of Digital Downloads. Refunds are completely at our discretion.
*Support is provided by vendors directly.
Please login to access the support form. you can do so here