In this ever changing world we live in – sometimes, things have to change – for better or for worse.
Recently WPMU Dev a popular subscription service for WordPress web developers walked back 90% of their plugins – they also put them on the WordPress dot org repository so, in their words, people could fork them, use them or even make premium versions from them to benefit the 'Community'. You can read all about it by following the link below.
In short, its all about support – supporting deprecated or unused plugins is both time consuming and expensive – we all gotta get paid right? Most of the comments I have seen on the blog post are positive – some are asking for a change in pricing as users get less for the same amount – WPMU have addressed this;
We have been working hard on improving the value of membership with hosting and better services, and there are more things to come so there will be no changes to pricing structure.
If you have any additional questions about pricing or suggestions for future improvements we would love to hear them out, you can send us a message from the form on our Contact page.
Is it right the pricing isn't going to change – is it right that users are effectively paying more, for less? I'm on the fence on this one – its a tough call and I for one, would not like to make that one. Its certain however, that WPMU are a genuinely concerned company in the WordPess space. Its certain that that they want to be around and support users of all levels with free and premium solutions and its certain for me anyway, that they have the best intentions. I wish them luck and look forward to seeing further enhancements in the coming months.
Now, having said it once in this post, I am going to say it again – Things change….
Elementor changes UNLIMITED to 1,000 sites and renames the package to EXPERT!
OH MY GOODNESS!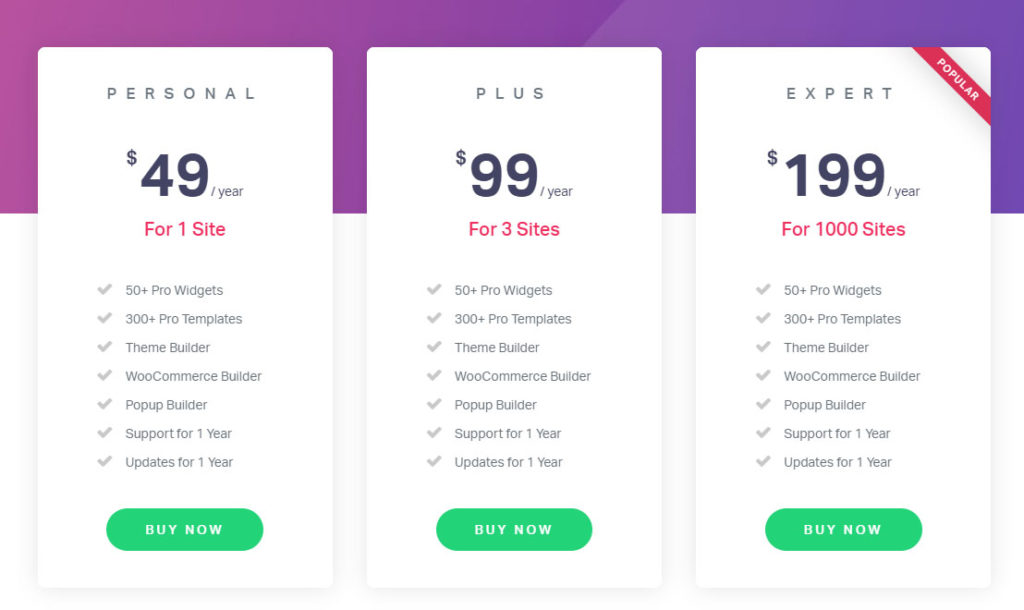 The furore in the Elementor Community Facebook groups is incredible. Here we have one of the biggest game changer page builder plugins out there – free in the WordPress Repository and quite adequate frankly, and then they go and change the TOS to say, I am paraphrasing here – 'You can only have 1,000 sites on the now Extra package as we have had some issues with support due to resellers (There is no reseller package by the way) abusing our systems and we need to put a stop to that!"
I could go on about the fact you have to build 2 point something sites a day to exceed the limit, I could go on about the fact that I, along with others bought the unlimited package because we understood it to be unlimited, I could go on about how the fact that you allow me to get used to it for free, forever if I want to, and then upgrade if I love it, is awesome – but, I won't 😉
The simple fact of the matter is that things change – did I say that already?
As a marketplace owner, I know all about support – it is a given – we NEED to support our customers – this costs money, time, effort and let's be honest, a few smashed screens due to punching them when you see the same old questions that even the most ill informed user should understand – like unzipping the file named PLEASE UNZIP ME – but, we love supporting our customers and vendors – we really do, its in my DNA –  why? Because I love good support, I like to receive it so, I have to be committed to giving it, right?
BUT! – Someone has to pay for it in the end
It's no good expecting great support without having to pay for it, its no good complaining that support is slow because a few thousand users (resellers) abuse the system and then when a company says, right, we're going to fix this – and then complain when they do.
I have never agreed with free software – ever.., I use it of course and, if there is a donate button on a WordPress.org plugin page, I hit donate – it might be 5 bucks it might be 10 but every little helps – Especially if there is no commercial or premium version.
The bottom line is – if you want great support – start giving great support and donate as much as you can when you can – especially if you are using 'free' products to earn your living when building out a website for profit.
And, if you are an unauthorized reseller of any products that are licensed under GPL/GNU – just stop it – you are not doing anyone any favors – least of all the WordPress community which you are a part of.
So, when will Divi walk back on the lifetime membership? – I think it is inevitable – I think it would be a good thing – I think I will support them to the ends of the earth if they do –  Divi used to have 3 deals, but they stopped the personal version –  now down to to 2 – remember that? – many of you reading this earn a great living from Divi, Elementor and a whole host of free and premium plugins, themes and services – lets get this right and appreciate that with providing a service comes risk – risk of someone taking your work and selling it to the lowest bidder and that bidder then expecting premium support, risk of employing people, and risk of failing – Let us get behind these innovative companies and back them to the hilt because without them – a lot of us – including me – would be doing something that we hate, rather than something that we love.
With progress, comes change – Please, welcome it, in all its forms.