Speed Up Your Website By Compressing Images
The speed of your website is one of the most crucial factors. Not only is speed essential for a good user experience, but it also plays a vital role in the ranking of your site in search engines and your conversion rate. After all, no ones going to stick around on a slow loading site are they?
While you can and should use caching to improve the speed of your site, there are times when simply just using caching isn't enough. Or in some instances on highly dynamic sites you may not even be able to use caching, that's where alternatives methods of speeding up your site start to come into play. There are naturally the obvious ones such as ensuring the site your server is on is blazing fast. After all, you can have the quickest site in the world on a terrible server, and it'll still be mind-numbingly slow.
A method of speeding up your site that perhaps you are or aren't familiar with, is compressing images. Most sites have a large number of images, whether the site is a standard brochure type site for a local business or a portfolio for a photographer. It's common for designers, developers and the end user themselves to upload unoptimized, large images that have a drastic effect on page load times.
That's where Octify comes in. Octify is a WordPress image compression and optimization plugin that can improve your search engine rankings, your conversion rate and make your site load faster! All through the art of compressing images.
I heard that if I compress my images, they'll look blurry?
That's always a possibility, often plugins and services can over compress an image resulting in image degradation. Octify though can reduce your images by as much as 90% in file size with no visible loss in quality, meaning you can be safe in the knowledge that your images will look the same even after compression.
How does Image Compression actually work?
There are two main typed of image compression. Lossy and Lossless. Lossy works by removing some of the data from the original image file, that means that the process is technically irreversible. Luckily though Octify offers a backup option allowing you to restore the image in a single click!
Lossless on the other hand often works by removing unnecessary metadata from the image file. Though Octify also works its magic in other ways to allow the image to be compressed with no loss in quality.
My client is a photographer and meta data is important to them.
Don't worry! Octify can help you out as well. There's an option to strip meta data, meaning that you can either turn that on and take away all meta data or turn it off and retain all your images meta data.
Isn't all this image compression stuff really complicated?
It can be, but let Octify take the stress and hassle away from what can be a time consuming and tedious task. Including it's simple and easy to use "Auto Optimize on upload" feature, once enabled every image that you upload will automatically be compressed without any intervention required.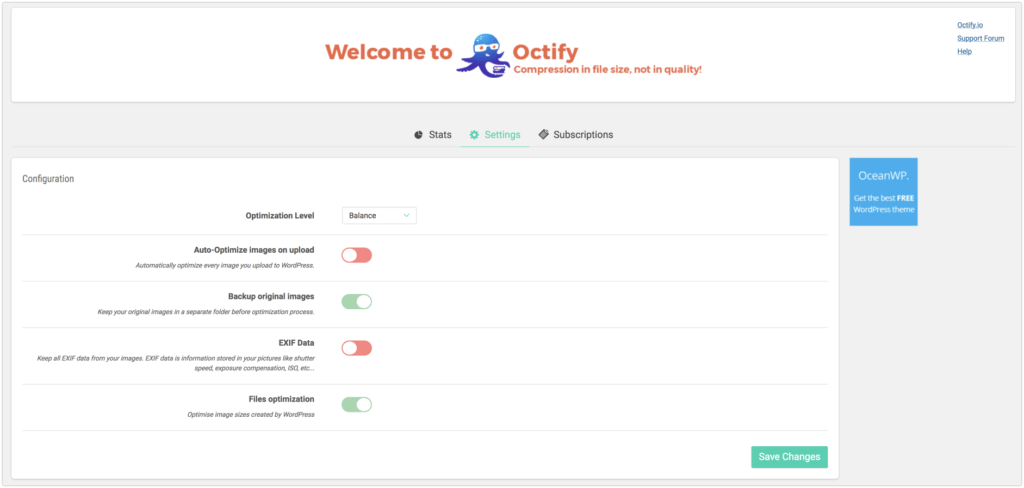 Once you've configured Octify as you want. Just click on Optimize All

and your images will be on their way to the Octify API and back to your site in no time at all!
Other popular image compression plugins require you to keep the page open. Octify doesn't. Allowing you to continue designing/developing or even just kicking back and having a coffee. All while Octify does the hard work for you.
Designers – Created a stunning design for your client, but it's image heavy and slow to load? Use Octify to compress your images for the site to be blazing fast.
Developers – Built a great website? Running slow? High Bounce rate? Use Octify to improve on all those factors and more!
Photographers – Have a portfolio you want to show prospective clients that you don't want to be ruined by poor compression? Use Octify to get quality compression, no visible loss in quality and no file size limits. Upload a large unoptimized image from your DSLR and Octify will handle it without breaking a sweat.
Special Offer for Elegant Marketplace Members
Get 200MB of Octify for free. Click here and register at the bottom of the page. Need more? Octify starts from an affordable $2.99 for 1GB of compression, good for approx 5,000 images! If you have any problems, Octify is supported by an expert team of developers and support agents who are more than happy to assist.
Editors Note: We have UPGRADE packages as community GIFTS – leave a comment to be in the running.