If you already know Resources Friday, you know that Friday is not only the last day of work, but it is also the day when you can discover new tools and resources that can make your work easier, more efficiently and in less time. In fact, today you'll discover a new plugin for WordPress called Imagify that allows you to optimize images on your site with a simple click, with excellent results!
And also a tool for discovering Error404, broken links of a website.
But I will not reveal in advance, then, let's start!
Index:
1) Plugin WordPress
2) Tool Web Design
3) Tool Web Marketing
4) Miscellaneous
Pikiz
Pikiz is a free WordPress plugin which makes it extremely easy to create visuals that contain images and text to be published on social channels or  inside your blog articles.
Key features include:
200 fonts
Text color and size
Filters
Emoji
350 Stickers
Include your own logo
Photo cropping and resizing
1000+ free background images,
Useful, easy-to-use free tool to create visual posts in no time at all.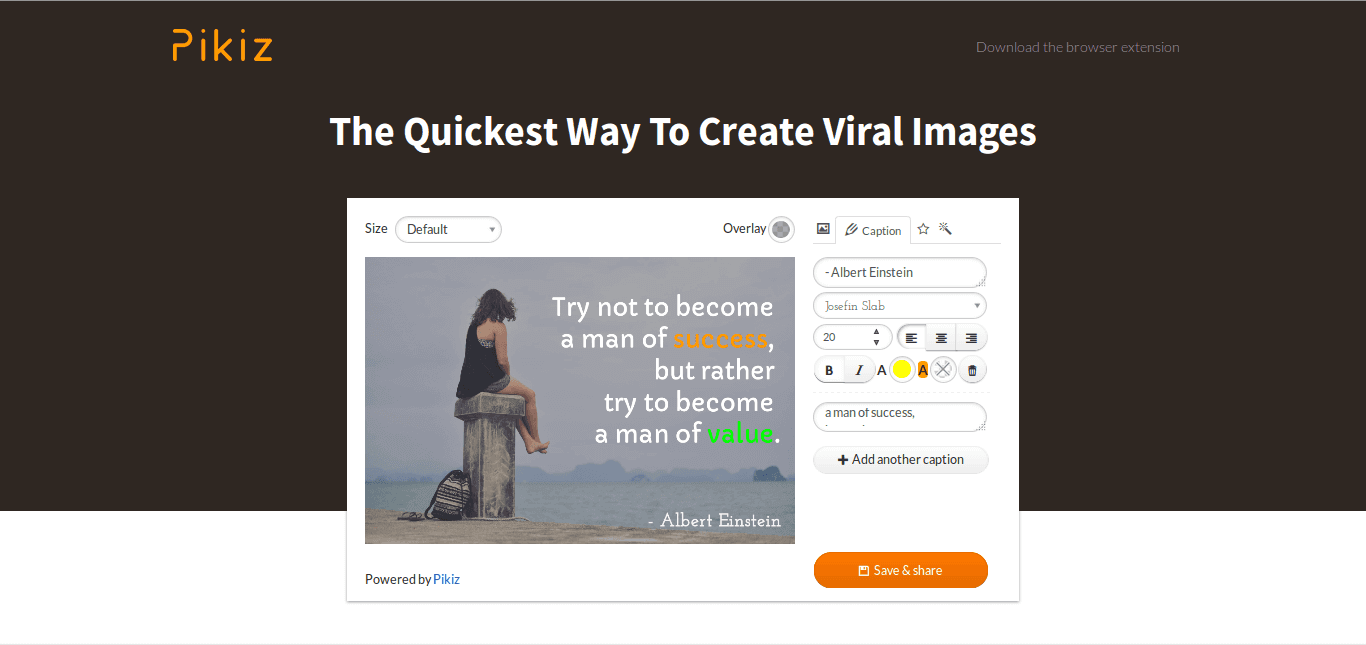 Imagify
Imagify is a new plugin made by the team of WP-Rocket (the best caching plugin available for WordPress) and promises to squeeze the most of every image on your site without loss of quality. Curious how it works, yesterday I tested Imagify and I was really surprised by the simplicity of use, speed of compression but also by the results! I reduced by 70% the weight of my images without losing a minimum of quality. A really excellent result!
My opinion is that Imagify, very soon, will be the best plugins to optimize images, just as it was for WP-Rocket.
Unique, negative note:
You can optimize only 25MB of free images (150 images) every month, to increase this limit you have to pay for the premium version.
PS: At the first registration, you will receive a bonus of 75 MB, for a total of 100MB for the first month.
Below you can see a screenshot of my test.
Marqueed
Marqueed is a web app which allows to upload or share images, graphic designs and layouts and to add feedback comments, suggestions and review requests right on top of the image in a simple and intuitive fashion.
Allows for up to 2 private projects and 100MB of storage.
Extremely useful for anyone needing to get feedback and approval on graphic designs and layouts from other people.
Stylebot
is a free extension for Chrome that allows you to quickly customize the look of a website (using custom CSS).
You choose an item and choose the desired changes to the editor. You can change the font size, color, margins, visibility and more. It 'also possible to write the CSS code manually, useful function for more advanced users.
Excellent tool for learning CSS and debugging the design of your site.
3) Tool Web Marketing
Adsvise
Adsvise is a free website that organizes all of the approved ad size types and formats for all major social media networks including Facebook, Twitter, Instagram, LinkedIN, YouTube, AdWords and Google+. The best reference for online ad formats.
100% free.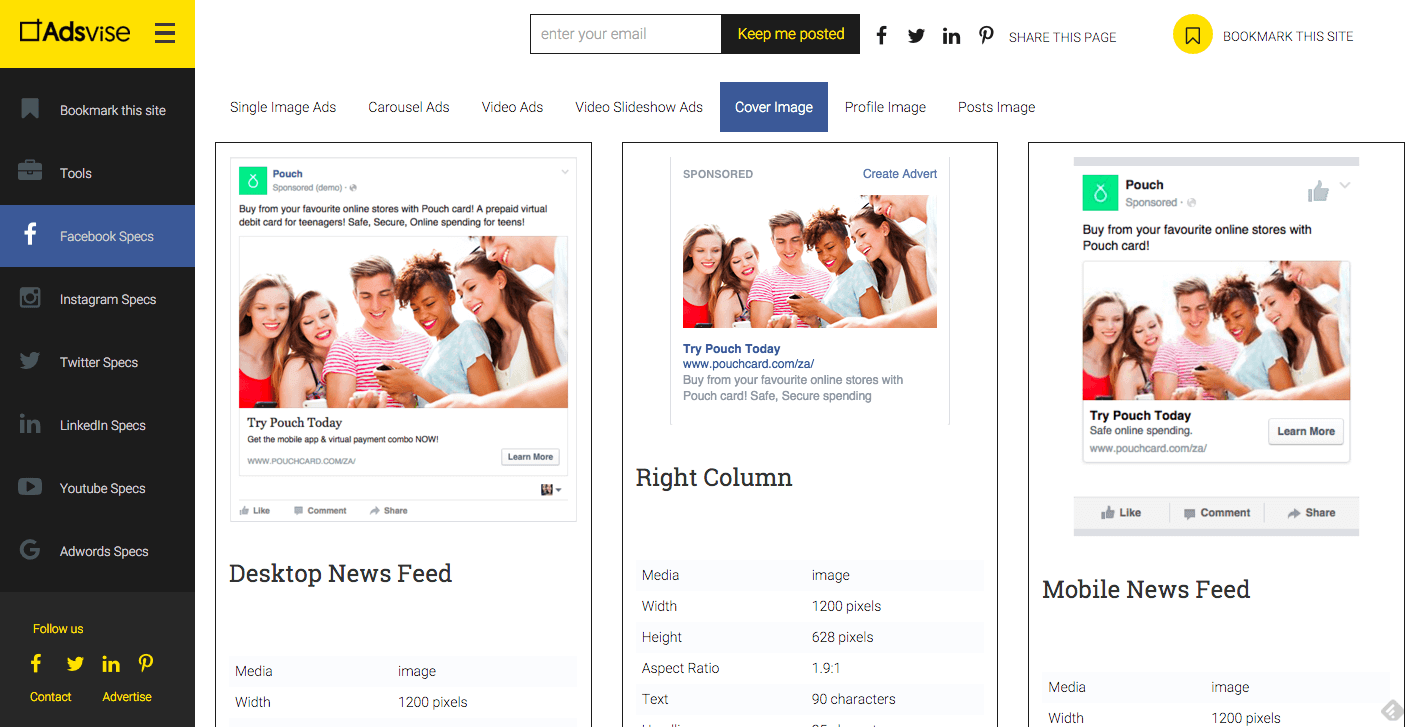 iNSTabs
iNSTabs offers a complete suite of tools for your marketing on Facebook, from the landing page to the polls.
Key features:
Landing Page
You can create landing pages with drag and drop interface using a set of ready to use templates, customizing each section of your landing page.
Tool to aggregate social networks
You can aggregate the best social networks in a single page.
Map Builder
You can create custom maps to be integrated into your fan page to be Readily accessible to your customers.
Form Builder
You can create custom forms. The creation is easy with drag & drop template and you can choose the specifications you need as the mode of validation, email or other fields.
Polls
You can create surveys and collect quickly and easily the opinions of your customers.
RSS feeds
You can create an RSS feed on your Facebook page that will allow your customers to stay up to date.
Integrated services
It seamlessly integrates with services like Mailchimp, Aweber, Campaign Monitor and Google Analytics.
and much more..
A really complete tool to better manage any Fan Page.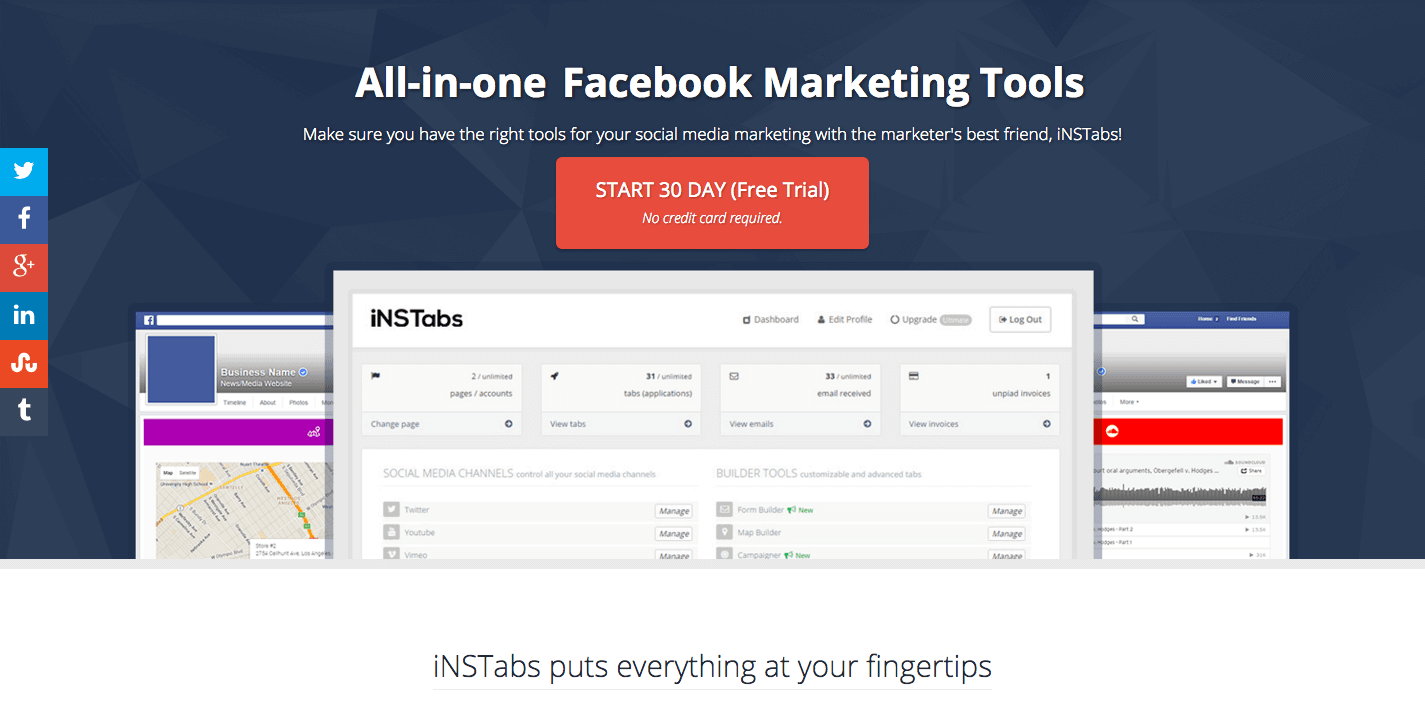 Page Analyzer
With Page Analyzer you can discover, in advance, if your images are suitable for ads and approved the rules of Facebook. If you do not already know, Facebook restricts the images used for ads that do not allow the use of the images that I include more than 20% of text in them, and Page Analyzer helps you find out quickly.
Thank you Geno Quiroz for reporting this great tool!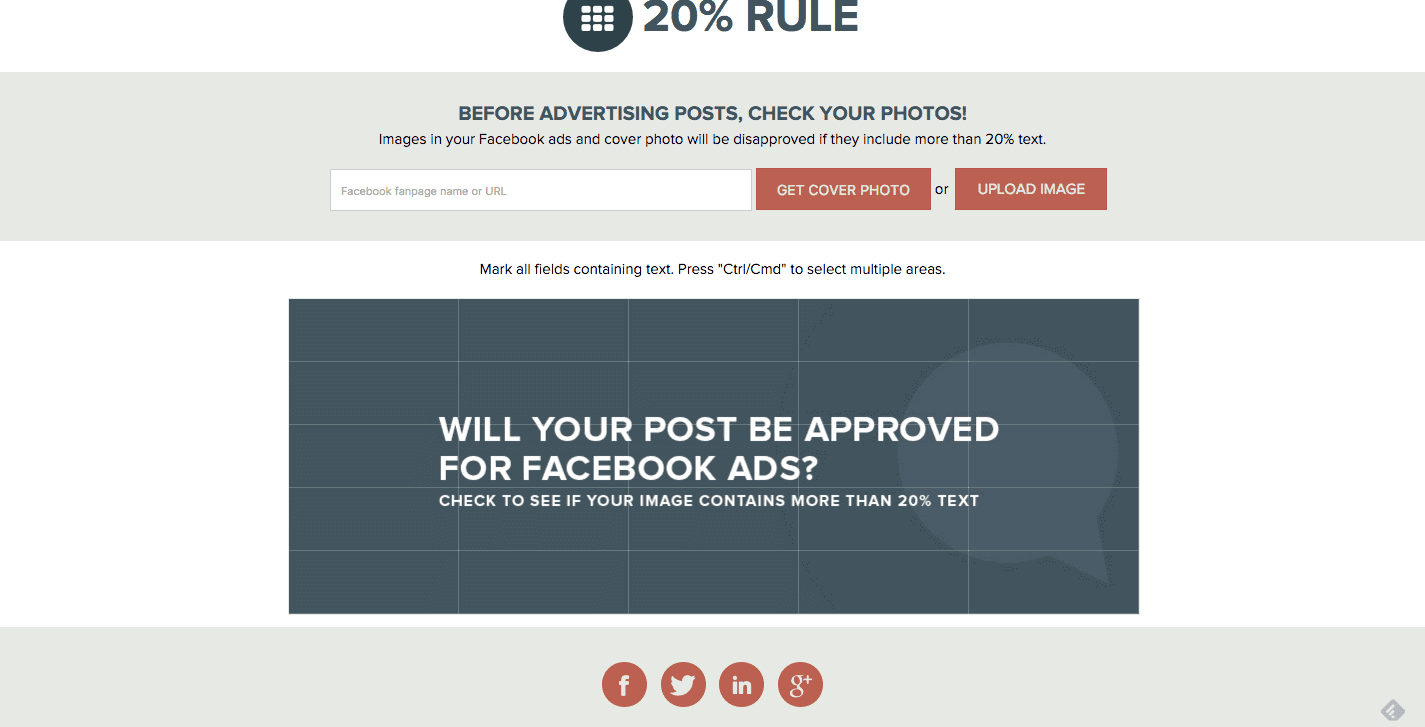 Pushcrew
Pushcrew it allows you to send notifications to your users, even when they are on your site. A new way to communicate with your users, which if used properly, can be a great way to increase conversions of your marketing campaigns. Also, it works both desktop and mobile.
4) Miscellaneous
Toggl
In the appointment, number 7 of Resources Friday, between the comments, Pablo (of which I know the surname) has reported Toggl, a Web-app tool I've tested and that improves productivity by monitoring the time taken to carry out activities.
You can create multiple tasks, you can use it together with your team, assign a cost to your time to have an estimate of the total cost, and more. In addition, it is available for all desktop and mobile platforms.
Thanks to Pablo for reporting !
Error404
Error404 by AtomSEO is a useful web app which you can use anytime you need to instantly check broken links on a website. Just input the URL of the domain and you start seeing results almost in real-time.
Error404 can also check for broken links coming from other sites, and can send automatic alerts via email when a new broken link appears on your site or a link from another site goes down.
Effective, useful and speedy. I'd recommend it.
Free plan available. It includes:
5 reports per day
5 tracking reports by email
3000 Internal pages checked
300 External pages checked
100 Backlink pages checked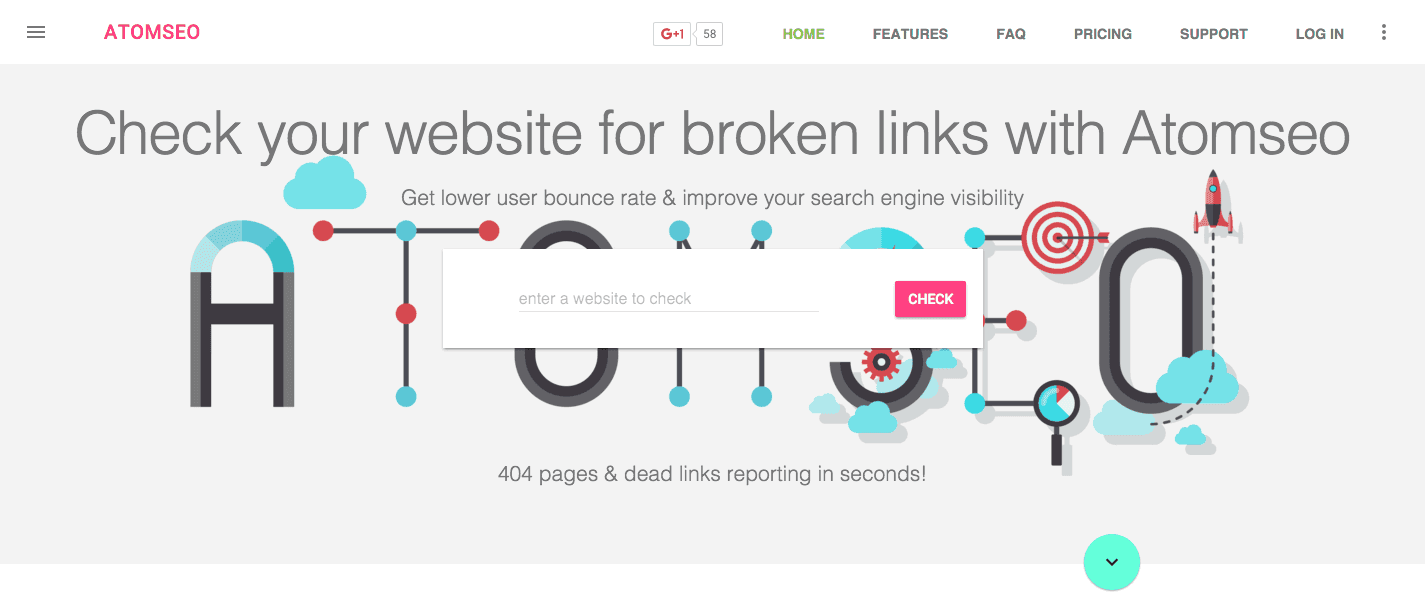 This was the last tool for this event, which returns, as always, on Friday.
Before concluding, I would like to know if there are some tools that you use for your work and you want to recommend to the community. You'll just write it in the comments, and I myself will try them and then enter them here in Resources Friday along with your name! 🙂
See you soon and good weekend!