Today is our third meeting with Resources Friday, where every Friday you get the best tools and resources to improve and speed up your work. For this Friday, I chose resources very different from each other, for example, discover a whole suite of tools to increase traffic to your website, and also a Dashboard from which you can see and manage every aspect of your online business. There are also tools such as Type Genius with which you can quickly find the right combination of font for each of your web projects.
But now enough talking, let's start! 🙂
Index:
Slider image comparison before and after (Free)
As the name suggests, this plugin allows you to compare two images with a classic "before and after". Useful, especially in the field of photography but also to show the result of a restyling to a website.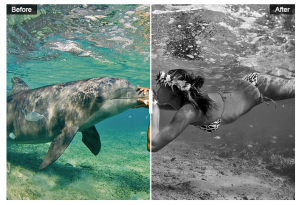 Go Pricing (Premium)
If you want to create the Pricing Table that do exclaim "wow!" then Go Pricing is what you need. With more than 150 style, 1900+ icons and hundreds of color combinations, you can create beautiful Pricing Table.
Booster for WooCommerce (Free)
Booster for WooCommerce is a really awesome plugin because it allows you to expand the capabilities of Woocommerce offering a full suite of personalization for every aspect of your e-commerce offering, such as:
• Prices & Currencies
• Button Labels & Price
• Products
• Cart & Checkout
• Payment Gateways
And more..
You should really look at all the "super powers" that this great plugin offers.
2.Tool Web Design / Development:
TypeGenius
Do you ever spend hours searching for the perfect combination of more fonts for the combo Title + paragraph? TypeGenius solves this problem. Simply select a font from the list and the rest will be taken care of by offering the best combination of two fonts for your headlines and paragraphs.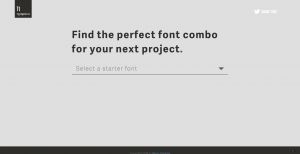 GenerateWp
If you're a developer and you love WordPress, Wp Generate will definitely save a lot of lines of code and time. It is a code generator that allows you in a few simple steps to generate the code for any type of customization you want to apply to your WP installation.
Here are some examples:
• Custom Taxonomies.
• Post Types
• Theme Features
• Shortcodes
• wp-config.php file
• Register custom WordPress Scripts and Styles
And more..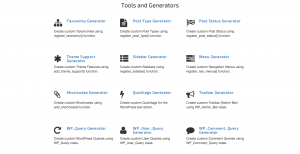 WordPress Hooks Database
As the name suggests, it is a database that collects all Hooks present in WordPress. The list is updated up to version 4.1.
Filemail
How many times have you had to send large files via email, but cannot do that due to the limitations of upload? Here, Filemail solves this problem allowing you to send files of any size with a simple email. Fast, simple and effective.
Zoom
Is a freemium tool that allows you to create video and web conferences for up to a maximum of 50 participants. Available for both Desktop and Mobile.
BoomerangGmail
BoomerangGmail allows you to program the sending of your own email from your Gmail account. Among the many features present,  it also offers the ability to track all your submission and you know when your email was read.
Cife
If I told you that you can check data from social media, analytics, marketing, sales, support, infrastructure all from one dashboard would you take me for a madman? Well .. then try Cife, and be prepared to ask: "How did I live without it?".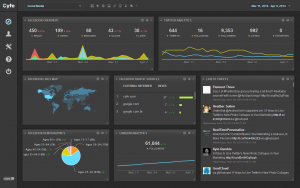 Sumome
Is perhaps the most popular suite of tools to grow your website's traffic and drive your popularity up. For example, you can easily create a toolbar with a link to the page you want to bring more traffic to or insert a form to sign up to your newsletter. But this is just one of many Superpowers of Sumome. Just click the link and discover its full potential.
Hotjar
Hotjar allows you to find out what your users really want and this helps you to increase your conversions by really knowing what they want you can amend your copy, calls to action and where you put the most important aspects of your site to generate signs ups, form fill ins. To do this HotJar provides a complete suite of tools such as: Heat Map, map of clicks, online surveys, funnel conversion and more. If you really want to increase conversions on your website intercepting and improving its weaknesses, then Hotjar is the tool for you.
Stamplia Builder
Stamplia Builder is a tool that lets you create templates for HTML emails with a simple drag and drop inteface. In fact, this visual-editor provides the ability for anyone to create beautiful templates for email without any technical knowledge. All the templates fit perfectly in all screens for a good user experience with each device and, what's more, it is also free.
Passmarked
Passmarked is a web app that runs a battery of tests against any website URL you submit and it provides, Within seconds, an overall score as well as individual indicators and reports for each one of These areas:
Performance
Compatibility
Content
Security
Quite useful as a general fast test to evaluate a website or online property. Simple to use and to understand. Provides specific indications as to what can be improved. 100% free.
I'll stop here, so now it's your turn.
Which of these instruments listed did you know already and which ones did you find out? Now please comment below  or the comments and in the Facebook community.
And if you already know Resources Friday you also know that now you have to do is:
Play button and Volume to BALL!
Good Weekend, my friend! 🙂