After two weeks, returns a new appointment with resources friday, a list taken care of with the best tools and resources that help you improve your work and get more results with less effort. But since I made you wait two weeks, I do not want to waste any time, so let's start right away with the resources this week!
Index:
1) Plugin WordPress
2) Tool Web Design
3) Tool Web Marketing
4) Miscellaneous
WPSiteSync allows you to synchronize content between two installations of WordPress. This allows you to write content in a real-time Staging installation and synchronize it with your online site. During synchronization of content, all metadata, attachments, taxonomy and other information for the content is moved.
Main Features:
Synchronize Content (posts and pages) between sites.
Automatically updates taxonomy information.
Synchronizes meta-data (including meta-data created with Advanced Custom Fields).
Synchronizes attachments, moving image files between sites.

Advanced Database Cleaner is a great plugin that allows you to clean and optimize your WordPress database. You can easily remove revisions, drafts, spam comments, and more and make lighter your Database.
Main Features:
Removes unused data including: Revisions, Drafts, Auto drafts, Pending comments, Spam comments, Trash comments, Orphan postmeta, Orphan commentmeta, Orphan relationships, Dashboard transient feeds
Allows you choose what data should be cleaned
Schedules the clean-up of database to run automatically
Optimizes the database and improves its efficiency
Schedules the optimization of database to run automatically
View and clean cron (scheduled tasks)
View and clean database tables
View and clean options
Supports multisite installation

Wirify is a web app which allows you to convert any web page into a design wireframe in just one click.
Pro version access by buying credits. Extra features:
Export fully editable wireframes to Visio, OmniGraffle and Balsamiq;
Export to SVG for Illustrator and other applications;
View and export headings in your wireframes;
Quickly do layout tweaks directly in browser.
An great app to see and analyze the design structure and layout of any web page. Effective solution for understanding web design and to tweak and improve when starting from an already effective layout.
TellForm is a free, open-source alternative to Typeform, the professional interactive online form builder that creates super elegant looking and easy-to-use online survey forms.
I am already in love with Typeform, the best survey-builder out there which can be used for free in many instances. TellForm offers much of the same functionality while being 100% free.
Google DataStudio is the free version of a powerful data visualization tool released earlier this year by Google which allows you to take data coming from Google AdWords, Analytics, Google Sheets or from elsewhere and to convert it into customizable bar charts, pie charts, time series, heatmaps and bullet charts among others.
" The primary difference between Data Studio 360 and the free version, Data Studio, is the the number of reports you can create, which is five per account. Both versions support connecting to unlimited data sources and offer unlimited report viewing, editing and collaboration."
"…easily create dashboards from many different types of data and share with everyone in your organization – and you can mix and match data sources within a single report. For example, you can combine Google Analytics data and Google AdWords data into a single report."
Good resource to get greater insights into collected marketing data, analytics or for just about any other field. Ready to import data from Google apps, as well as from other sources and standards.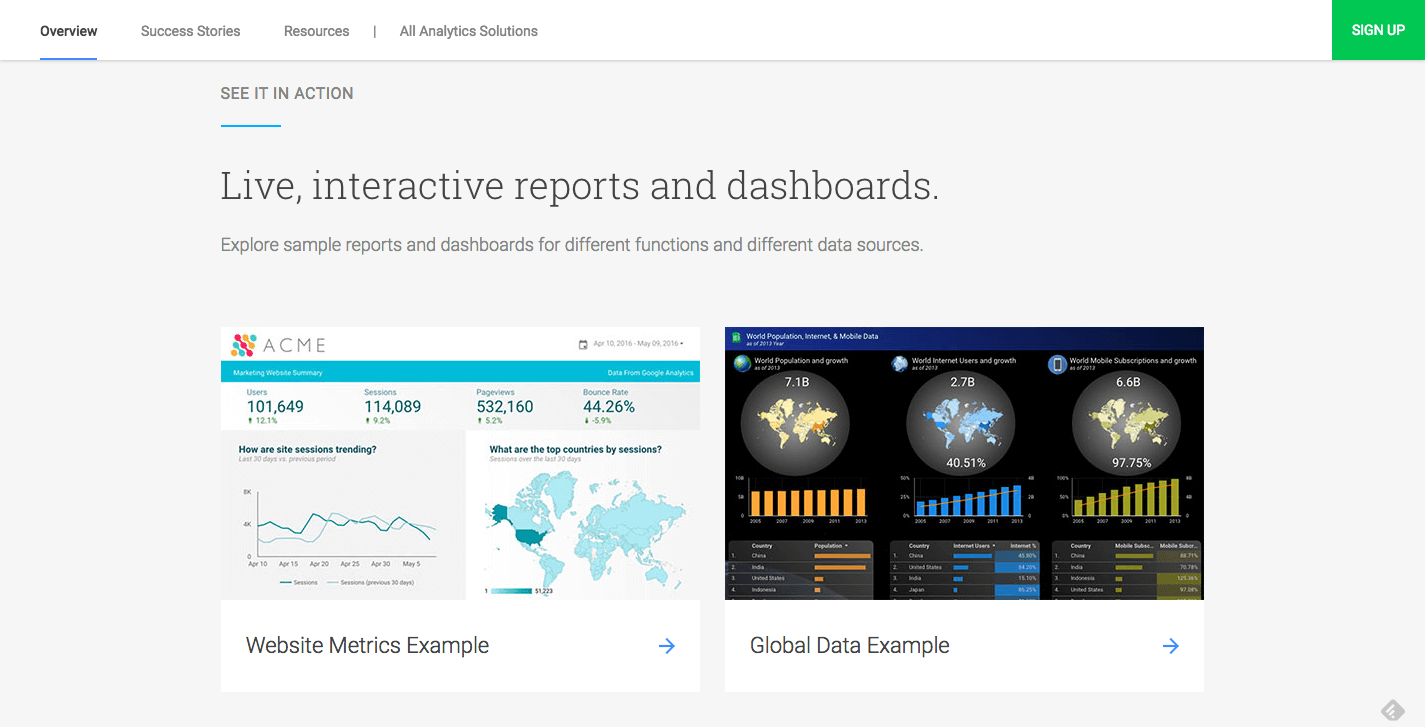 MarketSpace is web app designed to monitor and track specific brands across blogs, social media, video, news and more. Find out when they launch products, get reviewed, make hires, raise money, close deals, update apps, trend socially, drop videos or get bought.
Alerts and updates can be reached via RSS, Slack, Hipchat, Salesforce, daily email, Google Sheets, Office 365, or a mobile-friendly web app. Powerful and easy to use solution to track and monitor specific brands across all online channels and for specific pages/changes.
FoxType is a web app which aids in writing more concise, polite and well written emails by providing advice, tips, stats and data about your text to help you improve it (right inside Gmail).
The app includes a number of powerful tools:
Politeness indicator;
Reading time / Call-to-action;
Visual Thesaurus;
Conciseness tracker;
Sentence Tree visualizer;
Estremely helpful tool for anyone wanting to communicate more effectively through email. Easy, immediately useful.
Hemingway is a free web app which allows to check and analyze any text and instantly get visual insights, advice and data designed to help improve the legibility of your content.
"The app highlights long, complex sentences and common errors; if you see a yellow sentence, shorten or split it. If you see a red highlight, your sentence is so dense and complicated that your readers will get lost trying to follow its meandering, splitting logic. You can utilize a shorter word in place of a purple one. Mouse over it for hints. Adverbs are helpfully shown in blue. Get rid of them and pick verbs with force instead. Phrases in green have been marked to show passive voice."
You can either copy-paste any content you have already written or use Hemingway to write and format your new text.
Very helpful tool for English-based writers who want to check and improve the legibility of their content. Very easy and effective to use.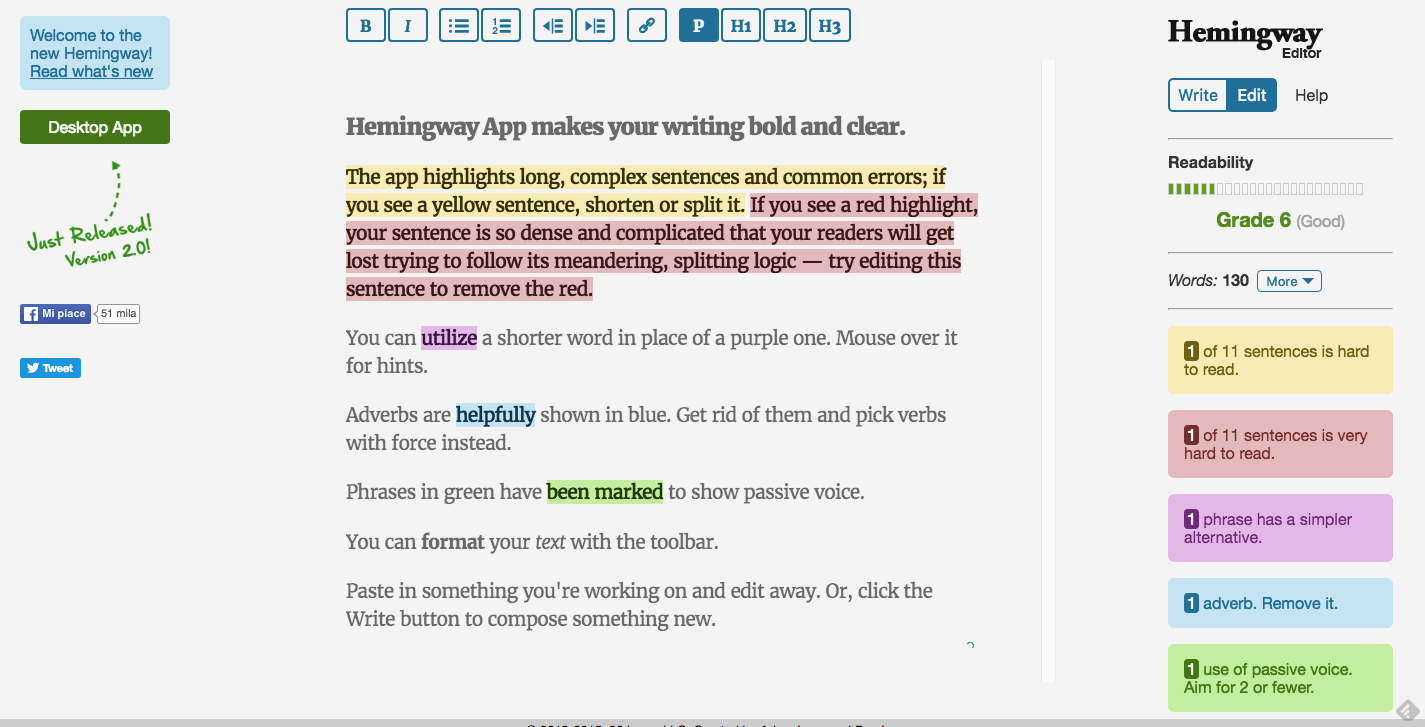 Now is your moment:
For this week is all about, as always, if you liked this article, I invite you to leave your comment below, but especially not to miss the next round of Resources Friday!
Have a nice weekend!