24/01/2017
Please note, since this article was written, the divi sites referenced here are no longer available due to server changes. 
We all love Divi around here – that comes as no surprise. However it's fair to say that not everyone shares our love affair with Divi. One of its most vocal opponents comes in the form of Chris Lema – a blogger, public speaker and product strategist who "helps companies leverage WordPress".
Last year Chris published a blog post entitled "If you use the Divi theme with WordPress, it better be forever". I recommend that you click on the link to read the post, but the jist of it is that Chris says that Divi is so hard to switch away from that
"The cost of changing your site's theme might cost you as much as a custom theme".
That's a pretty punchy punchline that's going to make you think twice about building a site with Divi if you're new to the theme.
Not surprisingly this blog post has received a lot of attention. It is also a post that beginners regularly ask about on the Divi Theme Users Facebook group; often spooked by the thought that a commitment to Divi is a life-long commitment with no chance of parole.
So let's answer Chris Lema's question – what DOES happen if you decide you want to switch to a new theme?
It goes without saying that Divi is a feature-rich theme. It includes counters and contact forms; testimonials, filterable portfolios and many more module options. So, for the moment – switching theme from Divi to something else with just one click of a button is never going to work. Quite simply you're not going to be able to move all the "bells and whistles" in Divi to a non-Divi theme. Each theme – Divi included – has its own features, pros and cons so it's rare to find a feature-rich theme you can switch away from with a single click of a button. That said, Nick Roach, founder of Elegant Themes, has publically stated in response to Chris' article, that:
"There will be a plugin that you can use to transfer the builder functionality to a different theme. It's something we have done in the past for our builders and shortcodes, and it's something we have always planned to do with Divi. Rest assured, we understand what you are talking about here!".
So Elegant Themes' founder is more than aware of the criticism and a solution to switching away from Divi is on their development roadmap.
The next thing to consider is that once your website is established, how often in reality do you change themes? Most sites undergo an overhaul roughly every two to three years. This is usually enough to keep a site up-to-date with new functionality and design changes and to keep it looking fresh and modern. Therefore, it's unlikely that you're going to be switching from Divi to another theme on a frequent basis. In addition, any major changes to your site usually comes with an overhaul in content and design, possibly a change in branding and colours; and most themes have some level of customised CSS code in them. So overall there's a bigger picture of requirements to be aware of when changing themes than just moving away from Divi. To look at a redesign of website as simply a change of theme is a major over-simplification of the processes involved.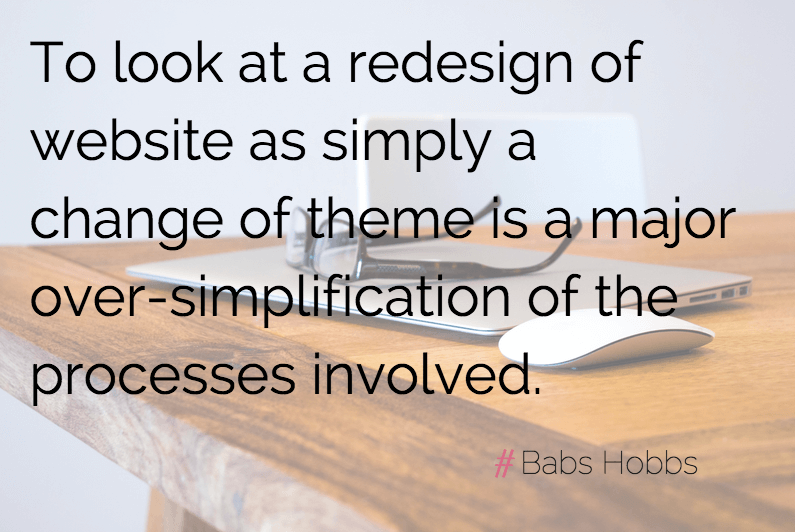 So let's say that you've read this far in my blog post and you've still got Chris Lema's voice in the back of your head nagging at you and saying "Divi is forever" … what now? You are concerned that in a year's time you might decide to move away from Divi and move your site to another theme, and that Nick Roach's promised plugin has not yet materialised. How tricky would it be in reality to move from Divi to something else?
My answer? Not very!
I am going to use a 4-page Divi site that has been set up using four of the standard Divi templates – Homepage Company, Page Full Width, Our Team and Contact Us. Let's assume that you have decided that you want to move the site from Divi to the standard WordPress theme TwentyFifteen, and for the purposes of this example we're not going to add in any extra functionality to the TwentyFifteen theme by way of any additional plugins. We will be using TwentyFifteen right "out of the box".
The first thing we need to look at is what we can and can't port over to the new theme. The homepage slider will need to go – but we might want to keep the content; and the number counters on page 3 will need to go, but we will want to keep the team members' photos and descriptions. These kinds of cross-theme checks are standard whatever themes you are moving from and to. Next we need to copy the content from one site to the other, and add in the media. In Chris' example he simply switches the theme from within WordPress. This naturally causes issues with shortcodes and formatting from Divi that are not present in the new theme. Instead, now that we have identified which content we are moving over (and which we're not) it's much simpler to "copy and paste" the content we're re-using from one theme to the other. You can either do this from Divi into a Word document, or create a new page within your website and copy the text in there prior to changing themes. This will then avoid the need to manually remove any shortcodes or formatting that may remain from your Divi site. Once you have switched theme, simply delete the original Divi pages.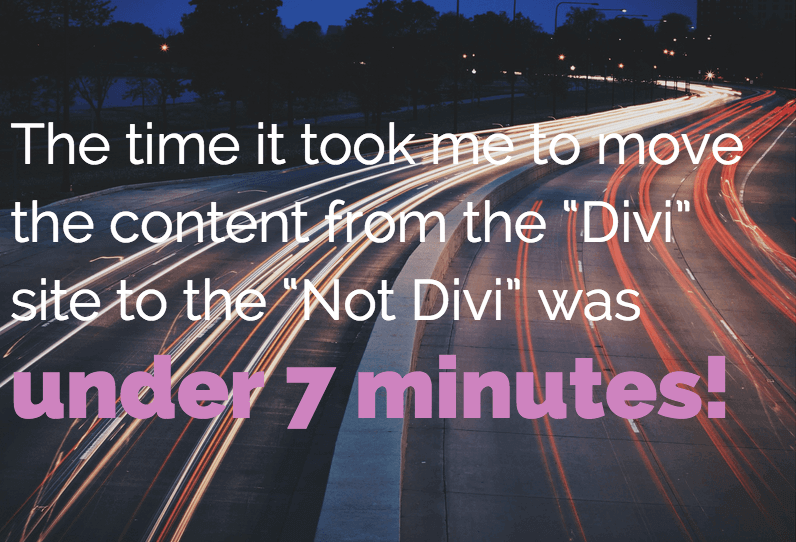 The new non-Divi site with the content can be found here.   Now this might sound like a lot of work but in reality the time it took me to move the content from the "Divi" site to the "Not Divi" was under 7 minutes! Granted, there is still some tweaking to do to get the site looking good – and at this juncture you would probably want to add in some WordPress plugins to add functionality for things like contact forms. But in terms of the site content being there it took under 7 minutes to move the content from one site to another. Even allowing for 2 minutes per page, it's not exactly a huge investment in terms of redesigning your entire website. From this point in it's just tweaks to the layout and adding in whatever plugins you want to use.
You're never going to be able to replicate the full Divi functionality with a non-Divi theme, so there will always be some redundancy in what can and can't be moved over. Identifying the content that can be moved and what can't is critical in any website redevelopment when you're changing theme.  Simply changing your website theme from one theme to another will naturally cause issues if your original theme is feature-rich and you've taken advantage of that. But approaching a switch in theme with a little common sense and a clear head should enable you to easily identify those elements that can be copied and pasted to the redesigned site; and those elements that are embedded in the theme and cannot be ported. It's not difficult; it's not tricky; and you certainly don't need to hire anyone to do it for you (unless you want to!) So don't get put off by the Divi scaremongering as honestly – there's nothing to fear!