UPDATE 26th October 2019 – WPML is not fully compatible with the latest version of Divi 4 – here's the post you need to read 
One of the best ways to increase your traffic is by translating your website.
That's where the number one multilingual plugin in WordPress, WPML, comes in. It gives you the tools to translate everything on your website including posts, pages, widgets, images and everything else. That's not all, WPML's improvements to its String Translation means page load times on websites with WPML have been reduced by more than 50%. WPML is completely integrated with Divi so you can seamlessly build websites that look great in multiple languages.
This tutorial teaches you how to translate a Divi website using WPML. Below we will go through all of the main Divi features and how you can translate them.
What you will learn to translate
With WPML you can translate all elements of Divi effortlessly. Below we'll show you how to translate:
Pages built using the Divi Builder
Project pages and categories
Texts from Divi theme and plugins
Divi's custom layouts
Divi's global modules, rows and sections
Divi's menus
Divi Modules
Translating pages built by the Divi Builder
WPML allows you to translate any pages built by Divi without hassle. With WPML there are three ways for you to translate your content which we'll go through below:
Option 1: Translate your content yourself
If you are able to translate your texts then you can do it all on your own using WPML. You can translate everything using WPML's Advanced Translation Editor which offers machine translation, a glossary and a spell checker among many other features.
Under WPML -> Settings select the option to Use the Advanced Translation Editor.
Head to the post or page you want to edit and click the "+" button next to the language you want to translate into. You will be taken to the Advanced Translation Editor.

You can now choose to translate automatically any new content that is added using WPML's machine translation by clicking to translate any content. Otherwise, click

No and you can do it yourself.
If you clicked no, click on Translate Automatically and all of your content will be translated into your chosen language.
Go through each of the sentences you check the translations are 100% accurate. Once you are happy, click Finish.
Option 2: Allow individuals to translate your content
You might want to hire a professional translator to help make your Divi website multilingual. Fortunately, WPML makes it easy for you to assign work to another user.
Click on WPML->Translation Management and select Users of this site.
Click on Add a translator and either set up an existing user or create a new account for your translator.
Add the language pairs you want your translator to work in and click Continue.
You will see a summary of your changes. Click Done.
You will now be taken to Translation Management where you can assign jobs. Click the pages you want to translate and select Add selected content to translation basket.
Click on Translation Basket where you can review the work to send and choose which translator to assign to your work. When you have finished click Send all items for translation.
Under Translation Jobs you can review the jobs you have assigned which will let you know when it is complete.
Option 3: Use a professional translation service
WPML is fully integrated with a number of the best translation services around the world. It means that you can easily assign your content built by Divi to a professional translation company.
Follow the same steps as the second option but instead select A translation service.
You can now choose which translation service you want to assign to your work. Next to the company you want click Activate.
Enter the API code for your translation service
In the Translation Management section, you can follow the same steps for the second option except under the Translation Basket choose your translation service at the translator.
Translate project pages and categories
You can translate project items and any custom post type items exactly how you would translate your other types of pages.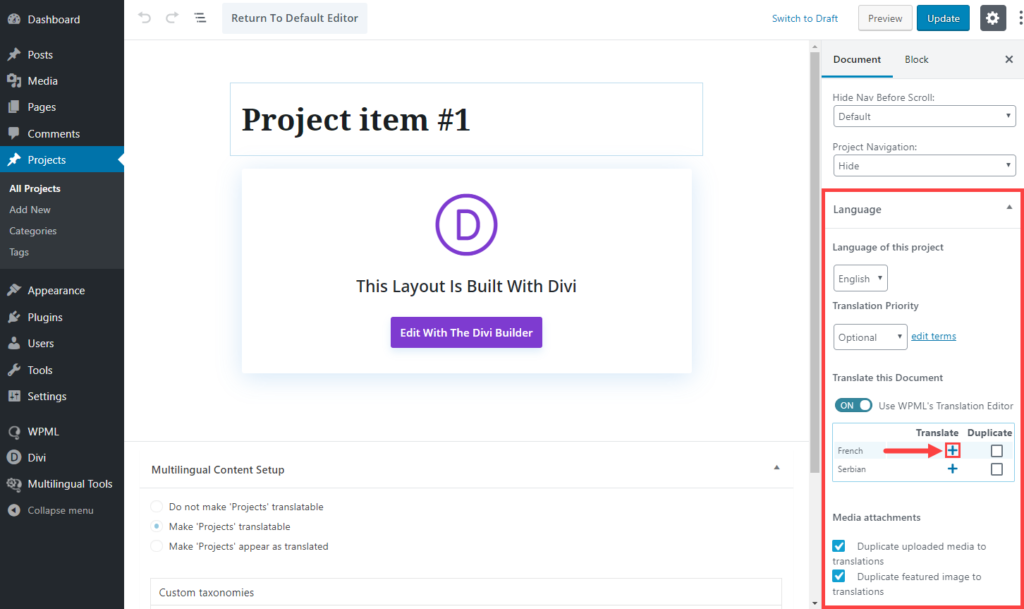 You can translate Project categories as well as other elements while translating your pages on the Translation Editor screen.
Translate texts from Divi theme and plugins
To translate texts from Divi theme and plugins you will need to use WPML String Translation. The good news is that String Translation has undergone a recent overhaul which has helped to decrease your page load times by more than 50% on average. So you will be happy with both the translation and your website's performance.
Option 1: If you are translating yourself
Head to WPML->String Translation
Next to each of the strings select translations and enter in the translation for the string and click the Translation is complete checkbox before saving.

Option 2: If you are assigning translations to an individual or a service
Head to WPML->String Translation
Select all of the strings you want to translate and click Add to translation basket.
Head to Translation Management and under Translation Basket you can review your job before clicking Send all items for translation.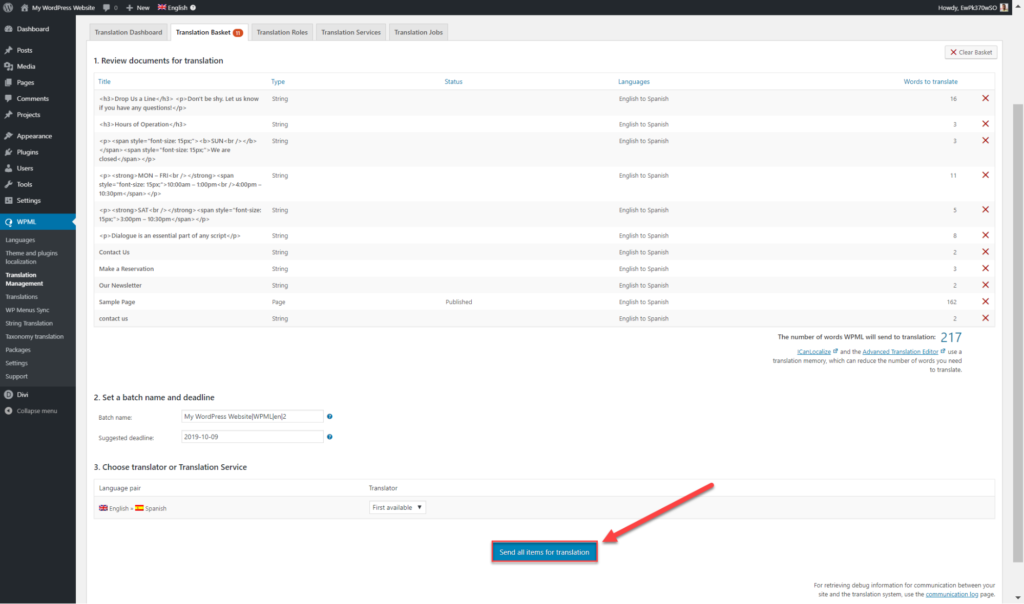 Translating Divi's custom layouts
One of the great advantages of Divi is the ability to easily create your own custom layouts to use on different pages and posts. WPML is the perfect way to translate these layouts. Not only that, but you can also have different layouts for each language on your website.
To translate your custom layouts simply follow the same steps for translating pages or any other kind of content. If you choose to use your translated layouts in any other content WPML will automatically preload the translation to save you time.
Translating Divi global modules, rows and sections
Any modules, rows or sections you create with Divi can be set as global meaning you can use it on other posts or pages. As with custom layouts and theme texts you can translate these modules just like normal posts or pages.
Remember that if you make any changes to any one instance of the rows or sections then it will change wherever else it appears.
Summary
As you can see translating your websites with WPML is as straightforward as building them using Divi Builder.
Don't forget that if you have any problems the WPML Support Team is on-hand six days a week to deal with any questions.
So what are you waiting for! Download WPML today and turn your Divi website global. WPML also offers a 30-day money-back guarantee if you are not happy for any reason.