A membership site allows you to create repeat customers. They allow you to ship a monthly bundled product, or provide access to online materials such as articles, videos, audio, downloads, etc. Creating a membership site makes great business sense because each customer has a cost and it's cheaper to create a repeat customer than create a first time customer. Fortunately, Divi is a great platform for creating a membership site.
In this article we'll take a look at the best membership plugins that integrate well with Divi to help you create your very own membership website. Often membership software is the same as course software, so I've included some of those as well. The plugins are in no particular order.
Lifter LMS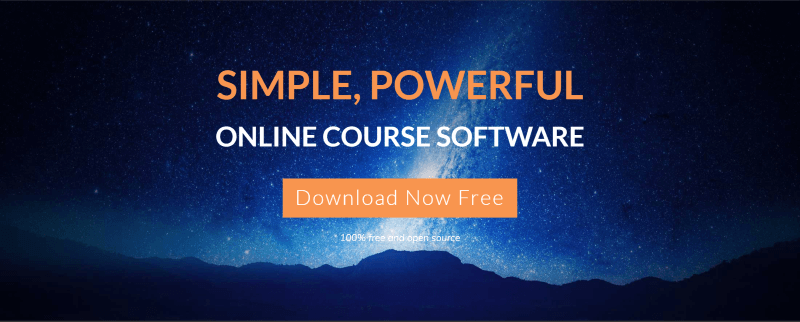 Lifter LMS is a Learning Management System that allows you to provide content such as video, audio, text, and downloads to members. The plugin includes everything you need such as access plans using pricing tables, scheduling for the membership to go live, expiration dates, trial offers, who the plan is available to, payment systems, and more. It will also integrate with WooCommerce.
You can offer bundles and other content such as access to pages, posts, forums, other benefits, etc. Like other online course platforms, LifeterLMS also includes a reporting system so you can view your sales data, enrollment, quiz results, manage orders, and more. It allows you to pass information along to your email system.
Since the focus is on courses, it also provides the platform needed for quizzes, milestones, certifications, etc. Progress is tracked for each student. They can access the courses and their information on their own dashboards. You have full control over the structure of the courses. You can award achievements, send personal emails, and send certificates based on behavior within the LMS.
WooCommerce Subscriptions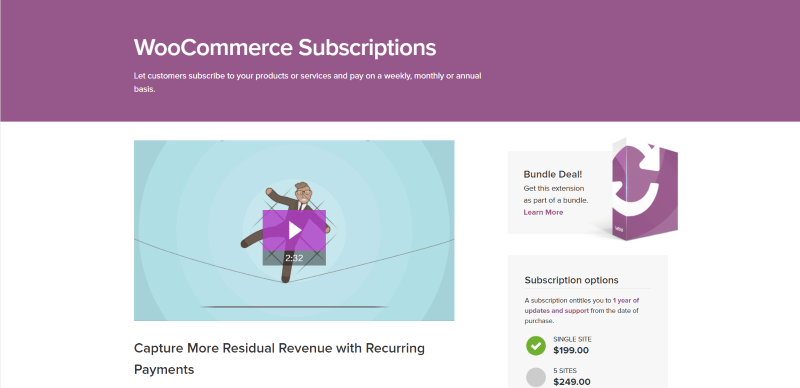 WooCommerce Subscriptions as a premium extension for the already powerful WooCommerce platform that lets you offer subscription-based products. You can use the subscription to allow user's access to pages, downloads, video, audio, and more.
It has a payment system built-in to accept automated recurring payments. Offer a free trial, charge a one-time setup fee, and let users switch subscriptions when they want to. Manage the subscriptions manually, allow for variable subscriptions, and let users choose their own billing schedules. Users can even subscribe to multiple subscriptions in the same order.
You can provide multiple billing schedules and customers can pay manually or automatically. Failed auto-renewals automatically retry the payment. Payments include automatic notifications so users are aware of the payment. You can also synchronize the payment schedule so everyone pays at the same time and you can even pro-rate the first payment if you want.
It works with over 25 payment gateways and is compatible with other WooCommerce extensions. You can manage accounts from a special admin screen. You or the user can suspend or cancel a subscription. Create coupons for their monthly payments or signup fee. It provides detailed reports so you can track the number of subscribers and your revenue.
MemberPress

MemberPress is a simple plugin that lets you charge for access to certain areas of your website including pages, child pages, posts, categories, custom post types, tags, feeds, digital files, and communities. Access is based on the products your users have subscribed to or what they've purchased. You can also sell digital downloadable products.
You can create, track, and manage membership subscriptions. It gives you the tools to create dynamic pricing pages. It includes customizable themes. Users can update, upgrade, or cancel subscriptions from your website. It integrates with several payment gateways and email services. Use the drip feature to release content and close access based on time.
It includes clear and relevant reports so you can easily know how much money you've made, which products are selling, etc. Run promotions and giveaways with the built-in coupons. You have full control over when they expire, how many times they can be used, and you can create your own custom coupons. You can even customize the plugin with your own code.
WP-Members: Membership Framework

WP-Members restricts the content of your posts and pages to registered members. Rather than hiding the content completely it provides a teaser of the content to unregistered readers – enticing them to register to read the rest. Registration is on the frontend in line with your content so they don't have to leave the page they're on in order to register. It also includes a sidebar login widget.
You can customize the look and feel of the plugin such as the registration fields and rearrange them by drag-and-drop. Use the shortcodes to create user profile pages, a registration page, a login page, and more. You can customize the plugin even more using the 100 action and filter hooks.
All content is automatically restricted which can be left as default or unblock the content as you wish. This allows you to control the restrictions for each page and post individually. The plugin is free, but you can subscribe for tutorials, code snippets, premium support, a user's forum, and extensions.
Paid Memberships Pro
Paid Memberships Pro lets you create membership levels and then define access to your content per level. Content restrictions include pages, individual pages, posts, video, categories, forums, downloads, support, etc. Setup unlimited membership levels, define an initial payment, setup recurring payments, membership terms, billing cycles, reduced trial periods, and more.
Create your own membership levels and structure access any way you want. You have full control over member access. You can set content access levels so certain content can only be accessed by certain members. You can manage access from the dashboard and export member information. You can even create your own discount codes and hide ads from paying members. Members can update their information and cancel their accounts from the site.
It integrates with most of the popular payment gateways, email services, affiliate tools, form software, and other popular services. Over 42 add-ons are available to expand its features such as integrating it into other platforms like bbPress, adding drip content, network support, forms integration, and more. There are three different reports that include views, sales, and stats. Customize it even further with your own code.
The plugin itself is free. You can purchase premium content, add-ons, unlimited licenses, etc.
MailerLite
MailerLite is an excellent email service to help with your membership website. It does more than just email. It has auto replies and you can set up sales funnels to promote your membership services. Use it to create landing pages with the built-in templates or add popups to your website. Email automation allows you to automatically send exclusive offers based on a user's behavior. You can also use it to tell your customers about products they might not be aware of.
Create with the drag and drop builder, HTML editor, rich text format editor, or use built-in templates. Manage photos using the built-in photo editor, manage files, create embeddable forms, track results, and lots more.
You can start with the free account (for 1000 subscribers) if you want and expand from there. Prices for over 1000 subscribers starts at $10 per month.
EMP uses MailerLite for all email newsletters and for auto responders and sales funnels.
Even More Plugins
There are lots more plugins to consider. Here's a short list of some of the most popular membership plugins from the WordPress depository.
Final Thoughts
Divi works great with the most popular membership plugins. Any of the plugins in this list would work great for practically any type of membership website you need whether it's providing drip content, access to pages, posts, or downloads, or even restricting articles to members-only with a sneak preview. Several of them even run EMP websites and services such as ElegantMarketplace.net and DiviCloud. If you're interested in creating a membership site I'm sure you'll find something here that works for your needs.
We'd like to hear from you. What's your favorite plugin for creating member's areas for your Divi website? Let us know in the comments below.