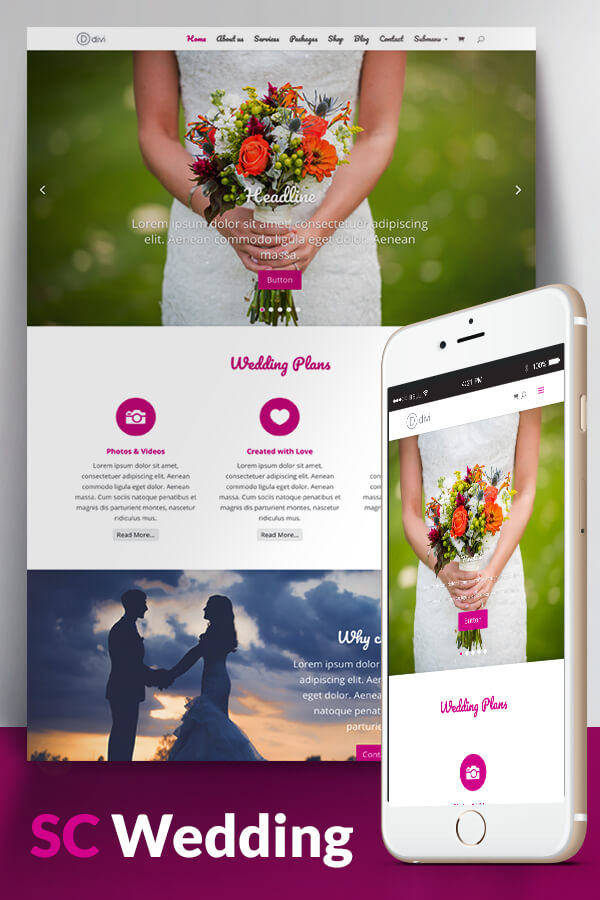 This child theme has a beatiful design and you can use it for a Wedding , Photography Website or anything else. If you buy his theme and save lots of time. You can use the theme for your own projects or for customers and so on.
You need no plugins.
Included:
Divi-Child-Theme.zip (font-awesome, functions.php, header.php, screenshot.png, style.css)
Layouts.json
7 Page Layouts

Home
About us
Services
Packages
Shop
Blog
Contact

Images *
Installation:
The steps you can find in the documentation. You need approximately 2 minutes and your new beatiful Website is ready.
* We used the images from pixabay and we don't own the copyright rights.
---
Support for this theme is provided for six months from the date of purchase. If you require support after six months, please contact SiteCreation for current rates. Support does not include customizations.
The theme will continue to work without any additional payment but SiteCreation will not be responsible for any conflicts due to updates by Divi, WordPress or any third party plugins or extensions.
*Support is provided by vendors directly.
Please login to access the support form. you can do so here