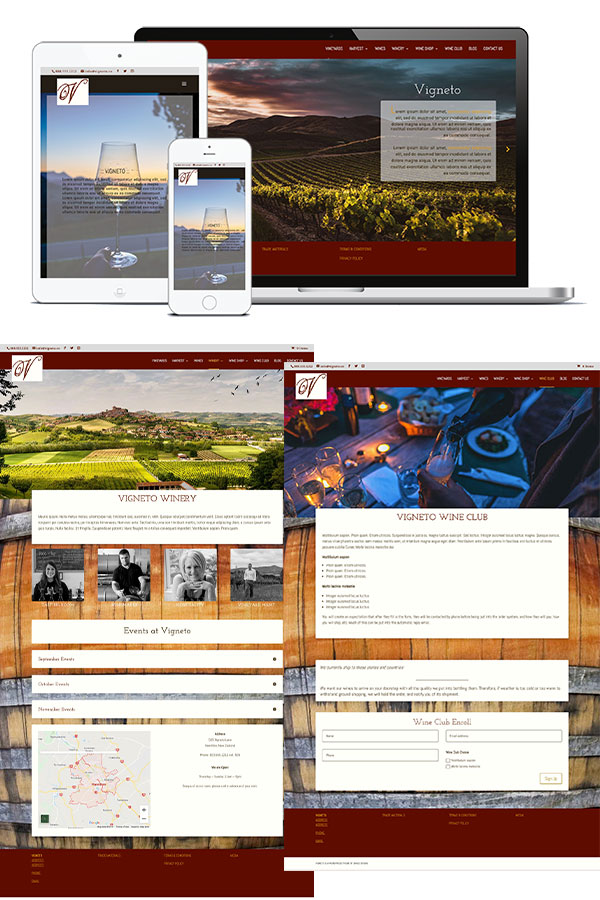 Vigneto is a custom Divi theme, focused on showing a vineyard/winery's assets, and keying on the sales techniques of a winery. Vigneto includes an e-Commerce model, and can be further customized for event /venue reservations, email opt-in, and integration of third-party sales software.
Built on Experience
From our work with wineries and farms, we have taken full advantage of premiere photography and stylish on-page graphics to illustrate an elegant presentation of venue, of artisan talents, of the art of winemaking.
As a business, this theme is great out-of-the-box, and you may add features as you need. As a web designer, you can present this theme to your clients as a beautiful layout that shows a vineyard / winery in its beauty and art.
The theme has a few additional plug-ins that: highlight vineyard blocks, feature an email opt-in pop-up, and a homepage slider.
Installation
This theme is a one-click install, fully responsive, and ready for you to replace our content with your own. One-click installation instructions are included in the online tutorial.
Features
Stunning, responsive design
One-click installation
Homepage slider with link capability*
Separate still image for vertical tablet and mobile devices (replaces slider)
A 'Draw Attention' plugin that facilitates highlighting map areas
A stylized 'educational' gallery
A flipcard gallery
A product page with toggled information
3 ways to capture sales direction to the online store
Wine Club page with enrollment form
'Ship to' block to display what states/countries you ship to
Customized blog page layout
Customized post layout
Customized contact form & map page
Terms & Conditions and Privacy Policy pages
Social integration
Best-practice SEO
A comprehensive winery site to feature your property and sell wine!
*the slider plug-in is included with the installation; you will need the slider file to import the demo slider to your site. See the slider.zip file to download in addition to your theme file.
---
Checkout the documentation first and if you still need help open a support ticket.
View Docs
Requirements
This child theme requires the Divi parent theme to be installed. You need an active Elegant Themes subscription to purchase the Divi theme, which is not included in the purchase price of this product. For updates to your Divi theme, you will need an API Key, which is included in your Elegant Themes membership.
The one-click import of this child theme works best on new WordPress sites. If you are working with an existing WordPress site and Divi theme, contact the authorfor separate files to import.
Support is provided for 3 months from the date of purchase. Support does not include customizations.
You may contact the author if you would like a quote for installation and customization of your theme.
You may receive updates to the theme following the purchase date of your child theme.
You are responsible for updates to WordPress versions, Divi versions, and plugin updates. Â Gracestudio is not responsible for any conflicts due to updates with WordPress, Divi or third-party plugins.
License information
Some images in the demo are free to use and others may be copyrighted. It's suggested you replace all images with your own, or with Creative Commons licensed images.
The standard price purchase allows you to use this child theme for both personal and commercial use, as many times as you like.
Out of respect for our hard work, please do not distribute, re-sell or give away the theme.
Photography credits: Daniel Vogel, Kastriot Cupi, Tim Mossholder, Tari Donohue, Brett Jordan, Dave Lastovskiy, Wan Song, Yoko Correia
*Support is provided by vendors directly.
Please login to access the support form. you can do so here