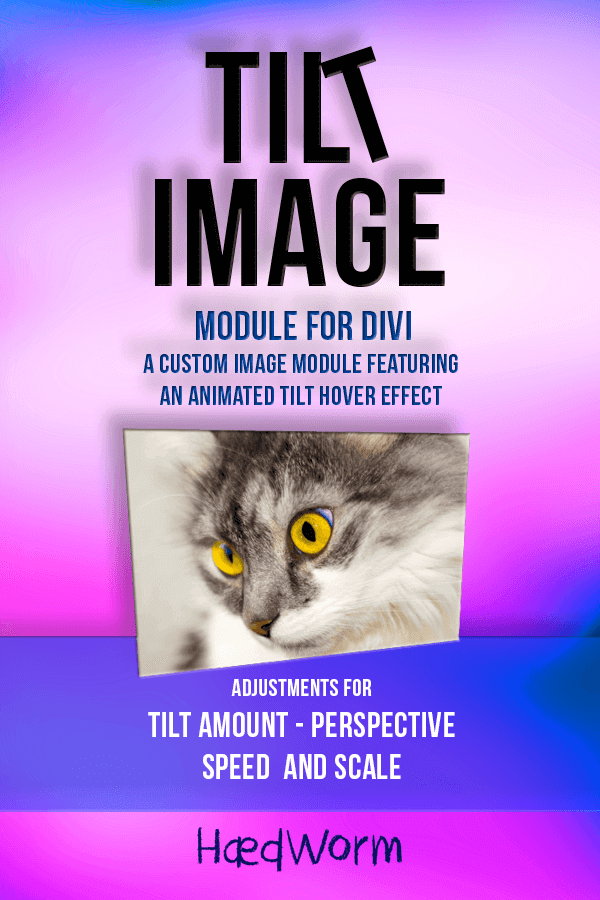 The Tilt Image Divi Module is a customised Divi Image Module with a cool lightweight jquery tilt effect.
The tilt effect works on hover. As you hover over the image with your mouse cursor the image will appear to tilt. The position off the mouse cursor determines the tilt direction and amount.
The module includes all the settings of the standard Divi Image Module and adds settings to adjust the tilt effect in a number of ways to allow you to create some unique effects for your images.
You can adjust the Tilt Amount, the Tilt Perspective, Tilt Speed, Tilt Scale and Tilt Glare.
You can also add a Tilt Shadow and Reverse the direction of the Tilt Effect.
The jQuery script used is called 'vanilla tilt' which is a forked version of tilt.js.
It's a very lightweight script that weighs in at just 4.5kb.
Please Note: You will require the Divi WordPress Theme or the Divi Builder to use this plugin.
Installation
Install and activate the plugin like any other WordPress Plugin.
Once installed and activated the Tilt Image Module will be available along with the Divi Modules for the standard and speciality sections when you click the Insert Module(s) button in the Divi Builder.
Set-up

Add the Tilt Image Module to your layout.
To enable and adjust the Tilt Effect click the Tilt Settings Tab and then click the 'Use Tilt Effect' Toggle switch to the 'on' position and adjust the settings accordingly.
You must log in and be a buyer of this download to submit a review.
---
Changelog:
= 1.0.2: July 05, 2017 = * Fixed: Issue with open in lightbox and image link not working when the Glare effect was enabled. = 1.0.1: July 02, 2017 = * New: Tilt Reverse Option * New: Tilt Shadow Effect Option * New: Tilt Glare Effect Option = 1.0.0 = * Initial release
Checkout the documentation first and if you still need help open a support ticket.
View Docs
This theme, layout or plugin is comprised of two parts.
1. The PHP code and integrated HTML are licensed under the General Public
License (GPL). You will find a copy of the GPL in the same directory as this
license file.
2. All other parts, including but not limited to the CSS code, images and design are
copyrighted by the vendor concerned and are NOT licensed under GPL.
This license allows the item to be used in projects for either personal or commercial use by you or on behalf of a client. The item cannot be offered for resale either on its own, in part, or as part of a larger project including that being part of a hosting offer. Distribution of source files is not permitted.
We understand that there can be issues whilst utilizing out of date browsers. Please ensure you use up to date browsers when using our vendor's products. For DIVI Theme – Third Party Plugins may not perform as desired in the Divi Visual Builder if this is the case, please use the classic builder. We are working with our vendors to rectify this situation as quickly as possible. With the release of Divi 3.1 developer documentation and SOME support of third-party modules and plugins are now accessible through the visual builder. 
Please be aware that you will need an amount of experience in the master theme that you are using in order to take advantage of our themes and plugins.
Please make your decision to purchase based upon your skill level to see if our products fit your needs. Due to the nature of Digital Downloads, Refunds are not possible unless the plugin or theme is unusable in your set up – we will require proof of this – please ensure that the product you are buying will do the job you want it too. In the case of Divi and Visual Builder compatibility – some plugins do not yet have 100% VB compatibility. Please check descriptions thoroughly to ascertain VB compatibility. Whilst every effort is made by our vendors to ensure compatibility with other themes, plugins and or web servers. This can never be guaranteed due to the many thousands of iterations in the wild. Please do not be afraid to ask the vendor for support by visiting the product page and clicking the relevant link. Warranty for fitness of products used on your installation is neither given nor implied. 
*Support is provided by vendors directly.
You have questions about your purchased plugin, theme or layout? Then use this form to get your answers as soon as possible. If you have a license key, please enter it here. You can find it in your account under "view details and downloads". Otherwise, please use the invoice id from your invoice.