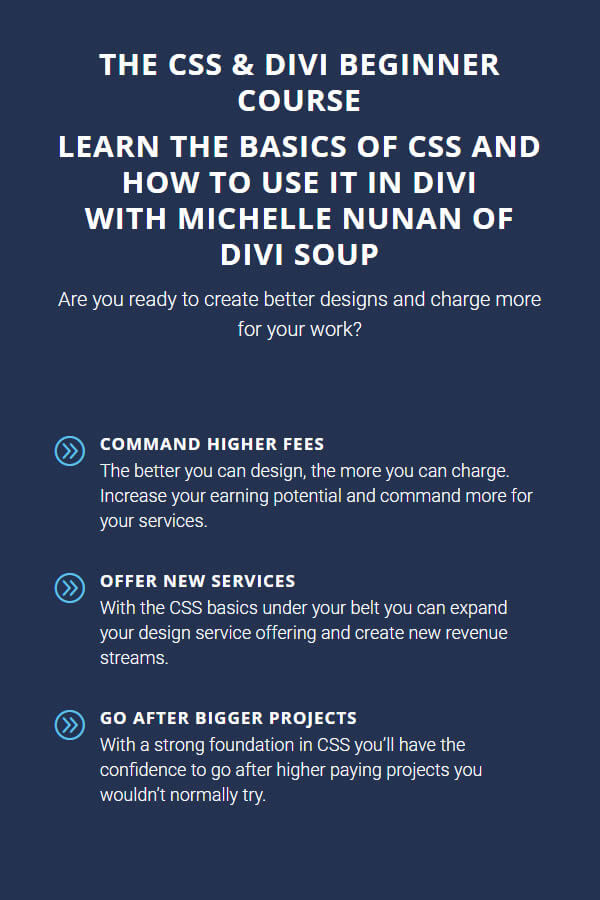 ***Course content is available from 30/9/16***
What's included?
The CSS & Divi Beginner Course is delivered in 10 weekly modules containing multiple bite-sized lessons, each covering a specific area of CSS and how you can apply it within Divi.
Starting with the basics of CSS and gradually working through the most commonly used properties, this course will give you a solid understanding of not only how to write CSS, but also how to use it effectively so you can take your Divi designs to the next level.
Content is delivered weekly so you have the time to practice and build on what you learn without feeling pressured to move onto the next module.
WHAT IS CSS
An introduction to CSS: versioning, resources and how it works with HTML
BASIC CSS CONCEPTS
CSS syntax using Selectors, Declarations, Properties & Values
CSS PLACEMENT
Inline, internal and external CSS as well as where in Divi to place your CSS
IDS AND CLASSES
What they are, when and how to use them effectively
USING PROPERTIES
How to style elements using the most commonly used properties
PSEUDO ELEMENTS & CLASSES
The difference between them and how to use them
MEDIA QUERIES
What they are and how to use them for responsive design
CHROME DEVTOOLS
What they are, how to use them and why you can't design without them
---
You may install this product on any number of websites that you build for yourself or your clients. You will receive 6 months support and updates, after which you may have to purchase a support contract in 6 month packages.
*Support is provided by vendors directly.
Please login to access the support form. you can do so here