Termageddon – Privacy Policy Generator
$10.00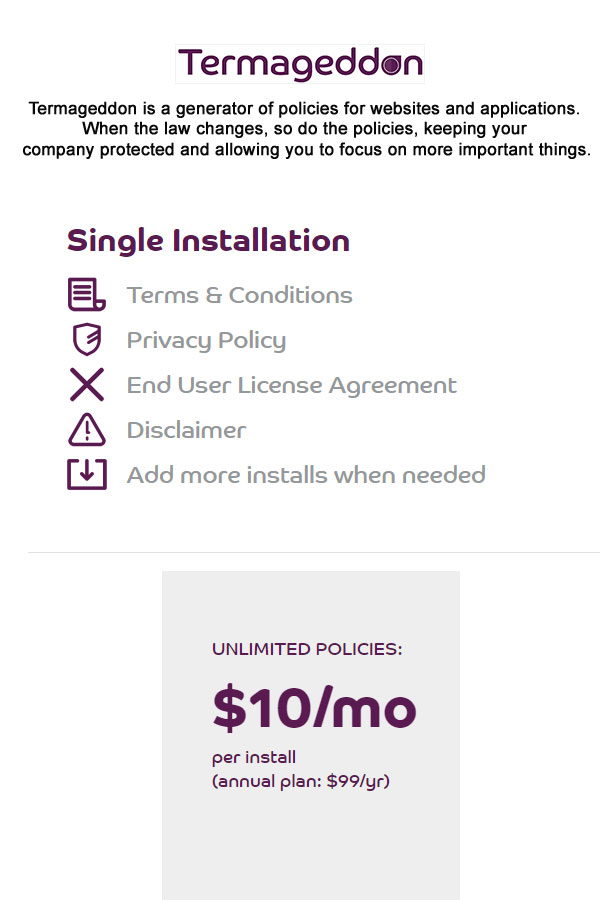 Create what you need to protect yourself.
****Special Offer for all EMP Clients – Get 10% off your first order****
What is the point of having a policy if you have to pay extra for limiting your liability? We don't deal with that type of nonsense. We charge one fee per website or web/mobile application.
Over a dozen US states have proposed or already are implementing privacy laws to protect the Personally Identifiable Information (PII) of its citizens.  Each of these laws have unique requirements as well as unique penalties for not complying. Some states are proposing businesses be fined over $5,000 per infringement (per website visitor). Some states are proposing private right of action (meaning citizens of that state can sue businesses anywhere in the US). Read our state privacy law tracker for more information!
These laws do not care where the business is located. The laws are only out to protect its citizens.
Websites that ask for a 'name' and 'email' address on a contact form are collecting PII and need to not only have a compliant Privacy Policy, but also need a strategy to keep their policy up to date when these laws are added or changed.
Are you an Agency looking for a solution for your clients? – click here to access the agency plan, make sure you mention Elegant Marketplace in the 'How did you hear about us section and you will get a free privacy policy for your agency and one to gift/sell to a client of your choosing – great deal right?
---
Thisis a third party product. Terms and support is highlighted on the referal website.
*Support is provided by vendors directly.
Please login to access the support form. you can do so here