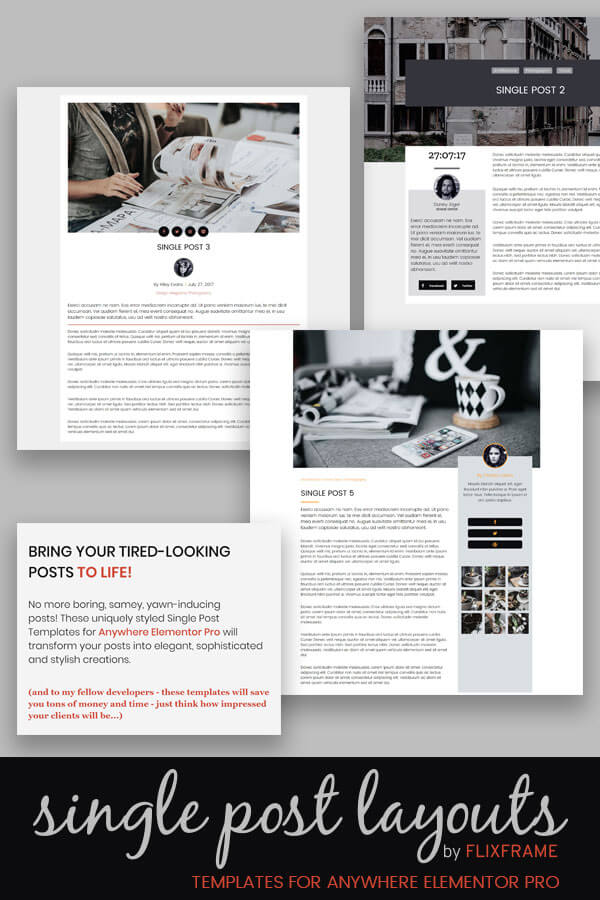 5 Beautifully Styled Single Post Templates for Anywhere Elementor Pro and Elementor Pro.
Bring your tired-looking posts to life!
No more boring, samey, yawn-inducing posts! These uniquely styled Single Post Templates for Anywhere Elementor Pro will transform your posts into elegant, sophisticated and stylish creations.
(and to my fellow developers – these templates will save you tons of money and time – just think how impressed your clients will be…)
A detailed installation video is included.
---
Support is offered for 6 months from the date of purchase and updates are for the life of the product. The support does not include customization, general WordPress, GeneratePress, Anywhere Elementor, Elementor or CSS tasks and web-design services. Please confirm that your theme is compatible with Elementor's Canvas prior to purchasing this layout.
Please note: due to the nature of this product refunds are not available. This policy is strictly observed, without exceptions.
PLEASE NOTE:
To utilize this layout pack Elementor Pro and Anywhere Elemenor Pro must be installed.
Elementor Pro and Anywhere Elementor plugins are NOT included in this layout.
*Support is provided by vendors directly.
Please login to access the support form. you can do so here