The only Blurb you will want to use
Material Blurb for Divi is the perfect module to show off stuff on your Divi site. It perfectly integrates into the Divi Builder and has endless customizing options.

Usage
Components
Material Blurb for Divi has 3 main features: Image, Text and Call to Action. Every part of the Blurb is optional and highly customizable – but there is even more. Material Blurb for Divi implements the popular Material Design.

It's up to you to choose which components you use. You can mix them as you like.

But thats not all. You can add a second image which gets shown when hovering over the module. This lets you create incredible designs – for example by adding partly transparent overlays.

Elevation
The module makes use of Material Designs elevation principles. That means that the module either lies flat on the surface or hovers above it. You can choose between 6 levels of elevation. Elevation can be set separately for regular and hover state.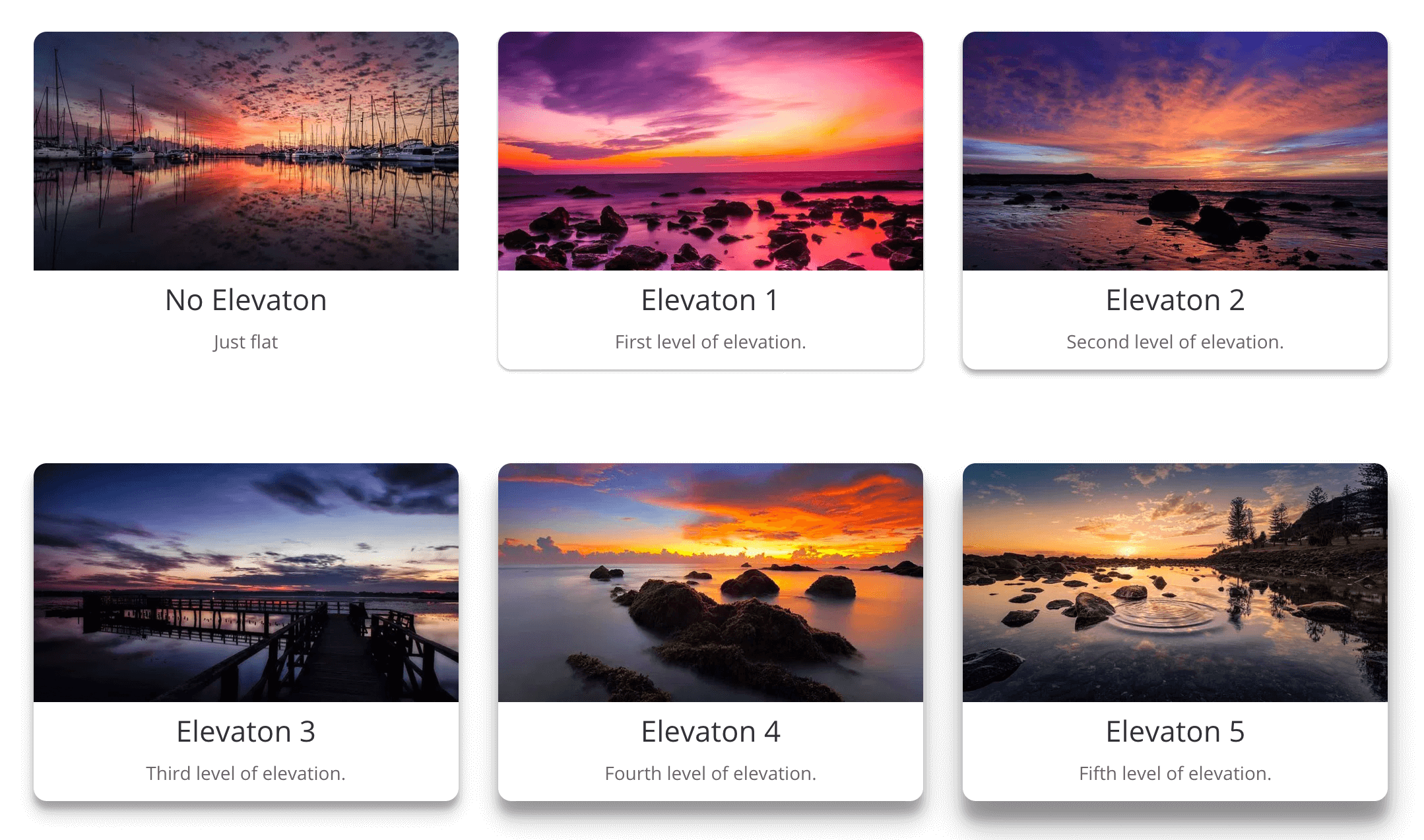 Animation
Material Design Elevation does not change the size or position of the blurb. However, in some cases you might want to do exactly that. So we implemented custom hover animations as well to make the blurb under the mouse really pop.

Customization
From the heading to the button alignment to the border – you can customize every aspect of the module directly in the Divi Builder. And if the all the buttons and sliders are not enough, there is a custom CSS field for every div.
Licensing
With the Single Site License you can install and activate the module on one site. With the Unlimited Sites License, you can install and activate the module on as many sites as you like – perfect if you are a freelancer or a web design agency.
You can deactivate a Single Site License and remove the module from your site if you decide to use it on another site. All licenses are lifetime licenses. That means that you will get free updates forever.
Whats next?
We have great plans for Material Blurb for Divi. On our todo list are several points on which we are working and which you will get for free with the next updates.
More animations. Are there animations you would like to see? Feel free to tell us!
Design library. Preconfigured blurbs and rows for your convenience.
Smarter defaults. Add switches for page wide defaults in the Module Customizer.
Field descriptions. Some fields don't have descriptions. Though, most fields are self explanatory, we guess they are nice to have
Whats on your wishlist? You can contact us at any time! We love to hear from you
---
Changelog:
Version 1.8
New rich text editor for blurb body (old body textfield is now deprecated and will be removed in 1.10)
Improved elevation shadows
Added justify text alignment setting
Version 1.7
Implemented Multiuser compatibility
Backwards compatibility down to at least Divi 3.0.31
Version 1.6
Added sliders for icon border width
Added more module animations
Fixed a bug in Chrome where rounded module borders would sometimes clip
Version 1.5
Fixed misalignment of icon in some browsers
Slider to configure the margin between buttons when using two buttons
Fixed misalignment of buttons which could happen in certain configurations
Fixed some typos and description errors
Fixed issue where icons and buttons of the background settings were missing
Version 1.4
Added parallax image backgrounds
Added video backgrounds
Added icon and hover icon
Version 1.3
Fixed layout issues of buttons
Version 1.2
Fixed button url
Added optional second button
Improved module styling
Made title clickable if no button is used
Version 1.1
Added setting for animation duration
Fixed compatibility for Divi 3.0.53 / Divi Builder 2.0.15
Version 1.0
Checkout the documentation first and if you still need help open a support ticket.
View Docs
Please scroll down for the support form
This theme, layout or plugin is comprised of two parts.
1. The PHP code and integrated HTML are licensed under the General Public
License (GPL). You will find a copy of the GPL in the same directory as this
license file.
2. All other parts, including but not limited to the CSS code, images and design are
copyrighted by the vendor concerned and are NOT licensed under GPL.
This license allows the item to be used in projects for either personal or commercial use by you or on behalf of a client. The item cannot be offered for resale either on its own, in part, or as part of a larger project including that being part of a hosting offer. Distribution of source files is not permitted.
*Support is provided by vendors directly.
Please login to access the support form. you can do so here