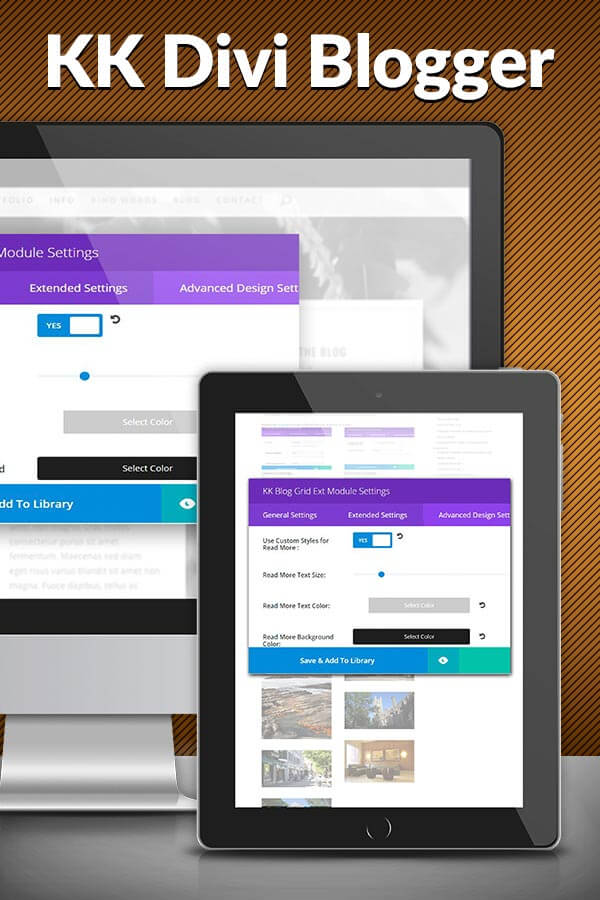 CURRENT RELEASE: 0.2.1
To utilize this plugin you will need a copy of Divi by Elegant Themes
COMPATIBLE WITH DIVI thru v.4.9+ – NOTE: modules in this plugin are fully compatible in Page Builder (Backend Builder) and are partially compatible in the Visual Builder. Modules can be added and edited in VB and are rendered via ajax and thus may take longer than ET modules.  Future versions of KK Divi Blogger will be fully compatible with the VB when applicable and will enable full editing capabilities.
NEW IN 0.1.4!  Plugin Admin Menu added to the Divi Admin Menu family enabling thumbnail sizing for your single posts when using the default Divi templates.
NEW IN 0.1.3!  Custom Post Types can now be included in the category selection list.  The list is determined from taxonomies associated with Custom Post Types.
The KK Blog Index Extended and KK Blog Grid Extended modules offer several choices to present your Blog page.  No more looking like everyone else's Divi Blog page. After installing the plugin, you'll find two new modules in the Insert Modules list titled as you see above.
These modules are offered separately here and are also part of the collection of modules found in the KK Divi Mods product sold exclusively here at EMP.  NOTE: this plugin and the KK Divi Mods plugin cannot be activated at the same time within the same site.
Blog Index has four different layouts and up to eight different thumbnail sizes to showcase depending on layout chosen.  The Extended Settings tab offers controls for clipping content to the size of the thumbnail, setting a background color for each article, four sided padding for the article, color overlay for the thumbnail, and an optional front-end archive selection tool.  If you opt to have a "Read More" link, there now is a default styled button or you can use the Divi Button Designer in Advanced Design Settings. NEW IN 0.1.2! A new Category front end filter has been added as well as optional meta-data category linkage to reroute display to the current module instance.
Blog Grid Extended has three "layout" choices.  In addition to the usual Divi Blog Grid layout you may be accustomed to, there is an Overlay and Hover scheme.  The Overlay choice has a default style to show title, meta, excerpt and Read More button.  The Hover scheme offers ten different animated layouts to choose.  As in KK Blog Index Extended, you can use the Divi Advanced Design button designer.  In the Extended Settings Tab, you can set a featured image overlay transparency to enhance visibility of the foreground text and set the number of columns from 2-6.  Setting the number of columns is restricted to single column sections.
LICENSE INFORMATION: after purchase, you are free to use on any personal or commercial site as often as you like.
---
Changelog:
version 0.2.1 -corrected javascript error version 0.2.0 -modified code to use recent Divi styling enhancements -modified code to enable rendering in Visual Builder version 0.1.6 -added code to filter yoast pro taxonomies -fixed CSS for Blog Grid Ext -fixed CSS for KK ePanel version 0.1.5 -additional layout and linkage improvements for Blog Index Ext -improvements in Blog Grid Ext linkages -corrected paging version 0.1.4 -revised Blog Index layouts for more consistent display of linkages -added plugin admin menu .select thumbnail size for single posts .toggle enabling strict category list for modules including categories -with category list toggle, eliminates display of Tags in meta-data version 0.1.3 -added "disabled_on" setting for each module -various styling improvements to modules -added capability to include Custom Post Types to Blog Index Ext and Blog Grid Ext modules -added a more consistent featured image linkage version 0.1.2 -improvements to Blog Index module: added Category filter and added option for category meta-data linkage version 0.1.1 - fixed situation where Read More link showing permalink of page instead of individual post version 0.1.0 - initial release
Checkout the documentation first and if you still need help open a support ticket.
View Docs
You may use on all sites (personal and commercial) that you build as often as you like. You may not transfer ownership or provide to others.  Support will require valid purchase ID or license key.
*Support is provided by vendors directly.
Please login to access the support form. you can do so here