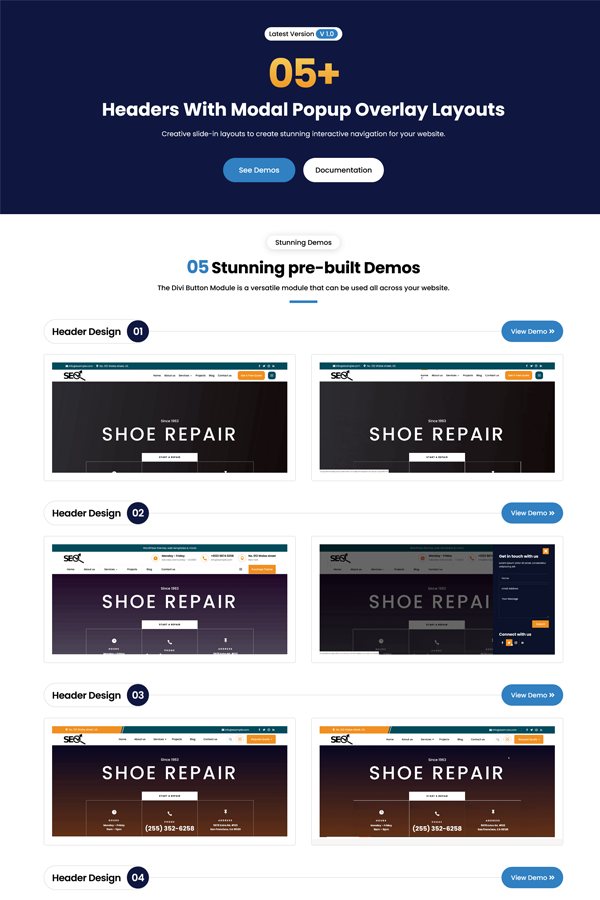 We are providing really great and unique Divi Custom header designs for your business, with quality headers with a unique design.
You can choose any custom header layout design and instantly start customizing it without any issues, works with any kind of niche.
create a pop-up using CSS and jQuery with no plugins.
Key Features:
-10 Header With a Slide-In
-Clean & Modern Design
-Built With Native Divi Modules
-10 Dropdown Menu Effects
-10 Menu Hover Effects
-Fully Responsive on all Devices
-Unique effects and functionality.
-Smooth transition effects.
-Dedicated support
-Detailed Documentation Included
YouTube Video Tutorials:
How to Use Headers Layout on Your Divi Site: https://youtu.be/t2YM_dF3-6A
How To Change Color In Header Layouts: https://youtu.be/PjAD8RkzmDA
How to modal popup disable in the visual builder: https://youtu.be/bOATpeTxJng
How to customize header layout elements: https://youtu.be/l4mliox7ors
Quick Support: If you need any help or have any questions please contact our support mail layoutdivi@gmail.com / support@layoutdivi.com
---
Changelog:
Version 1.0 – March 26th, 2023
- Added 10 Divi Header with slide in modal popup layouts