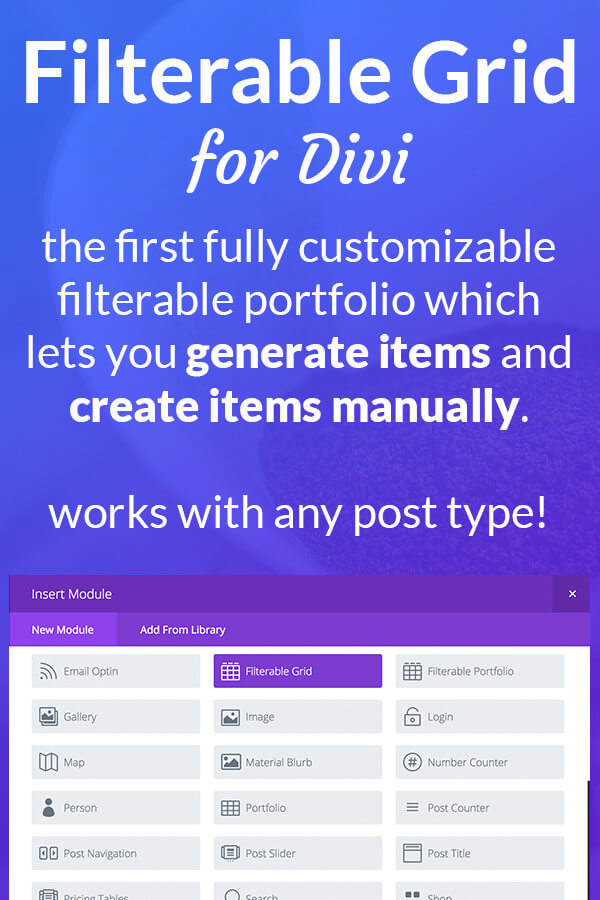 *For Use in Divi Classic Builder*
Filterable Grid for Divi – The Portfolio Module Elegant Themes should have made
Filterable Grid for Divi is the perfect solution if you want to display a filterable portfolio without the need to use Divis build in Project post type.
What does Filterable Grid for Divi do?
Have you used the (filterable) Portfolio module in the past? Thats how Filterable Grid for Divi looks right out of the box. But thats just the very basics. Unlike the Filterable Portfolio, Filterable Grid for Divi does not force you to use the Project post type to back the grid. Filterable Grid for Divi allows you to generate grid items from any post type you want.
And thats not all, you can also add grid items manually or even mix manually created grid items and generated grid items in the same grid. Generated grid items don't have to come from the same post type. You can mix them as you desire.
What about the settings?
Filterable Grid for Divi solves all these little problems the Filterable Portfolio has, the lack of settings above all. There is a setting for nearly everything and if you really find that a setting is missing, just contact us and we will implement it for you – promised!
But besides all the switches, sliders, pickers and drop downs, there is even more. Custom CSS fields allow you to target each piece of the module and most of the settings can be set globally on the module level and get overwritten on a per item level.
There are dozens of settings you can use to change the way the module behaves and looks. You can for example fully style the filter buttons and of course style the grid items – globally or independently.
You can show or hide the filters so there is no need for a second module and filters can be generated automatically from the configured grid items or you can decide manually which filter buttons to display in which order.
Another great feature is the ability to sort items manually, alphabetically or randomly – either globally on the module level or for each (generated post type) grid item separately. And this is just the beginning. There are so many settings. Check out the demo page and the documentation to learn more about the endless possibilities of Filterable Grid for Divi.
Do you need Help?
If you find yourself lost and need help, please use check out the FAQ on the Demo page. If your question is not answered, please use the contact form on the Demo page (at the bottom of the page). Elegant Marketplace is just the platform and they will probably not be able to help you with specific questions related to this plugin.
---
Changelog:
1.20
Added scrolling to grid when linking directly to it and simultaneously selecting a filter
Fixed issues with lightbox and video playback in case the url linked directly to a grid
1.19
Fixed image height slider in Visual builder
1.18
Thumbnail size will now also be applied to images of static items if the image is hosted on the WordPress installation
Lightbox will now always use the full size version of the image
1.17
Fixed issue where filter in some situations could become invisible on iOS due to a bug in webkit
Fixed issue when generating items from single posts
1.16
Added text settings for Grid Item Text, Post Meta and Term Links (on generated items) on module and grid item level
Re-structured advanced settings
Various Bugfixes
1.15
Added option to set custom image title on manual created grid items
Added option to use post title or featured image title as image title on generated grid items
Generated grid items now use featured image alt text for the grid item image alt text
Fixed issue with date sorting when using certain WordPress configurations
1.14
1.13
Fixed hover icon
Term Link Color now also affects the comma between terms
1.12
Implemented module width setting
Implemented pagination style settings
1.11
Implemented new Divi heading level selector to select heading level for Grid Item Title
Fixed issue where a dot in a category name would cause filtering to fail
Option so sort items by "menu order" to make sort order compatible to 3rd party post sorting plugins
Structural improvements for the generated HTML
1.10
Setting to choose default filter
Setting to hide "all" filter
1.9
Changes in how the Theme Customizer is used and fix for issue where it broke Theme Customizer usage
Font Settings for Grid Item Title
1.8
Setting in Theme Customizer to enable/disable usage of non-hierarchical taxonimies (e. g. Tags of Blog Posts)
Setting in Grid Item to show/hide posts
Settings to enable/disable paging and to choose page size
Fixed issue where post text and post terms appeared on the same line
1.7
Fixed issue where the plugin caused errors in the Theme Customizer when using the Extra theme
Implemented global color settings for overlay via Theme Customizer for Divi and Extra
Various small improvements under the hood
Re-added CSS class for Grid Item Image to fix usage of image height slider
Added CSS to make it easier to identify the module in the module list
1.6
Fixed bug where lightbox usage caused messed up html
Fixed bug where Divi prevented lightbox usage after filtering
Added setting to choose color for term links
Fixed issue where term links would always open in same tab (now uses the configured setting)
Improved page speed by only enqueuing CSS and JS on pages where Filterable Grid module is used
1.5
Added setting to choose grid item animation
Fixed issue where IE and Edge browsers would not keep image aspect ratio
Added option to sort all items by publishing date
Added option to choose term link color
1.4
Added support for Video posts (grid item will show video as thumbnail)
Improved CSS to fix some issues with IE and Edge browsers
Fixed a bug where additional filters were added when a post had more than 1 term
Added a setting to hide terms (on grid items) which are not part of the filters
1.3
Fixed issue with some special characters when used in filters
Fixed issue with some 3rd party post types
Fixed some typos
Fixed issue where new settings were not showing after a manual update
Fixed issue with unequal item width when using certain settings
Fixed multiple cross browser CSS issues
Implemented new updating mechanism
1.2
Added setting to chose in which order (ascending/descending) to sort posts
Added setting to exclude posts when generating grid items
Added setting to generate grid items from post ids when not choosing a post type and term
Added setting to limit the amount of grid items when generating grid items from posts
Added setting to offset posts when generating grid items
Added setting to open the image (or feature image of the post) of a grid item in a lightbox instead of opening the url (or post)
Added CSS fields for post title
Added module customizer settings for overlay color and overlay icon color
Fixed issue where color overlay would sometimes not cover the whole image
Fixed issue where only 10 posts were generated per grid items
Fixed issue with post title showing on grid item even when deactivated
Fixed issue with missing border for normal filter style
Added some missing descriptions, improved existing ones and fixed typos
Improved grouping and order of settings
1.1
Generation of grid items from any post type with hierarchical taxonomy (e. g. blog posts or projects)
Setting for optional different vertical spacing of grid items
Setting to generate filters from grid items or create filters manually
Setting to disable flexible text
Setting to select text alignment
Setting to add custom CSS class to grid items on module level (add CSS class to all items)
Enabled per device settings (desktop, tablet, phone) for all margin and padding fields
Setting to add border to grid items on module level (add border to all items)
Setting to sort grid items globally (manually, alphabetically by title, randomly)
Setting to sort generated grid items (manually, alphabetically by post title, randomly)
Setting to display colored overlay and icon on hover on module level
Setting to display colored overlay and icon on hover on grid item level
Adjusted field descriptions here and there
Changed grouping of settings here and there
Some overall improvements and bug fixes
1.0
Checkout the documentation first and if you still need help open a support ticket.
View Docs
UNLIMITED  – You may install this product on any number of websites that you build for yourself or your clients. You will receive 6 months support – premium support charges may be incurred after this period. Updates are for the life of the product.
SINGLE USE – You may install this product on one website that you build for yourself or your clients. You will receive 6 months support – premium support charges may be incurred after this period. Updates are for the life of the product.
Please be aware that you will need an amount of experience in Divi Theme and WordPress to take advantage of our themes and plugins.
Please make your decision to purchase based upon your skill level to see if our products fit your needs. Due to the nature of Digital Downloads, Refunds are not possible – please ensure that the product you are buying will do the job you want it too.
All support for products is handled by Vendors and contact details will be included in the download packages. If contact details are not found within the files, please do contact us and we will be happy to put you in touch with the vendor concerned. 
*Support is provided by vendors directly.
Please login to access the support form. you can do so here