Dos and Dont's + 30+ Divi CSS Snippets + Manually Moving WordPress
$12.00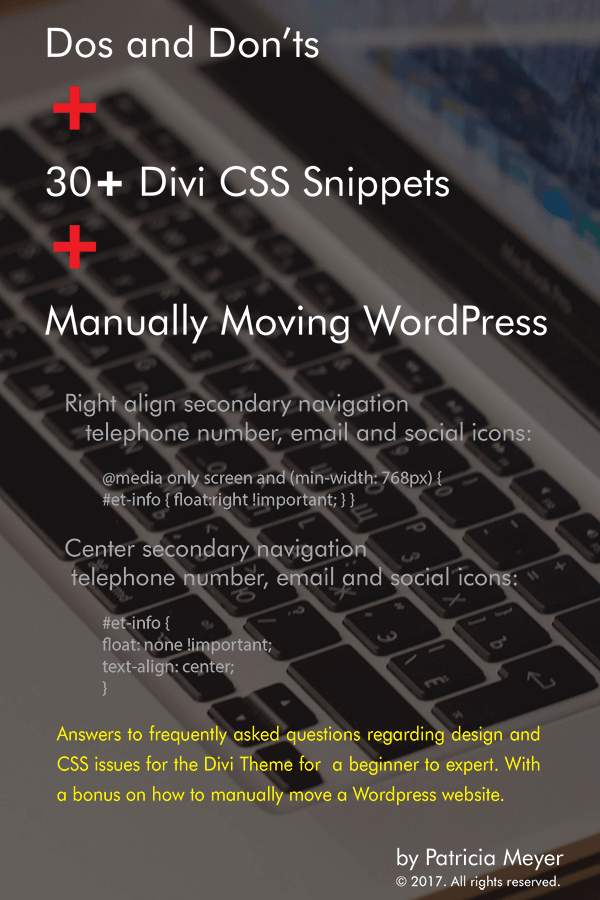 I have helped numerous beginners, intermediate and expert designers (yes, even we get stuck at times) over the last couple of years. Most recently, I was an original member of the Divi Fixr' team. It is from these sessions this e-book came about.
The book is broken down into three sections:
Dos and Don'ts
30+ Divi CSS Snippets
Manually Moving WordPress
Dos and Don'ts are samples of the good, bad and ugly not of the design, but how various Divi modules were used and answering some questions I get quite often. Such as "What's the difference with CSS ID and CSS class."
30+ CSS Snippets are some of the most common ask questions as well as things I've pounded my head on my desk trying to figure out.
I've been asked many times and I've seen it asked time and again how you move WordPress files from one server to another. Included in Manually Moving WordPress are step by step instructions.
The zip file has the following formats:
PDF (for print)
PDF (for digital)
EPUB (for Nook, iBooks, Kobo etc.)
MOBI (for Kindle)
As I continue to develop websites and run into more and more things I just need to change, this book will be updated free of charge.
Please contact support with any questions.
---
If you have any questions, please click here, fill out the form and I will contact you within 24 hours.
*Support is provided by vendors directly.
Please login to access the support form. you can do so here