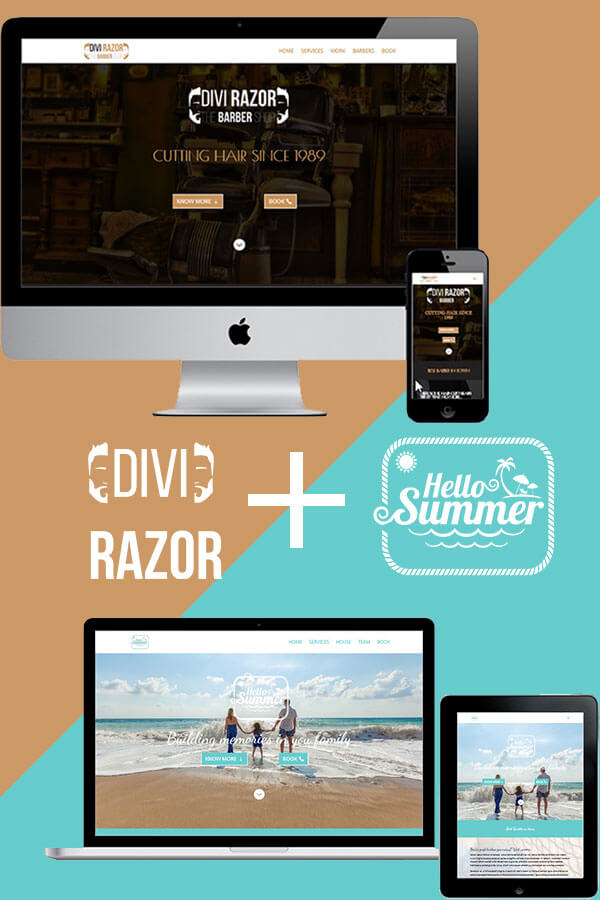 Divi Razor is a great layout to a one page site. Although it has a barbershop look it's easily adapted to any kind of business just by changing images. Check out Hello Summer demo here, obtained only by changing the images, colors and small tweaks.
It takes advantage of a parallax to uncover the big quality photos in desktop version. In mobile those are adjusted to make it full width.
This version is completely plugin free, just Divi and 1 line of CSS to change the back to top button.
Included:
» Json files
» Installation guide including link to video (8 minutes) walkthrough
» 35 minute video showing how i created all the image assets in Razor Layout
» Images* used
Complete package to hello Summer layout also– Demo link
* Note that the images used in both sites are for demo purposes and were found and adapted to this. We don't own any of the copyrights.
---
Please scroll down for the support form
This theme, layout or plugin is comprised of two parts.
1. The PHP code and integrated HTML are licensed under the General Public
License (GPL). You will find a copy of the GPL in the same directory as this
license file.
2. All other parts, including but not limited to the CSS code, images and design are
copyrighted by the vendor concerned and are NOT licensed under GPL.
This license allows the item to be used in projects for either personal or commercial use by you or on behalf of a client. The item cannot be offered for resale either on its own, in part, or as part of a larger project including that being part of a hosting offer. Distribution of source files is not permitted.
*Support is provided by vendors directly.
Please login to access the support form. you can do so here