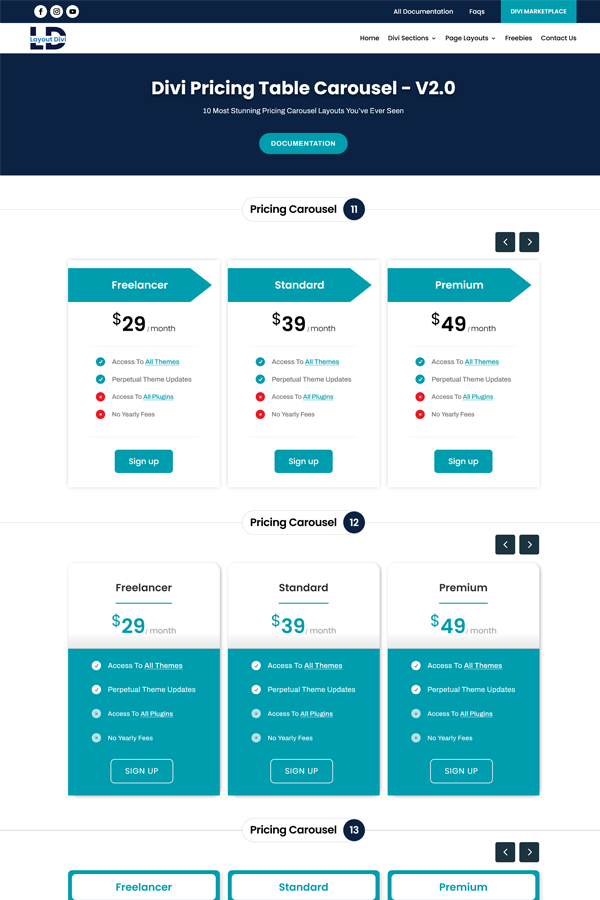 – Divi Carousel for Pricing Tables
– These Layouts are a collection of the best divi pricing carousel slider layouts that are available to purchase and use on your own Divi website.
– If you're looking to set up a Pricing section on a page, this is a great solution. You can add multiple Pricing table modules in a single row, instead necessary taking up too much space on the page.
– These carousel layouts can be imported into your Divi library directly in the Divi Builder to jump-start your next Divi project and become a better website designer.
Download the JSON file and upload it to your Divi library. Then go to your page, and load the section from the library. That's all!
Key Feature List:
– Create an automatic carousel using Divi, slick.js
– Fully Responsive and Touch-friendly.
– Pricing & plans page design inspiration
– Fast, Lightweight & Powerful.
– Fast and Active Support
Documentation URL: https://layoutdivi.com/documentation/divi-pricing-tables-module-carousel-layout-documentation/
How To Import Pricing Carousel Section – https://youtu.be/VlVoM71wypA
How To Change Color in Pricing Carousel Section: https://youtu.be/L1ro5eRf2bQ
---
Changelog:
Version 2.0 – September 13th Oct, 2022
Checkout the documentation first and if you still need help open a support ticket.
View Docs
*Support is provided by vendors directly.
Please login to access the support form. you can do so here