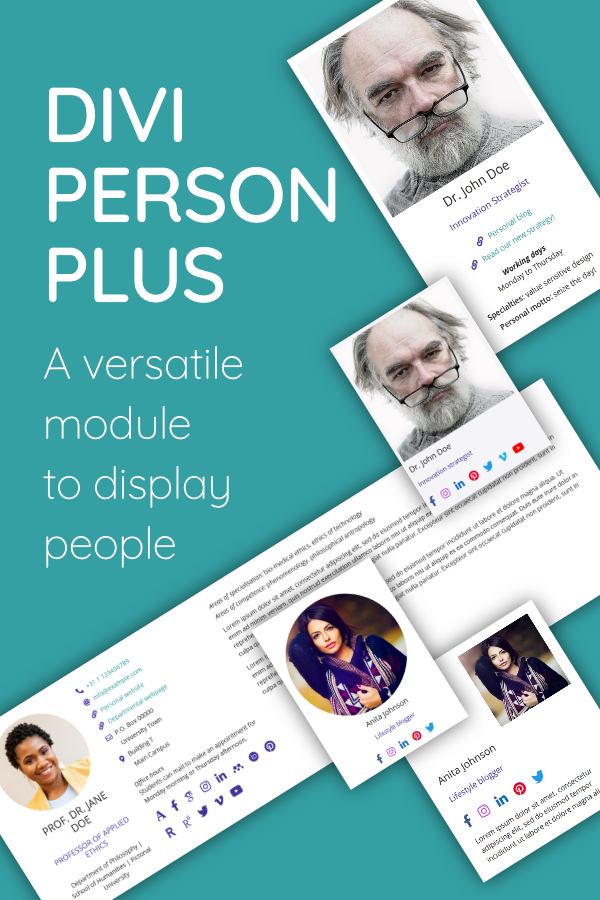 With the DIVI Person Plus Module you can display employees, team members or any other group of people the way you want to! Features include:
3 fields with adjustable headings for any info you want (e.g. office hours or personal motto)
2 web link fields with adjustable anchor text (link to e.g. personal website or a document)
Email, phone number, mobile phone number with link and adjustable anchor text
Postal address & visiting address fields
10 different layouts in 1, 2 or 3 columns
Scroll down for a more extensive feature overview.
Content & Design Options
Name, position & bio/description
Of course you can add a name, position and biography/description. It would not be a person module without these options ? . Naturally, you can also style these three elements individually.
Social networks / profiles
There are 13 icons you can use to link to the person's networks and profiles, namely Academia, Facebook, Google Scholar, Instagram, LinkedIn, Mendeley, ORCID, Pinterest, ResearcherID, ResearchGate, Twitter, Vimeo and YouTube.
You can change the size, alignment, color and shape:
Feel free to contact us if you need other icons!
Image
You can of course also add a person image, and use lots of options for styling the image, including
Round one or more corners, or make circular with one simple button
Set max width
Align image left, center or right
DIVI filter options – e.g. sepia, saturation
DIVI box shadow options
Here are some examples of what you can do with those options:
Text area / fields with adaptable labels
Use one text area and two text fields for any information that you want: expertise, hobbies, personal motto, availability, ….
You can give the field an explanatory label that you can style separately.
Organization
Add 3 levels of organization, e.g. department | division | company
Choose the separator between the levels
Style all levels at the same time, or individually
Contact info
You can add a phone number, mobile phone number, e-mail address, postal address, visiting address, and 2 web link fields with adaptable anchor text.
You can set color & size of the contact icons & links.
Column layouts
The module offers four basic layouts:
One column with all person info
Two columns on top, one column underneath
Two columns
Three columns
You can reverse the column order when using layouts 2, 3 and 4. And for layouts 2 and 4 you get the option to move some of the info to another column. All these options in combination mean that you get 11 different layout options! Here are 3 examples:

Why Choose DIVI Person Plus?
To summarize:
Extensive contact info section
13 network / profile icons (feel free to request more!)
Additional fields with flexible front-end labels that can be used for any type of info
Lots of design options to customize the look of your team
11 column layouts to choose from
Video documentation that shows you how to use this module both as a DIVI newbie and in a more advanced usage scenario
Questions about this product? Don't hesitate to contact us.
Frequently Asked Questions
Are more features planned?
The plugin is already packed with features. But if we think of something new that seems useful, we'll add it. We'd love to hear what would make this plugin even better for you. Do you have a feature request? Don't hesitate to contact us.
Can you include more icons?
Yes, we are happy to do that, as long as an icon for the network that you would like to see included, is available here:
For general social icons, within the Font Awesome collection
For academic social icons, within the Academicons collection
Feel free to contact us with a request.
What kind of support do I get?
You can contact us to get help if the plugin does not seem to work as you expected.
Where can I access the documentation?
On our website we provide documentation for the DIVI Person Plus Module.
---
Changelog:
= 1.5.0 =
Added option to use anchor text for phone and email address
= 1.4.0 =
Added a second help video for more advanced usage of the module
Added field and icon for mobile phone
Added field and icon for postal address
Added field and icon for visiting address
Added layout option to move name/position/organisation to under the image
=1.3.1 =
Fixed wrong icon color of the module appearing in the DIVI builder module list
Added some CSS rules to fix various layout problems when using new DIVI dynamic CSS option
Replaced DIVI font icons before the person's contact details with Fontawesome icons
Replaced envelope icon with 'at' icon before person's mail address
= 1.3.0 =
Solved minor bug with color of person position sometimes not showing correctly in the visual builder
Added ORCiD and ResearcherID to the available academic icons
Implemented responsive options for column layouts
Added a column layout option to display the module columns in reverse order
= 1.2.0 =
Added vimeo and youtube to general social icons;
Implemented responsive options for image max width;
Implemented responsive options for contact icons size;
Implemented responsive options for network icons size;
Implemented responsive options for bio content field;
Added top margin to 'about section' (prebio fields + bio) on mobile devices;
Fixed minor bug of contact & availability div's taking up space even when empty;
= 1.1.0 =
Put all social icons in same alphabetized list, rather than first general and then academic icons;
Solved minor bug with margins when aligning social icons center or right;
Solved minor bug with justify option not working for social icons;
Added option to set max width for image;
Added option to set margins for the image;
Added option to round off person's image corners (border radius);
Added quick option to make person image circular;
Added option to align image in the center or right of the module;
Added filter options for the person image.
= 1.0.0 =
This is the first version of the plugin.
Checkout the documentation first and if you still need help open a support ticket.
View Docs
Support & updates
You can choose between:
Support & updates for 1 year from the date of purchase. After that, you can manually renew support & updates for another year at 50% of the original price. If you choose not to renew, you can still continue to use the product as it is (however, we then no longer offer a guarantee of compatibility with future DIVI and WordPress updates).
Lifetime updates & support.
License
This theme, layout or plugin is comprised of two parts.
1. The PHP code and integrated HTML are licensed under the General Public License (GPL). You will find a copy of the GPL in the same directory as this license file.
2. All other parts, including but not limited to the CSS code, images and design are copyrighted by the vendor concerned and are NOT licensed under GPL.
This license allows the item to be used in projects for either personal or commercial use by you or on behalf of a client. The item cannot be offered for resale either on its own, in part, or as part of a larger project including that being part of a hosting offer. Distribution of source files is not permitted.
*Support is provided by vendors directly.
Please login to access the support form. you can do so here