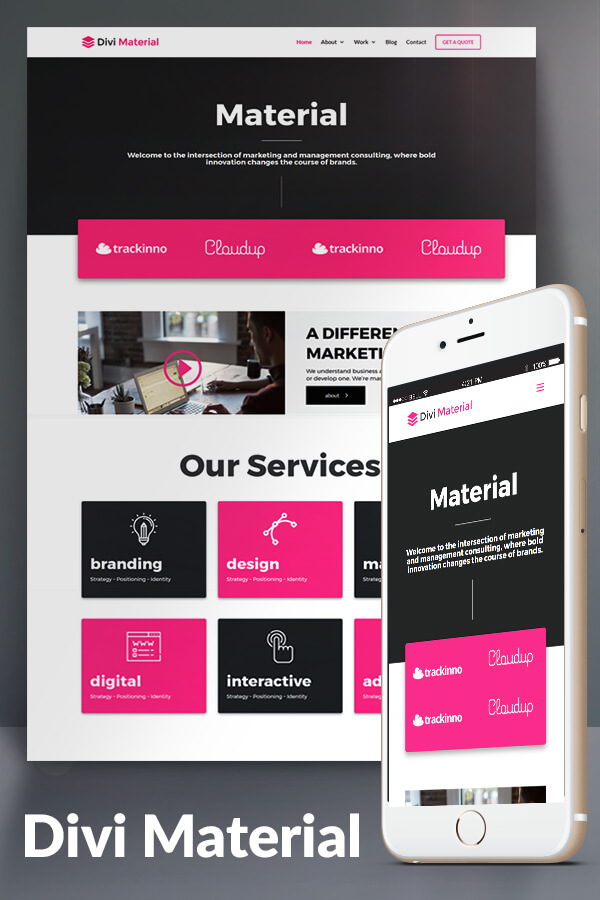 Divi Material is a child theme for the Divi Theme from Elegant Themes.
Divi Material is primarily designed for marketing and digital service providers but can be used for any service provider businesses. It is created with Material Design in mind. The bold colors and the miscrointeractions make the theme suitable for any type of creative business as well.
Including:
– 5 main pages including homepage, about, work, blog and contact
– 2 Custom service page layouts
– 2 Custom project page layouts
– 2 Custom quote page layouts
– Custom styled single post layout
– Styled archive pages
– Custom global footer
– Custom menu
All colours can be easily replaced through the theme customizer and the style.css file.
Divi Material uses no external plugins.
It is highly recommend you use this child theme on a clean WordPress install.
* The free images in the demo are used from https://unsplash.com/, https://pixabay.com/ and https://www.flaticon.com/.
Divi Material is compatible with:
WordPress 4.8+
Divi 3.0.51+
Current Divi Material Version 1.0
---
Checkout the documentation first and if you still need help open a support ticket.
View Docs
You may install this product on any number of websites that you build for yourself or your clients. You will receive 6 months support – premium support, charges may be incurred after this period. Updates are for the life of the product.
*Support is provided by vendors directly.
Please login to access the support form. you can do so here