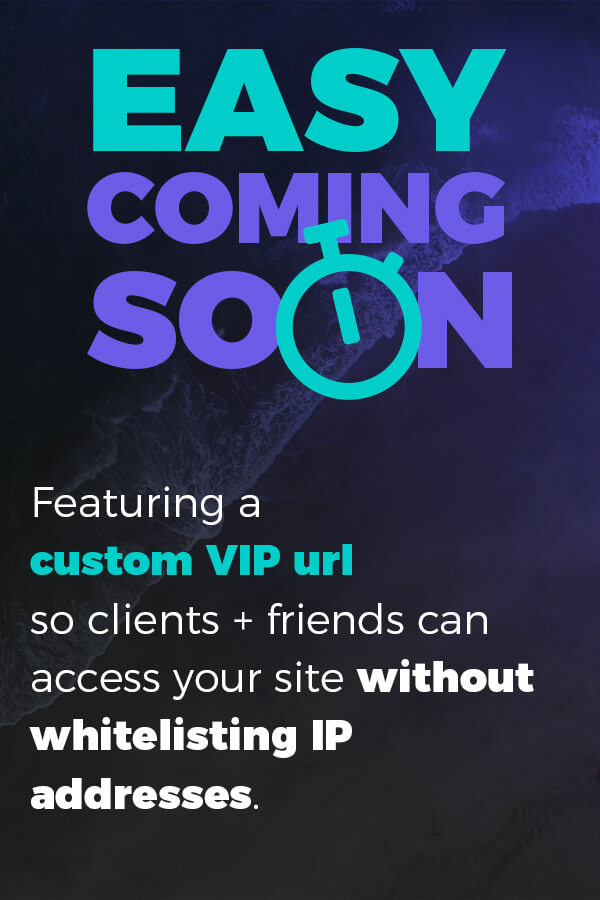 The only "Coming Soon" plugin for Divi that…
Allows you to grant access to your site through your own custom URL which you set. People you give the custom link to can access the site normally. Everyone else on the internet sees your placeholder page. (no more asking clients or friends for their IP address so you can whitelist it… unless you want to. This plugin does that too.)
Returns proper HTTP headers to the search engines letting them know your site is under construction so you don't hurt your SEO while you're building.
How It Works
Design a page on your website to act as your placeholder page. This could be an 'under construction' page or a 'coming soon' page or any other type of page you'd like to use this plugin for. Maybe you have content you only want people with the custom link to access.
In the plugin settings page, set your newly designed page as the 'placeholder' page you'd like to use.
Next, choose how you'd like to grant access to your site. You can create your own custom URL slug so only people with the link can bypass the placeholder page and view the site normally. With the custom URL slug, the user's browser gets a cookie which allows them to view the site normally until the cookie expires (you can choose when the cookie expires). They can always revisit the custom URL to get re-cookied.
If you prefer the old school way of asking people for their IP addresses and hoping they send you the right one to whitelist, this plugin does that too. You can create a list of IP addresses that can freely access the website normally and bypass the placeholder page.
You also have some additional options such as hiding the header or the footer of the page. For coming soon pages it makes sense to hide the header (and the navigation) but maybe you want to leave the footer intact with your designer credits.
SEO
None of the other Coming Soon plugins I found for Divi did anything to protect the SEO of your site (perhaps I just missed them if they're out there). This plugin returns the proper HTTP headers when the placeholder page is active to let the search engines know that the site is actively being worked on and that they should check back (and not penalize you for the content of your placeholder page.)
Compatibility
This plugin is compatible with both the Divi and Extra themes.
Support
As always, you can expect the same great support I extend for all of my plugins. I want my plugins to be the best they can be so if you find a bug or you're just having trouble with a plugin, please let me know about it on my support page over at https://alexbrinkman.org/product-support
---
Changelog:
1.0.3 Updated product ID in updater to fix potential update errors. 1.0.2 Updated compatibility with the Divi Theme Builder. 1.0.1 Fixed bug on settings page. 1.0.0 Initial release. Yay!
Please scroll down for the support form
This theme, layout or plugin is comprised of two parts.
1. The PHP code and integrated HTML are licensed under the General Public
License (GPL). You will find a copy of the GPL in the same directory as this
license file.
2. All other parts, including but not limited to the CSS code, images and design are
copyrighted by the vendor concerned and are NOT licensed under GPL.
This license allows the item to be used in projects for either personal or commercial use by you or on behalf of a client. The item cannot be offered for resale either on its own, in part, or as part of a larger project including that being part of a hosting offer. Distribution of source files is not permitted.
*Support is provided by vendors directly.
Please login to access the support form. you can do so here