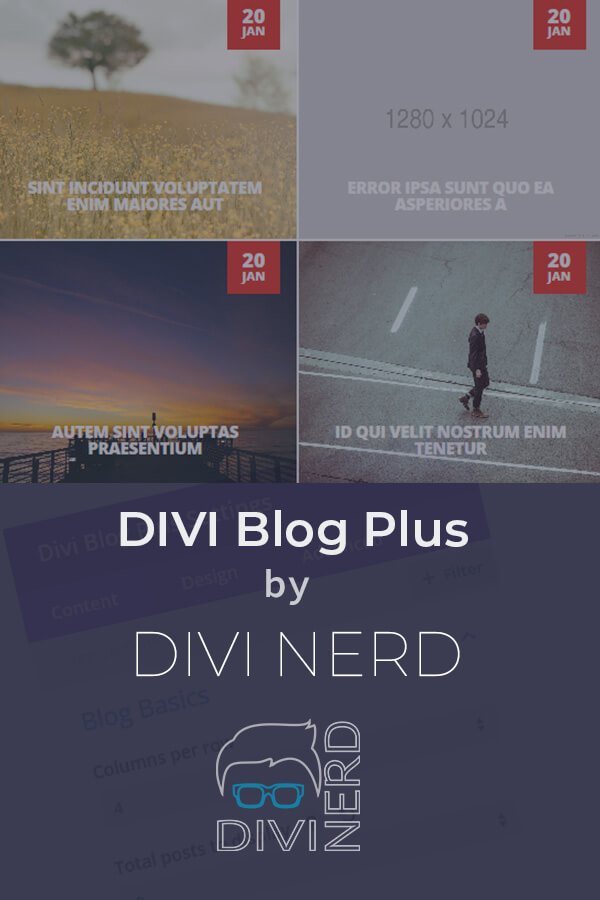 *** Version 1.0.3 is released, please update to be compatible with the latest Divi theme.

Divi Blog Plus is here to your rescue! It is developed in keeping the busy designer and developer in mind who do not have the time to customize the default Divi blog module. Divi Blog Plus comes with pre-defined responsive layouts which can be implemented instantly giving you the freedom of customizing every aspect of the layout. It couldn't be easier than this. So here you go, make your website look pretty and COOL and waste no time while engaging new users.
Features:
100% Frontend builder ready
100% compatible with latest Divi backend builder experience
Fast and instant loading
Comes with 6 layout options to choose from
Responsive layouts
Grid and Masonry Layouts
Simple and clean
Minimal
Compatible with latest WordPress core and Divi theme
6 months support
Minimum Requirements:
Minimum wordpress version: 4.7
Minimum Divi theme version: 3.18.7
Tested up to WordPress Core: 5.2.3
Tested up to Divi: 3.29.2
Well, have to have some posts to display 😉
You have to enable the new Divi builder experience for using this plugin in the backend builder as the old classic backend builder is buggy and not compatible with latest features and eventually will be removed in the future Divi theme version. You can however use even older versions of Divi that is mentioned above and use the frontend builder to use this plugin but it is highly recommended to use latest versions for maximum compatibility.
If you are using iThemes Security Plugin, you'll need to allow the WP REST API to be accessible by changing the setting in "Wp Tweaks" then scroll down a little until you find WP REST API section and then select "Default Access" and save.
At the moment, the plugin won't work in WP Multisite environment; however, it'll work in subdomains, no problemo ????
You must log in and be a buyer of this download to submit a review.
---
Changelog:
v 1.0.0 - Initial release
v 1.0.1 - Small bug fix
v 1.0.2 - Increased Max Post numbers
v 1.0.3 - Compatibility Fix
This theme, layout or plugin is comprised of two parts.
1. The PHP code and integrated HTML are licensed under the General Public
License (GPL). You will find a copy of the GPL in the same directory as this
license file.
2. All other parts, including but not limited to the CSS code, images and design are
copyrighted by the vendor concerned and are NOT licensed under GPL.
This license allows the item to be used in projects for either personal or commercial use by you or on behalf of a client. The item cannot be offered for resale either on its own, in part, or as part of a larger project including that being part of a hosting offer. Distribution of source files is not permitted.
We understand that there can be issues whilst utilizing out of date browsers. Please ensure you use up to date browsers when using our vendor's products. For DIVI Theme – Third Party Plugins may not perform as desired in the Divi Visual Builder if this is the case, please use the classic builder. We are working with our vendors to rectify this situation as quickly as possible. With the release of Divi 4.0 developer documentation and SOME support of third-party modules and plugins are now accessible through the visual builder. 
Please be aware that you will need an amount of experience in the master theme that you are using in order to take advantage of our themes and plugins.
Please make your decision to purchase based upon your skill level to see if our products fit your needs. Due to the nature of Digital Downloads, Refunds are not possible unless the plugin or theme is unusable in your set up – we will require proof of this – please ensure that the product you are buying will do the job you want it too. In the case of Divi and Visual Builder compatibility – some plugins do not yet have 100% VB compatibility. Please check descriptions thoroughly to ascertain VB compatibility. Whilst every effort is made by our vendors to ensure compatibility with other themes, plugins and or web servers. This can never be guaranteed due to the many thousands of iterations in the wild. Please do not be afraid to ask the vendor for support by visiting the product page and clicking the relevant link. Warranty for fitness of products used on your installation is neither given nor implied. 
*Support is provided by vendors directly.
Please login to access the support form. you can do so here